New Message
Board Options
Collapse View

Expand View

Mark all Messages as New

Mark all Messages as Read

Float this Board to the Top

Bookmark

Invite a Friend

Status: Bookseller Picks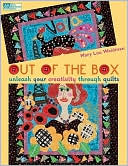 Out of the Box is an eclectic blend of quilting that helps you create story quilts. Using your own stories, this wonderful book gives you the techniques you need to create some lasting memories for you and your family. The illustrations are amazing and very inspiring. It is honestly hard to decide which one was my favorite. Some of the topics covered are gallery quilts, story quilts, better borders,color and embellishments. Author Mary Lou Weidman does an exceptional job of teaching you to open yourself up and create a quilt that speaks your own life story. This is a keeper for any quilter.
Permalink

Status: Bookseller Picks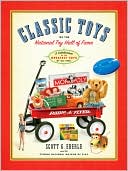 If you ever travel to Rochester, New York, I recommend that you make sure to stop at the Strong National Museum of Play, the home of the National Toy Hall of Fame. It's a great museum with fun, interactive exhibits that will entertain your whole family. If you can't make it all the way to Western New York, don't fret, because the museum has just put out a book all about the toys that have been inducted into the Hall of Fame.
Classic Toys of the National Toy Hall of Fame has detailed histories and large, full-color pictures of the great toys that we grew up with. From the basics like the stick and cardboard box that have been made fun by kids and their imaginations throughout the centuries, to more modern toys that have required modern technology to come alive like the Atari 2600, this book makes a strong case for why all of them have had profound impacts on the way that we play. For me, the best part of the book was reading the various tidbits about each toy that I never knew about. For example, here are some facts that, admittedly, may interest only me:
Raggedy Ann and Raggedy Andy are both in the Hall of Fame, but were inducted in different years.
Candy Land was created to entertain children forced to stay inside because of polio.
A Slinky, when uncoiled, contains 80 feet of metal wire.
Silly Putty was first packaged in egg shaped containers to boost sales at Easter time.
I got a great amount of enjoyment from this book. There are so many pictures to look at, and it's interesting to see how some of the toys changed over the years. I think this will be a great gift for both the young and the young at heart.
Permalink