New Message
Board Options
Collapse View

Expand View

Mark all Messages as New

Mark all Messages as Read

Float this Board to the Top

Bookmark

Invite a Friend

Status: Bookseller Picks
I've worked for Barnes & Noble for almost eight years, and been employed as a public librarian for almost three. I love both my jobs, but I'll be the first to admit neither is perfect, nor did they exactly come as advertised. That's what I love about both of the books I'm recommending here: that they present the good with the bad, and present a warts-and-all image of both professions.
Pretending You Care: The Retail Employee Handbook is written by Norm Feuti, who is also the creator of the comic strip Retail, and draws from his years of experience as a retail employee and manager. The book is organized like an employee manual, covering broad topics like customers, co-workers, management, and store operations. Using his Retail strips to illustrate his points, Feuti humorously exposes the games people play to avoid work, get around return policies, and wield whatever power they have in their little fiefdom... I mean, area of responsibility. While he frequently cuts through a lot of bull, Feuti is never malicious or belittling, and has a great deal of respect for those who do what is often a thankless, high-pressure job; he has even more respect for those who try to do it with a minimum of shenanigans. Reading Pretending You Care was an eye-opening, side-splitting experience for me. Finally, here was someone who'd been where I've been, seen the same things I've seen, and was telling all of it, and not mincing words.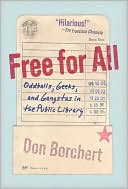 Free for All: Oddballs, Geeks, and Gangstas in the Public Library is the memoir of Don Borchert, a library assistant in the suburban Los Angeles public library system. As a library assistant, he is not actually a professional librarian (the publisher reversed these words on the dust jacket, causing a great deal of whinging among library professionals), but because of the light staffing at his branch, he ends up doing just about everything except actually running the library. Filled with stories that run the gamut from hilarious to disturbing to heartbreaking, Borchert strips away the fantasies about a librarian's life being one of intellectual stimulation and quiet. His library is a raucous building where homeless people come to sleep, latchkey kids come to hang out, and oddballs come to congregate (one of the patrons spends his days surfing the internet looking for mail-order brides from South America; on my side of the country, they're doing the same thing, but looking across the Atlantic to Russia). Despite the insanity, it's clear from Free for All that Borchert loves his work, and knows he and his coworkers are providing a valuable, if underappreciated, service. I've recommended this book to several people contemplating a library career, not to scare them off, but just so they have a more rounded picture of what they're getting themselves into. To their credit, not one of them turned away after reading it.
Permalink

Status: Bookseller Picks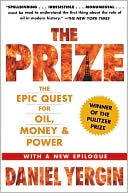 In the 150 years since "Colonel" Edwin Drake's well struck oil in Titusville, Pennsylvania, the preeminent driving force in our world has been petroleum. Oil has been behind the expansion and collapse of global empires and personal fortunes. Oil was both a key factor in the collapse of Germany and Japan during World War II, and propelled the explosive growth in postwar America. Wars have been fought for it, and nations have revolted over foreign control of it.
Nowhere is this tumult better chronicled than in The Prize: The Epic Quest for Oil, Money & Power, Daniel Yergin's epic Pulitzer-winning history of oil and its affect on industry, geopolics, and world society. Spanning the globe, and featuring a colorful list of players ranging from titans of industry and wealthy desert sheikhs to Texas "wildcatters," The Prize is gripping history that flows off the page.
I first read this book in 1993, after my seventh grade social studies teacher showed the class excerpts from the eight-hour PBS documentary based on the book. It was incredibly informative then, and is even more relevant today as we face important decisions related to energy supply and consumption, and their effect on both the American and global economy. The Prize isn't just another business history title; it speaks directly to the political and sociological issues brought up by how we as a people consume oil in what Yergin dubs the "Age of Hydrocarbon Man." With the 2009 updated edition, which includes a new epilogue covering events and trends since its first publication, The Prize has maintained its place as the essential book on its subject.
I'm a firm believer in the old adage "those who do not know history are doomed to repeat it." The Prize should be mandatory reading if for no other reason than we can't afford to make the same mistakes again as we try and find our path forward.
Permalink

Status: Bookseller Picks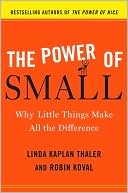 The Power of Small by Linda Kaplan Thaler and Robin Koval is an excellent follow up to their previous title The Power of Nice. Thaler and Koval run a successful advertising agency, and they have found that the small things we do for others can benefit us in both our careers and our day to day life.
The authors have many stories about small things people have done--as simple as a "Thank You" after a job interview. Rosie O'Donnell did this at MTV when her career was just starting. Even though she did not get the job, she took a moment to write a thank you to her interviewer for taking the time to talk to her. This lead the interviewer to pass Rosie's tape onto VH1, which lead to her first TV job. If she had not done such a "small" thing, her tape wouldn't have been passed on, and successful career never would have started.
This is a great book; it emphasizes that small is powerful, and not only brings happiness and fulfillment to those around you, but can work in large ways. Sometimes we ony look at the big picture, and we have to learn to look at the small picture. In that way, lies success.
I highly recommend this book for anyone who wishes to turn their work environment into a more positive place, or wants to take small steps on the road to a happier outlook on life. It's easy to read, and has many entertaining stories about other people's success
with "small" moments that changed the course of their lives.
Permalink

Status: Bookseller Picks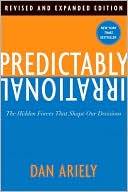 If you're interested in the up-and-coming field of behavioral economics, then this book is what you need to get up to speed. Fun, informative, and friendly, "Predictably Irrational" is the perfect mix of entertainment and information.
Behavioral economics has been all the rage in recent years. Ariely discusses the newest trend in economics and it's impact on the field. No prior knowledge is required: Ariely begins his discussion with a definition of the topic (hint: it's in the title).
Once you've been introduced, Ariely makes his case. From selling candy at a table to computer experiments and everything between, a variety of interesting and relevant experiments and stories from real life bring the material home. Once you've started, you won't want to put it down.
Recommended for people interested in: Economics, Psychology, Behavioral Sciences, and the like.
Permalink