New Message
Board Options
Collapse View

Expand View

Mark all Messages as New

Mark all Messages as Read

Float this Board to the Top

Bookmark

Invite a Friend

Status: Featured Selections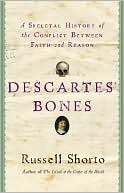 This unconventional history justifies Jeffrey Toobin's description of it as

"[a] compelling intellectual detective story, one that illuminates the present as much as the dusty past."
On a frigid February day in 1650,

Re
né
Descartes was buried in the frozen ground of Stockholm, far from his French homeland. Sixteen years later, a French government official surreptitiously unearthed the philosopher's remains and returned them to the country of his birth. That, however, was only the beginning of the posthumous journeys of "the Father of Philosophy. In this refreshingly heterodox history, Russell Shorto follows Descarte's bones over three centuries and six countries, showing how the battle over his body and most especially his skull exemplifies a far more significant war between faith and reason. Descartes' Bones deserves to be read by anyone who ever puzzled over mind/body problems.
Message Edited by Kevin on
02-19-2009
10:22 PM
Permalink

Status: Bookseller Picks
"Dandelions, like humans, don't always have a strategic growth plan."
In Sara Cunningham's latest book, each chapter begins with a fact about the pesky weed as the author effortlessly uses them as a metaphor for a life of ongoing transformation.
Readers will find an exuberant mix of passion, insight, and humor wound up in a narrative spiced with stories, diatribes, laughter, tears, and what at times seems far too much self-deprecating humor. However her real genius lies in capturing the indescribable, revealing how faith does not grow out of perfect moments, but imperfect ones. . .
Cunningham uses down-to-earth metaphors of growth and renewal, planting and reaping, flowers and weeds mixed with stories from her days of her conservative childhood as the daughter of a Baptist minister to her current roles as a public school teacher and mother. Along the way she recognizes that faith isn't a "one and done" event to be marked on the calendar, but involves a lifetime of growing changing and growing some more. Her journey to and through this understanding is full of imagery that challenges readers to examine their own spiritual journey as well.
The narrative begins with a childhood filled with jumping from rock to rock to avoid the lava in the yard, competitiveness for bragging rights at bible school games, eraser dust thievery, WWJD bracelets, voicing her opinion during "grown-up" meetings, pilgrim shirt debacles, and playground confrontations for being audacious enough to wear pants to a Christian school. Ramona Quimby never had this much fun.
The Book turns more serious as the author describes going to Ground Zero within days of the attacks on the Twin Towers, "I'm convinced God was there somewhere too, browsing about the tents and the conversations, reuniting with people he had not talked to in ages and lapping up quality time with others before the moment passed and our to-do lists invited us back into oblivion, to routine tasks like picking up dry cleaning and washing our cars. But for the moment, in the skeleton of life left in the tower rubble, everyone had the time to reflect about life. We had, as a generation, been detached from the comfort of our past in just one day. And now we were drifting, fallen seeds learning to grow in even life's hardest soil."
Cunningham describes how she outgrew laissez-faire Christianity, and began moving into mature faith, because in the end the Christian life is about, becoming the person you were created to be, not the person the worlds troubles and toils try to shape you into.
What does it mean to change? Does it matter if your faith is stale? How do you go about dealing with spiritual weeds? The author pointedly asks asks these questions of herself with beauty and clarity, all while somehow never getting preachy at the rest of us who may not have yet had the boldness to ask these questions of ourselves.
"I had been faithfully weeding for a while, attacking my flaws left and right, knowing that they must die, but I had no idea how to grow a healthier, fuller life in the extra space I was creating. I needed a blueprint, the layout of a master."
In the end this is a memoir of a conversion and a realization that live as a follower of Jesus is to recognize life is a constant growth process. It is a great read for anyone wishing to explore spiritual things but unwilling to accept status quo faith.
Permalink

Status: Bookseller Picks
Would a loving, all powerful, God sentence human souls to infinite torment and suffering for something they did in a finite amount of time? What about a child who grew up and never had the chance to get to know this loving God? What about a person who is repulsed by those who claim the name of Jesus but, live a life closer to his teachings than some of his followers do?
Many people in the evangelical world find Rob Bell's style of asking more questions than giving answers unsettling. The idea that Bell might suggest something different than the modern "turn or burn" and "hellfire and brimstone" evangelism has caused quite a stir, including making Rob bell a trending twitter topic.
Weather you agree with Rob Bell or not it's is hard to deny that he has the power to reach an extremely large audience. In his latest book, Love Wins, he uses this ability to ask serious questions that deeply affect the faith of, well "Every Person Who Ever Lived."
The book is masterfully written to engage the reader with serious questions and help folks wrestle with real issues. It is not a new highly developed theological stance or a break from Bell's core convictions. However, it is a far different point of view on the bible and Christianity than the one painted by most evangelical Christians today.
With searing insight, the book puts heaven and hell under the microscope, and the message is decidedly hopeful. Yes ultimately Love Wins!
*This book has been endorsed by Eugene H. Peterson, Professor Emeritus of Spiritual Theology, Regent College, and author of The Message and Greg Boyd, senior pastor at Woodland Hills Church and author of The Myth of a Christian Nation*
*I received an advanced uncorrected proof of this book from Harper Collins Publishers and used it to write this review. The views expressed here are solely my own and not the views of Barnes and Noble, Harper Collins, or any of their subsidiaries.
Permalink

Status: Bookseller Picks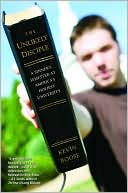 Every now and then, I hit on one of those books that I can't put down. I know I've found one of those books when I'm neglecting all the other forms of entertainment in my life--TV, Xbox, the Internet--just to read. This was the case with "The Unlikely Disciple."
I started reading this book with high expectations, and they were delivered on. Roose's style of writing is both accessible and entertaining at the same time. His depictions of his semester at Liberty University are vivid and will make you angry and make you laugh in the same paragraph. In case you're wondering, he treats Liberty very fairly--if you're expecting a brutal smackdown, you won't find it here. Most of the time he just lets Liberty speak for itself, the good and the bad, and I think in the end that might be what I like so much about this book.
Of all the books I've read in my 7 years at Barnes & Noble, this is definitely in my top 10%, and I will be recommending it to customers for a long time to come.
Great for: non-fiction readers, expose enthusiasts, and people with an open mind about religion.
Permalink

Status: Bookseller Picks
I enjoy listening to audio books. I find that time passes much more quickly at work or on long drive when I have one playing. For me, the two most important things I look for in a new audio book are a great story and a great reader, which is why I loved the Chronicles of Narnia CD Box Set. You probably already know that the stories by C. S. Lewis are classic works of fantasy, but the great actors that were recruited to perform for the audio versions--including Patrick Stewart, Kenneth Branagh, and Lynn Redgrave--increase their enjoyability greatly. My personal favorite on this collection is The Magician's Nephew as read by Michael York; I could listen to him read the phone book and never get bored. I would recommend this collection to both adults and children; it's the perfect choice for family road trips.
Permalink