New Message
Board Options
Collapse View

Expand View

Mark all Messages as New

Mark all Messages as Read

Float this Board to the Top

Bookmark

Invite a Friend

Status: Bookseller Picks
It's hard to believe Sesame Street is now 40 years old. When the show had its debut on NET (a predecessor to PBS) in the fall of 1969, it was a bold new experiment no one was quite sure would work. Over a generation later, it's an indelible part of America's cultural landscape. Veteran TV Guide scribe Michael Davis takes readers not just behind the scenes of this children's TV mainstay, but back to the beginning. He traces the roots of the show's core creative team — Joan Ganz Cooney, Jon Stone, Sam Gibbon, Dave Connell, and of course Jim Henson — as well as the evolution of educational children's TV, from Howdy Doody to Ding Dong School to Captain Kangaroo. The show's debut doesn't even occur until halfway through the book, but by taking this approach, the audience gets a clearer understanding of where Sesame Street came from, and the disparate paths that brought its creators together.
The show's early years are tumultuous, with numerous cast changes and character tweaks (in the first year, Big Bird was quite literally stupid, and Oscar was a sort of rusty orange color) as they fine-tune the format, not to mention behind-the-scenes battles to maintain the show's federal and corporate funding. Later years are marked by numerous departures, including the heartbreaking loss of Will Lee (Mr. Hooper), the painful downward spiral of Northern Calloway (David), and the untimely deaths of Jim Henson, songwriter Joe Raposo, and Muppet performer Richard Hunt. And then, there's Elmo. While I still can't stand the character, Street Gang certainly gave me a greater appreciation for his performer, Kevin Clash, who has taken up Henson's mantle as one of the guiding creative forces behind the show today.
Davis' love for his subject manages to seep from every page without the book coming across as fawning or a puff piece. He certainly doesn't shy away from things unpleasant (as his material on Northern Calloway clearly shows). Street Gang is a fast, entertaining read, and one that will deepen your appreciation for the show which made education fun.
(A chapter on actor Roscoe Orman, the third and longest-running Gordon, is available on the book's website, and will be included in the upcoming trade paperback edition of Street Gang.)
Message Edited by JL_Garner on
08-17-2009
03:12 PM
Permalink

Status: Bookseller Picks
The Flynn City Egg Man It's Easter 1969, and no one is more excited than Cyrus Flannery, the eccentric peddler known as, The Flynn City Egg Man. He's packed up the old panel truck with Easter goodies, and if everyone forgives him for his past business dealings, he just might make the rent this year. It all looks good until...Sandy True, the head cheerleading diva, and maximus drama queen of Flynn City High decides to plot a kidnapping. Her own kidnapping It may allow her time to get to Hollywood, and seek her dream of becoming an actress.
The last person she was seen with happens to be The Flynn City Egg Man, and Sandy's boyfriend, Tyler Armstrong has plans of the peddler. If the cops can't help, Armstrong will take matters into his own hands. After all, it was blood he saw in the Egg Man's kitchen.
Cuffy Landers, a seventeen-year-old reluctant hero enters the fray, and soon befriends the Egg Man. The two are pitted against a suspicious town, and a boyfriend who is hell-bent on revenge.
Recommended for adult, teen, and young adult reading with humor, suspense, and inspiration.
Permalink

Status: Bookseller Picks
Imagine the unthinkable: some sort of virus has swept the globe, causing massive numbers of previously dead humans to walk the earth in an unending search for brains, brains, and more brains. If you're the man (or woman) in the White House, sitting by the red phone when that fateful day occurs, what actions do you take? Seal the borders? Dispatch the military? Encourage civilians to stay home, congregate in evacuation centers, or flee? Bomb other countries suffering from zombie outbreaks back to the Stone Age?
These issues are cleverly examined by Daniel W. Drezner, a professor of international politics at Tufts University, in his new book
Theories of International Politics and Zombies
. A slim, quick read, Drezner takes the complex, often confusing field of international political studies and brings it to life by seeing how various political philosophies would tend to react to an onslaught of the undead. Using the classic George Romero films (
Night of the Living Dead
et. al.)
as well as more recent hits including
28 Days
/
Weeks Later
, the
Resident Evil
franchise,
Shaun of the Dead
,
Zombieland
, and Max Brooks' bestselling books
The Zombie Survival Guide
and
World War Z
, Drezner has a substantial pool of source material to draw from.
Most of the major political philosophies are addressed in TIPZ: realism, liberalism, neoconservatism, and constructivism each get a chapter, along with sections on domestic politics, bureaucracy, and the psychosocial impact on individuals. Only communism and feminism are ignored, though Drezner explains in his introduction that TIPZ has a pro-human bias, and those particular philosophies would be more likely to side with the zombies.
While on its face, the subject matter of TIPZ could be dismissed as inconsequential or silly, a zombie outbreak is actually a reasonable parallel to two of the biggest threats today: global pandemics, and stateless terrorism. Substitute 'SARS' or 'H1N1' or 'al-Qaeda' for 'zombies,' and "ripped from the movies" quickly becomes "ripped from the headlines."
Drezner successfully maintains a careful balance between a serious introduction to the major geopolitical philosophies, and a tongue-in-cheek application of the "zombie canon" to said theories. I admire Drezner's ability to walk this tightrope; I know from my own experience as an undergraduate (my topic was an historical analysis of the James Bond films) that it isn't easy, but when done well, makes for clever, insightful reading. Drezner's analysis takes what could have been a dry exercise and makes it entertaining and appealing. I equally recommend this book to fans of the zombie genre, armchair geopolitical analysts looking for a fun read, and even students trying to find a way to relate to all that stuff their professors are lecturing about.
Permalink

Status: Bookseller Picks
Tired of watching the same old movies? Read 10 Bad Dates With de Niro and pack your rental queue full of new (to you) films. This book is packed with alternative movie lists loosely arranged by category - you can concentrate on horror films if that's your bent, grab your Kleenex box for an afternoon of tear-jerkers, or pass directly to SF. The lists are provided by producers, critics, directors, and actors from every corner of the film industry - from Hollywood and indies to Europe and Asia; contributors got to pick their subjects and a few are very quirky like "The Ten Worst Wigs an Actor Dared Wear", "Top Ten Appearances by Shouty Al" [Pacino], and the title list. What's amazing about this book is that there seems to be very little overlap between the lists; even when a movie appears in different lists it seems to be for very different reasons (Star Wars: A New Hope is a popular one). 10 Bad Dates With de Niro is perfect for movie-lovers, from amateur film buffs to even the most jaded cinephile.
Personal attestation - my already-stuffed Netflix queue grew by at least 20 movies after reading 10 Bad Dates With de Niro; it would have been more but I already had some of the movies in my queue.
Permalink

Status: Featured Selections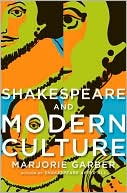 Too refreshing to be restricted to an academic audience, this sprightly romp uses dozens of example to show us that Shakespeare still lives.
"The premise of this book is simple and direct: Shakespeare makes modern culture and that modern culture makes Shakespeare." Award-winning Shakespeare scholar Marjorie Garber demonstrates her thesis with an often astonishing array of contemporary appropriations, including Stratford Bard influenced rock lyrics, advertisement campaigns, and management primers as well as more respectable plays, novels, and ballets. Her trenchant examination of ten major Shakespearean dramas shows how each has been mined not only for its archetypal messages, but also reshaped to reflect more modern preoccupations.
Message Edited by Kevin on
02-19-2009
10:23 PM
Permalink

Status: Bookseller Picks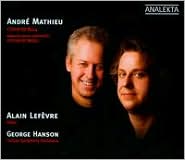 André Mathieu, a Canadian composer from the first half of the twentieth century, lived less than 40 years and only output a small number of works, most of which Alain Lefèvre has championed. The fourth concerto has an unusual history: the manuscipt was lost, so the entire work was transcribed by ear from an early recording on lacquer records. Lefèvre premiered the reconstructed work with the Tucson Symphony Orchestra in May 2008.
The piano concerto is a great work in it's own right. It's exciting, engaging, and you'll probably find yourself humming some of it's themes for the rest of the day after listening. The style is perhaps similar to Rachmaninov with some Ravel thrown in. The rest of the CD is also great and, if I must draw comparisons, has moments reminiscent of Ralph Vaughan Williams. The Scènes de Ballet is at times quite pastoral with some "movie music" moments; it really shows off the sensitive playing of concertmaster Steven Moeckel. The CD finishes up with four songs in beautifully romantic chorus and orchestra settings.
The quality of the performances are great. Alain Lefèvre is, without a doubt, a world-class performer. Don't let a recording by a regional American orchestra scare you! While my fellow Tucsonans can attest to the great performaces we hear from the Tucson Symphony every week, I'll remind the rest of my readership that the musicians in tomorrow's big-city world-class orchestras are already making amazing music all around the country in today's regional orchestras.
Why would you want to listen to a CD full of music by a composer who, until now, you've probably never heard of? Maybe that's precisely why you should! I'm not suggesting you stop listening to Rachmaninov, Tchaikovsky, et al., but take a chance on the obscure. You won't regret it.
Permalink