New Message
Board Options
Collapse View

Expand View

Mark all Messages as New

Mark all Messages as Read

Float this Board to the Top

Bookmark

Invite a Friend

Status: Bookseller Picks
The Flynn City Egg Man It's Easter 1969, and no one is more excited than Cyrus Flannery, the eccentric peddler known as, The Flynn City Egg Man. He's packed up the old panel truck with Easter goodies, and if everyone forgives him for his past business dealings, he just might make the rent this year. It all looks good until...Sandy True, the head cheerleading diva, and maximus drama queen of Flynn City High decides to plot a kidnapping. Her own kidnapping It may allow her time to get to Hollywood, and seek her dream of becoming an actress.
The last person she was seen with happens to be The Flynn City Egg Man, and Sandy's boyfriend, Tyler Armstrong has plans of the peddler. If the cops can't help, Armstrong will take matters into his own hands. After all, it was blood he saw in the Egg Man's kitchen.
Cuffy Landers, a seventeen-year-old reluctant hero enters the fray, and soon befriends the Egg Man. The two are pitted against a suspicious town, and a boyfriend who is hell-bent on revenge.
Recommended for adult, teen, and young adult reading with humor, suspense, and inspiration.
Permalink

Status: Bookseller Picks
Where would we be without Opus? Or Steve Dallas? Or the hair-ball producing, electric-tongue playing Bill the Cat? Our lives would have far less laughter. Berkeley Breathed debuted his political send-up strip in the Washington Post on December 8, 1980, with the famous "Whopper, hold the bun" strip - and we never looked back. Bloom County ran until 1989 and spawned two offshoots - Outland and Opus - and several picture books but the strip was never published in its entirety. Until now. Volume 1 contains all the strips in chronological order from the debut to September 26, 1982; Volume 2 is in the works for Spring 2010 and more volumes are expected. I carted my precious Volume 1 home the day it came in and spent a the entire evening (night) chortling over Milo hunting Commies, aka ducks, with his Grandpa, Steve Dallas's inept womanizing, and Bobbi's attempts to control her classroom. Breathed takes all the 80s cliches and politics and throws them back at you - no holds barred. What makes the Complete Library extra-special are the margin notes provided by Breathed pointing out little tidbits and asides (he'll tell you where Milo got his hame) and the inclusion of some strips from The Academia Waltz, Breathed's strip for The Daily Texan at UT-Austin. This is my all-time favorite comic-strip; I was too young to appreciate Milo and the gang when they were in the paper but fell in love with the wacky crew through Bloom County Babylon and Billy and the Boingers Bootleg. Now I get to read the strips not included in previous Bloom County collections and I couldn't be happier. This is the perfect addition to any comic-strip aficionado's collection.
Permalink

Status: Bookseller Picks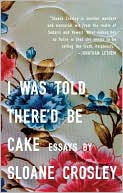 What a fantastic read! Sloane Crosley covers everything from the mundane of everyday life to the extreme. Her self deprecating humor and willingness to make fun of just about everything she's ever done makes this book one that will make you laugh out loud. Even the description of the author on the back of the book tells you right away what you're getting into, mentioning that she has written for several magazines, but only for their worst selling issues ever! One of her best stories tells of her growing collection of toy ponies due to the fact that whenever she is asked what she wants, she replies, like many "A pony." Only this girl really does get them..... and keeps them! Also those of us with unusual names can relate to her story of being "that person" in the room with the only name people either can't pronounce or figure out. Finally an all around great read that fans of David Sedaris will enjoy.
Permalink