New Message
Board Options
Collapse View

Expand View

Mark all Messages as New

Mark all Messages as Read

Float this Board to the Top

Bookmark

Invite a Friend

Status: Bookseller Picks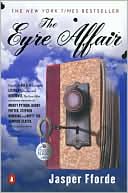 Introducing Thursday Next, Jasper Fforde's no-nonsense, smart, funny, and loving heroine of his first series. We meet Thursday in an alternate mid-1980s Great Britain - one still fighting in the Crimea with Russia - and she is hot on the trail of forgers, Shakespeare impersonators, and book thieves. Everyone is mad for literature including Acheron Hades, the most wanted man in Britain, and it is Thursday's job to catch him once Jane Eyre is kidnapped from her book leaving the remaining pages of the beloved novel blank. Fforde's first novel is laugh-out-loud funny, including obscure literary in-jokes that even the most well-read bibliophile might miss, with a drop or two of sci-fi tech, and also quite terrifying when Thursday fights for her life atop the blazing Thornfield Hall. Fforde uses Thursday's world to comment on certain aspects of our own society including government interference by large corporations (signified by the hulking Goliath Corporation), over-commercialization, and the decline in literacy. Fforde's books suck you in, which is great because you'll want to follow Thursday through the rest of her books: Lost in a Good Book, The Well of Lost Plots, Something Rotten, Thursday Next, and one more Thursday novel due sometime in 2010 (or so Jasper says); Thursday learns about the Bookworld and Jurisfiction, apprentices with Miss Havisham, fights grammasites in the Well, tracks the Minotaur, takes the indecisive Dane of Denmark under her wing, and saves Pride and Prejudice from the degredation of reality TV (now I've really got you wondering...I guess you'll have to read all the books now
) - it's all very accessibly, absurd, and fun to read. Once you've finished Thursday's published books, and need a tide-over until the next one, you can start on Fforde's Nursery Crime series (Big Over Easy and The Fourth Bear), following DCI Jack Spratt and his partner, Mary Mary, as they solve hard-boiled nursery rhyme crime in Reading, and his new series, Paint by Numbers, will debut in December 2008.
Permalink

Status: Bookseller Picks
Ebooks and their assorted electronic paraphernalia dominate the headlines more than ever. The last week of July saw Barnes & Noble unveil plans to carve out 1,000 square foot "Nook boutiques" in our 700 brick-and-mortar retail stores, while Amazon launched their third-generation Kindle eReader. Perhaps more astonishing was Amazon's announcement in mid-July that for the past three months, eBook sales outpaced hardcover book sales; their CEO predicts eBooks will eclipse paperbacks within a year.
It was fortuitous, then, that
It's a Book,
the new picture book from Caldecott Honor illustrator Lane Smith arrived at my store on Friday. Filled with subversive humor and bold clever illustrations,
It's a Book
is delightfully contrarian in its celebration of the printed page at a time when customers, retailers, and publishers alike are jumping on the digital bandwagon with gleeful abandon.
Smith's prose adopts a simple call-and-response format as the younger, tech-savvy Jackass peppers his older companion Monkey with questions about what he's reading ("Do you blog with it?" "Does it tweet?"), to which Monkey always answers, "No. It's a book." The illustrations are equally simple, yet richly textured. In this regard,
It's a Book
is a perfect example of why eBooks won't completely replace print books (at least, not yet). I shudder to think how Smith's illustrations — which frequently take advantage of the two-page spread by having Jackass on the left-hand page and Monkey on the right — would be completely mangled on the six-inch grayscale display of a Nook, and would even lose something on Apple's iPad (which has a full-color screen and can be rotated to show a two-page format).
Smith, best known for his frequent collaborations with author Jon Scieszka, really strikes a blow for "dead tree books" with
It's a Book.
Kids will love the illustrations (and snicker at a certain word), while parents will be able to relate to Monkey's patience and perseverance with a child who's grown up in a world of digital ubiquity.
Permalink

Status: Bookseller Picks
Being an ardent Jane Austen enthusiast, I was nonplussed when the news hit the Internet about Pride and Prejudice and Zombies, combining Jane Austen's classic novel with bone-crunching zombie mayhem! What? Did two genre's ever seem more incompatible? Even though it did not appeal to my genteel sensibilities, I was intrigued and thought it worth a look. The co-author Seth Grahame-Smith had taken about 85% of Austen's original text and interwoven a zombie subplot. I have to admit that the first line had me smiling. "It is a truth universally acknowledged that a zombie in possession of brains must be in want of more brains." What follows is quite a surprise. He has changed feisty Elizabeth Bennet and the haughty and arrogant Mr. Darcy into ninja warriors, ready to spar in the ball room as well as the battlefield against the sorry stricken who they delicately call unmentionables. It appears that anyone who is not a ninja warrior is a target for zombie destruction, so if there is a character from the original plot ripe for reproach, then it is sure to happen. Brains and gore abound, so the delicately minded take heed. If you enjoy a good ribald parody, the play between the original text and the new storyline is hysterical. Pride and Prejudice and Zombies is sure to please those who live to make sport for their neighbors, and laugh at them in their turn! Read my complete review at my literary blog Austenprose.
Cheers, Laurel Ann, Austenprose
Permalink

Status: Bookseller Picks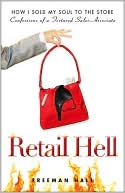 In this quick and hysterical read you will meet all of the customers that you love to hate. It will also remind you why you love to work in retail. Despite the crazy hours and the angry customers, working in retail is an addiction. Freeman will make you laugh out loud and want to read passages to your coworkers.
Freeman worked at Nordstrom's in the handbag(never the purse) department for years. He tells you about all of his regulars- the good, the bad, and the ugly. He recalls the people that made his job the best and worst thing that ever happened to him.
If you like the writing that Jen Lancaster brought to the table you will love Retail Hell.
Permalink

Status: Bookseller Picks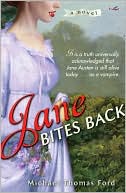 "...that Jane Austen is still alive today — as a vampire."
That's the premise of Jane Bites Back, the clever and highly amusing new novel from Michael Thomas Ford.
Jane Fairfax is the owner of Flyleaf Books, located in a sleepy little town in upstate New York. Jane Fairfax is also a 234-year-old vampire and the author of some of the most beloved works in English literature. Being undead isn't all it's cracked up to be, though. She hasn't seen a royalty check in centuries, while an entire industry cashes in on her fame with sequels, prequels, film adaptations, self-help books, and worst of all… finger puppets. Then, there's Constance, the novel Jane's been trying to publish since before her "death." One hundred sixteen rejection letters later, Jane finally hits on success, but at what price? Her carefully crafted existence is imperiled by the need to tour and promote her book; a scholar who knows Charlotte Brontë a little too well is threatening to expose her; and a mysterious figure from Jane's past returns to haunt her.
From beginning to end, Jane Bites Back was a fun, engaging read. Drawing on both the current vampire craze and the unstoppable wave of "Austenmania" which began with the 1995 adaptations of Sense and Sensibility and Pride and Prejudice, Ford successfully skewers them both. For readers who love English literature but aren't too sacrosanct about it, there's plenty to enjoy here. In addition to Austen, Lord Byron is a major character (and as big a literary rock star as ever!), serving as both irritant and potential romantic interest. Another major literary figure plays a key role in the novel, but to tell who would be to spoil a deliciously hilarious scene that comes at about the two-thirds mark.
Ford, best known for his gay-themed fiction and non-fiction, successfully makes the jump to 'chick lit' with Jane Bites Back. I've never read him before, but I was sufficiently impressed and entertained that I'm eagerly awaiting the next of his vampire Jane Austen novels, Jane Goes Batty.
Permalink

Status: Bookseller Picks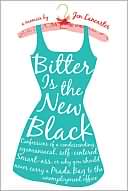 Sarcastic, witty, and fun; Jen Lancaster brings humor to the unemployment line in pearls. Never before have I read such an entertainingly playful memoir with an actual story. From the rise of the dot com era to the fall of the industry and Jen right onto her self proclaimed smart-ass, this book will have your attention. Endless e-mails, job applications, interviews, phone calls, the unemployment office, an awkward proposal, a wedding, pet adoption, not being able to make rent, and a blog; this book has it all. I've never laughed out loud so hard while reading a book in my life and with this quick and witty read, you'll be cracking up in no time.
Permalink

Status: Bookseller Picks
After a night of heavy drinking with some buddies, British comedian Tony Hawks awoke to find a note pinned to his shirt stating that he had accepted a bet to hitchhike the circumference of Ireland with a refrigerator in tow. Part memoir and part travel journal, Tony takes us on his adventure 'round Ireland as he and his mini-fridge attempt to win this bet. You will laugh out loud every chapter as events unfold that could only happen in Ireland and be moved as those events start to take on significant meaning in Tony's life. If you are someone who loves to laugh and values a unique perspective then I highly recommend this book for you.
Permalink

Status: Bookseller Picks
I've worked for Barnes & Noble for almost eight years, and been employed as a public librarian for almost three. I love both my jobs, but I'll be the first to admit neither is perfect, nor did they exactly come as advertised. That's what I love about both of the books I'm recommending here: that they present the good with the bad, and present a warts-and-all image of both professions.
Pretending You Care: The Retail Employee Handbook is written by Norm Feuti, who is also the creator of the comic strip Retail, and draws from his years of experience as a retail employee and manager. The book is organized like an employee manual, covering broad topics like customers, co-workers, management, and store operations. Using his Retail strips to illustrate his points, Feuti humorously exposes the games people play to avoid work, get around return policies, and wield whatever power they have in their little fiefdom... I mean, area of responsibility. While he frequently cuts through a lot of bull, Feuti is never malicious or belittling, and has a great deal of respect for those who do what is often a thankless, high-pressure job; he has even more respect for those who try to do it with a minimum of shenanigans. Reading Pretending You Care was an eye-opening, side-splitting experience for me. Finally, here was someone who'd been where I've been, seen the same things I've seen, and was telling all of it, and not mincing words.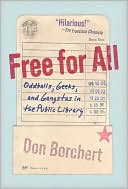 Free for All: Oddballs, Geeks, and Gangstas in the Public Library is the memoir of Don Borchert, a library assistant in the suburban Los Angeles public library system. As a library assistant, he is not actually a professional librarian (the publisher reversed these words on the dust jacket, causing a great deal of whinging among library professionals), but because of the light staffing at his branch, he ends up doing just about everything except actually running the library. Filled with stories that run the gamut from hilarious to disturbing to heartbreaking, Borchert strips away the fantasies about a librarian's life being one of intellectual stimulation and quiet. His library is a raucous building where homeless people come to sleep, latchkey kids come to hang out, and oddballs come to congregate (one of the patrons spends his days surfing the internet looking for mail-order brides from South America; on my side of the country, they're doing the same thing, but looking across the Atlantic to Russia). Despite the insanity, it's clear from Free for All that Borchert loves his work, and knows he and his coworkers are providing a valuable, if underappreciated, service. I've recommended this book to several people contemplating a library career, not to scare them off, but just so they have a more rounded picture of what they're getting themselves into. To their credit, not one of them turned away after reading it.
Permalink

Status: Bookseller Picks
Life has not gone smoothly since Sam accidentally burned down Emily Dickinson's house (oh, and killed two people in the process) ten years ago. Now Sam is out of prison and ready to begin life anew. He is forced to move in with his nutty parents while he looks for a job. Sam also tries to apologize to the man who's mother he killed and the craziness continues.
When other author's homes begin to burn to the ground, Sam must discover who is out to get him and continue to try and build a life for himself in the process.
A quick and fun book that is great for any reader.
Permalink

Status: Bookseller Picks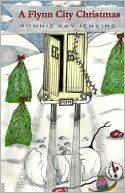 A Flynn City Christmas
Unlike any Christmas story before, the second book in the series of The Flynn City Egg Man is another romp through Appalachia. This time it is Christmas, 1971. An eccentric peddler, a reluctant hero, and the rest of the gang meet up again in a town that is short on holiday magic.
Christmas is coming to Flynn City, and it seems everyone needs a miracle. Especially, the Flynn City Egg Man. His investment in the "Claser," results in all of his assets seized and he finds himself broke. Angry, he takes it out on an iguana, in a town that worships the reptile. Now, he finds himself in a Mexican jail.
Sandy True, the local drama queen who orchestrated her own kidnapping back in Easter 1969, in The Flynn City Egg Man, is pregnant, and her boyfriend Tyler Armstrong is about to be released from jail. Cuffy Landers returns back to Flynn City from college to spend winter break in the coal patch with his father, and to keep out of Tyler's way. After all, can you really forgive someone who tried to kill you?
A major snowstorm strikes the area, and it will take more than one Christmas miracle to save a town already on the verge of dying. Will there be enough miracles to go around?
Jenkins paints a holiday landscape of hope, inspiration, and a coming of age journey promising to take you back to a place in time that offers up Christmas in a brand new light. Recommended for adult and young adult reading.
Permalink

Status: Featured Selections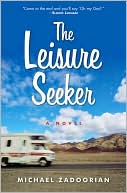 This authentic last hurrah love story is so heartfelt and bittersweet that it will linger in the mind long after you've read its final page.
In this senior citizens' version of On the Road, an aging couple, one with cancer, the other with Alzheimer's, heads west towards a Disneyland sunset. Ignoring their children's pleas, Ella and John Robina leave the Detroit suburbs and take to the road in their Winnebago for one grand, improvised last vacation. Along the way, this loving couple encounter a full menagerie of eccentrics; roadside attractions and predators; and poignant, if fleeting memories.
Message Edited by Kevin on
02-19-2009
10:14 PM
Permalink