New Message
Board Options
Collapse View

Expand View

Mark all Messages as New

Mark all Messages as Read

Float this Board to the Top

Bookmark

Invite a Friend

Status: Featured Selections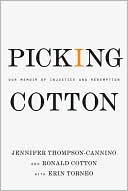 Picking Cotton
is a story about a rape and its legal aftermath, but it's really about so much more. Jennifer Thompson was a college student when, with a knife at her throat, she was startled from her sleep, and then attacked by an angry rapist. Terrified, but apparently at least partly unfazed, this former homecoming queen escaped from this predator, but not before she made clear note of his face. Several days later, she picked Ronald Cotton out of a lineup. Several months later, she testified against him at the trial. Two years later, when he won an appeal, she took the stand again and again he was convicted, sent to a North Carolina prison for life. There he remained incarcerated for eleven years; then a DNA test confirmed what Cotton already knew: He was innocent. With his release, the deeper story begins. After this long, intense ordeal victim Ronald and victim/former accuser Jennifer somehow become not only friends, but also committed partners in the fight against future injustices. While I was reading this book, I came upon Edith Wharton's description of a good story. She called it, "a shaft driven straight into the heart of human experience." This is such a story.
Permalink

Status: Featured Selections
The arresting story of how a single woman's struggle to keep a small cottage evolved into a landmark case before the U.S. Supreme Court.
The little pink house on this book's cover belonged to Suzette Kelo; or at least, so she believed. In 1997, this strong-minded EMT left a troubled marriage and bought this modest cottage in working class New London, Connecticut. She was still settling in when the city's development corporation threatened to invoke its right to eminent domain to force home owners to make way for a giant Pfizer research complex. Refusing to abandon her newfound home, Kelo joined neighbors in legal actions that eventually landed her case in the United States Supreme Court. Even a historic decision in that high court, however, did not bring final resolution. In fact, as award-winning journalist Jeff Benedict notes in this powerful book, the saga of the single little pink house has implications that none of us can ignore.
Message Edited by Kevin on
02-19-2009
10:20 PM
Permalink