New Message
Board Options
Collapse View

Expand View

Mark all Messages as New

Mark all Messages as Read

Float this Board to the Top

Bookmark

Invite a Friend

Status: Main Selections
September 2008 --
An engrossing debut thriller,
The Girl with the Dragon Tattoo
has been an international sensation, a bestseller in its native Sweden and throughout Europe. It features an unforgettable heroine: a brilliant 24-year-old punk-goth computer hacker and private investigator named Lisbeth Salander. Together with Mikael Blomkvist, a financial journalist on a most unusual assignment, she tracks a serial killer through a dangerous maze of business, political, and family secrets.
The intricate tale begins when Blomkvist is convicted of libeling top Swedish industrialist Hans-Erik Wennerström. Unable to prove his innocence, Blomkvist prepares to leave his position at
Millennium,
the magazine he co-founded, now financially threatened by the verdict. But a summons from Wennerström's rival, the aging tycoon Henrik Vanger, presents an option he couldn't have imagined: In exchange for Blomkvist's writing the Vanger family history, Vanger promises to back
Millennium
financially and deliver incriminating evidence of Wennerström's crooked dealings.
But that's not all. The closets of the Vanger clan are littered with skeletons, and his new patron wants Blomkvist to set one at rest: the disappearance, 40 years ago, of Vanger's 16-year-old grandniece, Harriet. Intrigued by the cold case that was never solved despite multiple investigations, Blomkvist begins to dig for new evidence on an island north of Stockholm.
He is soon joined by Salander, a freelance investigator originally hired by Vanger to vet Blomkvist's reputation. Multiple piercings and tattoos are belied by the young computer genius's photographic memory. A victim of assault and harrowing abuse, Salander is driven by a relentless will and an astonishing capability for merciless retribution.
Larsson's narrative unfolds with mounting suspense, detailing the duo's intellectual ingenuity and increasing courage as they expose hidden cultures of right-wing fanaticism and misogyny and reveal the moral bankruptcy of big capital. As they race across Europe and on to Australia to trap their prey before another woman is tortured and killed, the reader is held in breathless anticipation until the novel's unforeseen conclusion.
Message Edited by PaulH on
04-07-2009
02:34 PM
Permalink

Status: Bookseller Picks
When I saw that Kate Morton released a second book, I couldn't wait to get my hands and eyes on it. House at Riverton had been a recommend from a fellow bookseller and, wary as I am of recommends, I read it. And I loved it. But The Forgotten Garden I loved even more.

Kate Morton has a knack for weaving the past and the present together, for spanning the continents, and for intricate character and plot details that have that "blink and you'll miss it" feel.

I devoured The Forgotten Garden. Cassandra in present-day Australia who, after her grandmother's death, is left a house in Cornwall, England. To Cassandra's grandmother, Nell, both as a child and as an adult, discovering her past. To the mysterious Mountrachet family and fairy tale Authoress Eliza Makepeace. Who is everyone? How are they connected? Who is Nell, really? And what will Cassandra learn about both her grandmother and herself along the way?

What I liked most about Morton's second novel is that it wasn't easy to figure out. The mystery shrouding the characters (each and every character, from a maid in the Mountrachet household, to Nell's parents in Australia, to a young gardener Cassandra meets) folds them all together and doesn't give anything away prematurely. I love figuring things out, but each time I thought I had something figured out, Morton added in another element. You would think with this many strings, the novel would be tangled and heavy, but that isn't the case at all. In fact, everything is necessary and everything comes to fruition.

I'd recommend this to anyone who likes to be surprised, who likes interweaving storylines, past and present, and -- well, really, anyone at all. It is phenomenal.
Permalink

Status: Bookseller Picks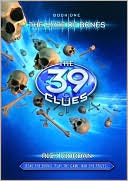 The 39 Clues Series is one of the most ingenious concepts in the history of THE BOOK.
Exhibit A: A 10-volume series written by seven different authors. Despite the author-switching, the transition from book to book is seamless, allowing you continue reading without even noticing a change in the voice. The characters remain consistent, though each author has a little something extra to add.
Exhibit B: A crash course in all those boring (yawn) school subjects...but you now realize just how fascinating they are. You learn unique and intriguing facts about topics ranging from art and geography to mythology and history and everything in between. Each of these topics is approached in an extremely entertaining way.
Exhibit C: Interactivity. Yes, you can solve the mystery of the 39 Clues yourself! Each book comes with 6 cards (which are also available in booster packs to purchase separately) that allow you to piece together the puzzle online. In fact, if you are between the ages of six and fourteen, you can win super prizes, including money.
Take all of this, and add Dan and Amy (a moody pair of siblings) who are left with the following choice: get one million dollars each and continue to live with crabby Aunt Beatrice, or run away from her and ditch the million in hopes of uncovering amazing Grandma Grace's big family secret on a whirlwind globe-trekking adventure. Having chosen the latter option, they quickly recognize that they are competing against relatives who are all richer, stronger, and have more resources at their disposal. However, as the complications arise, they learn to use the one advantage they do have— their intellect. It doesn't seem like much at first, but once they begin to see their opponents' weaknesses, they look like they can out-maneuver anything. So do the underdogs defeat the opposition? We'll find out on September 1, 2010 when the final book is released.
Whatever happens, the verdict is in: The 39 Clues Series is guilty of being one of our favorite new pastimes.
Message Edited by melissas on
08-23-2009
02:20 AM
Permalink