New Message
Board Options
Collapse View

Expand View

Mark all Messages as New

Mark all Messages as Read

Float this Board to the Top

Bookmark

Invite a Friend

Status: Main Selections
February 2009 -- As sidekicks, Maxwell Smart and Agent 99 have nothing on Chet and Bernie. This charming detective duo make their debut in Dog On It, the first volume in Spencer Quinn's new mystery series. The fast-paced and funny tale is narrated by the inimitable Chet, Bernie's best friend and canine partner, whose personality and preferences are never in doubt: "I liked to sleep at the foot of Bernie's bed, but my favorite napping spot was in the breakfast nook, under the table with my back against the wall, all cool and shady, plus there was often good snacking around Bernie's chair."

Bernie's enterprise, the Little Detective Agency, limps along, waiting for the next job to arrive. While Chet freely admits that he doesn't always understand the humans around him, the mutt who failed to graduate from the police academy quickly establishes that he's got a nose made for sniffing out trouble — as well as the tasty morsel.

When the story begins, Chet and Bernie are settled into the companionable routine they established when Bernie got divorced and lost custody of his son. Riding shotgun for stakeouts in Bernie's beat-up convertible (and snarfing up doughnuts and beef jerky) is the perfect life for Chet, though he knows Bernie's worried about cash flow.

But their luck is about to change. During a nighttime stroll through the neighborhood — an older enclave in the southwestern desert that Bernie fears will soon be eclipsed by new development — the pair encounter a panicked neighbor, Cynthia Chambliss. Waving a wad of bills, she beseeches Bernie to find her daughter, Madison, a 15-year-old who has been missing for several hours.

Bernie heeds the call of cash and the urgency of parental concern, but Madison soon returns home on her own, only to disappear again in short order — this time for several days. Cynthia frantically rehires Bernie, but her ex, Damon Keefer, refuses to cooperate, insisting that Bernie be taken off the investigation. Nevertheless, intrigued by the young girl's apparent connections to a group of Russian thugs, Bernie and Chet follow a trail of clues that leads them into more danger than they'd bargained for.

As Chet and Bernie race across the desert toward Las Vegas in their sandblasted Porsche, Quinn's narrative unfolds with mounting suspense. At every stage of their journey, readers will warm to Chet's loyalty and courage — to say nothing of his delightfully doggy digressions — and be captivated by Spencer Quinn's deft blend of humor and thrills in this enormously entertaining tale, bound to be the first of many adventures.
Message Edited by Kevin on
04-06-2009
01:56 PM
Message Edited by PaulH on
04-13-2009
10:56 AM
Message Edited by PaulH on
04-13-2009
10:56 AM
Message Edited by PaulH on
04-13-2009
10:57 AM
Permalink

Status: Featured Selections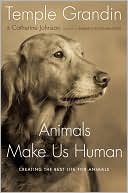 A specially gifted "animal translator" shares fascinating insights and observations on how we can treat other creatures in ways that are more truly humane.
The culmination of more than thirty years of work with other species, Temple Grandin's Animals Make Us Human delivers on the assertions of both its title and subtitle. Drawing on keen, hard-won observations, the author of the bestselling Animals in Translation and Thinking in Pictures draws on her experiences as an autistic woman to describe core emotion systems shared by humans and other creatures: a need to seek; a sense of rage, fear, and panic; feelings of lust; an urge to nurture; and an ability to play. Her detailed examples encompass much of the animal kingdom, including dogs, cats, horses, cows, pigs, poultry, wild creatures, and captives of zoos. An engaging nature book that spells out how we can make animals happy.
Message Edited by Kevin on
02-19-2009
10:50 PM
Permalink

Status: Bookseller Picks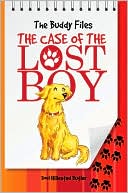 When I learned to read in the early 1980s, I picked up any book I could get my hands on. And when those books had animals on the covers, it was all the better. One of the first books I ever remember owning, I selected from a Reading Is Fundamental event at my local library. It was Mystery Cat and the Monkey Business (Susan Saunders, 1986), and I chose it because clearly, from the title, it was a mystery—plus there was a cat on the cover. Fast forward twenty-five years, and I still love pet mysteries, from Dog On It to The Dogs of Babel. Something about an animal that can identify the unknown delights me. Seeing The Buddy Files: The Case of the Lost Boy, transported me back to my childhood, and I knew I had to read it. This book was a true detective novel, complete with a red herring, a distracting new case that sidetracked the detective from his original intent, and all the while, told from a dog's perspective in a believable way. And this dog is definitely smart, logical, and funny. The Buddy Files series will appeal to readers ages 7 to 11, even reluctant ones, due to its fun approach, its cast of characters, and its ability to leave you wondering what will happen in his next case. This summer, I noticed many students' summer reading lists included this book as an option. I definitely recommend it above most others.
Permalink

Status: Bookseller Picks
I bet your first thought was that I'm recommending the classic The Odyssey, which is a very good read, but I'm not. If you never read another heartwarming tale about a beloved pet, read this one. Seriously.
Homer is blind. In fact, Homer had his eyes removed when he was still a kitten, so he has never had the chance to rely on the sense of sight. That, combined with a wonderful, caring owner, makes Homer a, in Gwen Cooper's words, "wonder-cat."
I've read the other ones -- Marley & Me, Dewey, etc. -- but none have touched me the way this story, about a little blind black cat named Homer, has. Cooper has a knack for storytelling and a way to show her readers the very unique personalities of each of her three cats. But, of course, it's Homer who shines. He has no fear. He knows no bounds. He will try anything once. In fact, if he fails, he will try, try again. Instead of taking the easy way out, as Cooper feared when she adopted him, Homer persevered. He grew into an affectionate, lovable, fearless cat who captures the attention and hearts of everyone who meets him.
The book outlines much of Homer's life, chronicling Cooper's string of boyfriends, apartments and roommates, moves from Florida all the way to Manhattan, where she lived on 9/11 -- with her cats. We see not only a portrait of the cat, but also of the author and how her life was affected and shaped by the love she shared with her animals.
Permalink

Status: Bookseller Picks

Dress Your Dog is a wonderful collection of sweaters, leashes, dresses and other fun things you can knit for your dog. The pink lace dress is my favorite! Followed close behind by the knitted flowers that you can attach to your hand knitted leash.
Author and artist Sys Fredens does a great job of giving instruction and exhibiting beautiful photography of her work. This is a keeper for any dog lover and knitter.
Permalink

Status: Bookseller Picks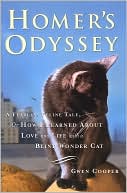 When a tiny black kitten was brought into a vet's office at two weeks of age, with a severe eye infection, the couple that found him wanted him put down. The brave vet thought he could survive, just without his eyes.
Meet Homer, an amazing cat that had his eyes surgically removed. This little boy can catch a fly in mid air. He can distinguish between a can of soup and a can of tuna, before they are open. He even saved his owner from a burglar.
This is a great read for any animal lover. It reminds you that anything is possible if you want it to happen. A warm and fuzzy book.
Permalink