New Message
Board Options
Collapse View

Expand View

Mark all Messages as New

Mark all Messages as Read

Float this Board to the Top

Bookmark

Invite a Friend

Status: Featured Selections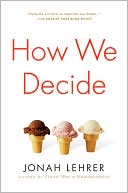 A talented journalist taps the latest research in neuroscience and behavioral economics to explain what we now know about human decision-making.
Each of us makes thousands of decisions a day; so many, in fact, that we make most of them without much forethought or rational reflection. But, as Jonah Lehrer proves in this persuasive book, making "rational decisions" about even the most consequential matters isn't always the wisest strategy. Drawing on cutting-edge studies, he describes how our minds evaluate incoming data and why the optimal mix of feeling and reason depends on the problem at hand. Packed with surprises, How We Decide brims with counterintuitive advice: New Yorker contributor Lehrer argues, for instance, that it's best to emotionally "feel out" major purchases such as buying a house before making the jump. Stimulating reading for fans of Malcolm Gladwell.
Message Edited by Kevin on
02-19-2009
10:37 PM
Permalink

Status: Bookseller Picks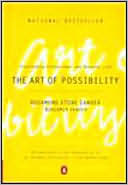 The Zander's insightful and unique take on the art of possibility seeks to uncover the untapped riches of the correct use of our imagination. This new look at understanding creativity, the uprooting of dead images and the revision of outdated assumptions in order to eliminate self-imposed limitations and experience one's own soulful existence. These real life anecdotes and practical applications provide the reader with the knowledge and tools to experiment with the dynamic choice of possibility in our own lives.
Message Edited by Kevin on
03-05-2009
08:39 AM
Permalink

Status: Featured Selections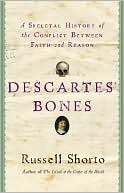 This unconventional history justifies Jeffrey Toobin's description of it as

"[a] compelling intellectual detective story, one that illuminates the present as much as the dusty past."
On a frigid February day in 1650,

Re
né
Descartes was buried in the frozen ground of Stockholm, far from his French homeland. Sixteen years later, a French government official surreptitiously unearthed the philosopher's remains and returned them to the country of his birth. That, however, was only the beginning of the posthumous journeys of "the Father of Philosophy. In this refreshingly heterodox history, Russell Shorto follows Descarte's bones over three centuries and six countries, showing how the battle over his body and most especially his skull exemplifies a far more significant war between faith and reason. Descartes' Bones deserves to be read by anyone who ever puzzled over mind/body problems.
Message Edited by Kevin on
02-19-2009
10:22 PM
Permalink

Status: Bookseller Picks
"Dandelions, like humans, don't always have a strategic growth plan."
In Sara Cunningham's latest book, each chapter begins with a fact about the pesky weed as the author effortlessly uses them as a metaphor for a life of ongoing transformation.
Readers will find an exuberant mix of passion, insight, and humor wound up in a narrative spiced with stories, diatribes, laughter, tears, and what at times seems far too much self-deprecating humor. However her real genius lies in capturing the indescribable, revealing how faith does not grow out of perfect moments, but imperfect ones. . .
Cunningham uses down-to-earth metaphors of growth and renewal, planting and reaping, flowers and weeds mixed with stories from her days of her conservative childhood as the daughter of a Baptist minister to her current roles as a public school teacher and mother. Along the way she recognizes that faith isn't a "one and done" event to be marked on the calendar, but involves a lifetime of growing changing and growing some more. Her journey to and through this understanding is full of imagery that challenges readers to examine their own spiritual journey as well.
The narrative begins with a childhood filled with jumping from rock to rock to avoid the lava in the yard, competitiveness for bragging rights at bible school games, eraser dust thievery, WWJD bracelets, voicing her opinion during "grown-up" meetings, pilgrim shirt debacles, and playground confrontations for being audacious enough to wear pants to a Christian school. Ramona Quimby never had this much fun.
The Book turns more serious as the author describes going to Ground Zero within days of the attacks on the Twin Towers, "I'm convinced God was there somewhere too, browsing about the tents and the conversations, reuniting with people he had not talked to in ages and lapping up quality time with others before the moment passed and our to-do lists invited us back into oblivion, to routine tasks like picking up dry cleaning and washing our cars. But for the moment, in the skeleton of life left in the tower rubble, everyone had the time to reflect about life. We had, as a generation, been detached from the comfort of our past in just one day. And now we were drifting, fallen seeds learning to grow in even life's hardest soil."
Cunningham describes how she outgrew laissez-faire Christianity, and began moving into mature faith, because in the end the Christian life is about, becoming the person you were created to be, not the person the worlds troubles and toils try to shape you into.
What does it mean to change? Does it matter if your faith is stale? How do you go about dealing with spiritual weeds? The author pointedly asks asks these questions of herself with beauty and clarity, all while somehow never getting preachy at the rest of us who may not have yet had the boldness to ask these questions of ourselves.
"I had been faithfully weeding for a while, attacking my flaws left and right, knowing that they must die, but I had no idea how to grow a healthier, fuller life in the extra space I was creating. I needed a blueprint, the layout of a master."
In the end this is a memoir of a conversion and a realization that live as a follower of Jesus is to recognize life is a constant growth process. It is a great read for anyone wishing to explore spiritual things but unwilling to accept status quo faith.
Permalink