New Message
Board Options
Collapse View

Expand View

Mark all Messages as New

Mark all Messages as Read

Float this Board to the Top

Bookmark

Invite a Friend

Status: Featured Selections
A witty cosmological narrative about a pint-sized planet that got "lost."
Pluto had a seventy-six year run as a planet, until it was demoted in August 2006. Though now relegated to "dwarf planet" status, this cosmological runt still maintains its huge fan base, especially in the United States. In fact, some American scientists continue to fight an uphill battle to get the celestial body reinstated and recent straw polls show that Pluto remains the favorite planet among American elementary students, perhaps because its name sounds like that of a cartoon character. Neil deGrasse Tyson's delightfully diverting The Pluto Files tracks the weird history of this extraterrestrial underdog and its irrepressible popularity.
Message Edited by Kevin on
02-19-2009
10:39 PM
Permalink

Status: Featured Selections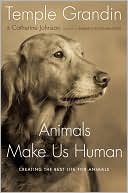 A specially gifted "animal translator" shares fascinating insights and observations on how we can treat other creatures in ways that are more truly humane.
The culmination of more than thirty years of work with other species, Temple Grandin's Animals Make Us Human delivers on the assertions of both its title and subtitle. Drawing on keen, hard-won observations, the author of the bestselling Animals in Translation and Thinking in Pictures draws on her experiences as an autistic woman to describe core emotion systems shared by humans and other creatures: a need to seek; a sense of rage, fear, and panic; feelings of lust; an urge to nurture; and an ability to play. Her detailed examples encompass much of the animal kingdom, including dogs, cats, horses, cows, pigs, poultry, wild creatures, and captives of zoos. An engaging nature book that spells out how we can make animals happy.
Message Edited by Kevin on
02-19-2009
10:50 PM
Permalink

Status: Featured Selections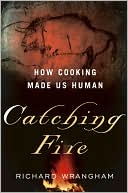 If there was ever a book to take to dinner, this is it. In Catching Fire, biological anthropologist Richard Wrangham proposes a startling new scientific theory, but he does it in such a lively, engaging way that you never once feel that you're in the presence of a ponderous "great thinker." Wrangham maintains that it was cooking that enabled our evolutionary leap from chimp-like primates into smaller gut, bigger brained humans. His theory is complicated and, of course, highly controversial, but he makes it with fascinating examples and a clarity that should make other scientists envious. And, let's face it; is there a more important subject than what makes us human?
Message Edited by FeaturedSelectionReaders on
08-26-2009
08:44 AM
Permalink

Status: Featured Selections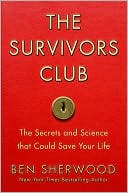 The best answers available to one of life's core questions: How can I survive danger?
Even when we're in the safest of situations, we humans worry and wonder about survival. Whether we're imagining how we would escape from a burning building or plane; avoid a deadly wild animal attack; or stay alive as a psychopath's hostage, we all know that surviving is the bottom line. Los Angeles Times journalist Ben Sherwood traveled the world to learn the secrets that helped real men and women stay alive in moments of extreme physical crisis. The stories are gripping; the lessons could be life-saving.
Message Edited by Kevin on
02-19-2009
10:37 PM
Permalink

Status: Featured Selections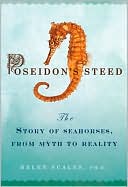 There is something indisputably magical or incongruent about seahorses. These fragile ocean creatures have somehow survived for at least 13 million years, but in ways, they seem more at home in cartoons or myths. Marine biologist Helen Scales has composed a charming little book about these monogamous bony fish that are extraordinary in every aspect; from anatomy and natural habitat to courting and reproduction. Against every expectation, her attentive scientific descriptions show these sea-drifting enigmas to be even more wondrous than we previously thought. Because few seahorses can survive long in captivity,
Poseidon's Steed
probably represents the best chance we have to observe these rarely-seen little creatures up close.
Permalink

Status: Featured Selections
For most of us, meteorites are simply ugly, misshapen rocks that have fallen from space. For geologists and other scientists, these dark objects conceal secrets to the origin of our solar system; for visionaries and poets, they are stony and metallic reminders of our primal connection with the universe. Christopher Cokinos'
The Fallen Sky
is not just a dull study of the composition of meteorites any more than his
Hope Is A Thing with Feathers
is a taxonomy of extinct birds. Instead, this intimate history approaches these celestial fragments through the eyes of the maverick scientists, meteorite collectors, and independent researchers who seek to discover their hidden meaning. Cokinos' own quest to track their story takes us from Polar Regions to the far expanses of space; from Iron Age ritual sites to post-modern laboratories.
The Fallen Sky
is a hybrid of science, poetry, adventure, and pure magic.
Permalink

Status: Bookseller Picks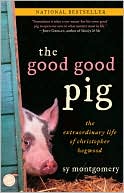 Who would think to bring a sick piglet home to take care of? That's how it started for Sy Montgomery and that small act of kindness helped her to find the meaning of love, family, and community. Not only did the pig, named Christopher Hogwood, survive but he flourished. This true story shows how the pig captured the hearts of everyone around. This is a heartwarming and thought provoking tale, with touches of humor, and pictures. This is a great story of life with a special animal which any pet lover can relate to, but it is much more as well. Following the life of Christopher Hogwood and his friends is also a touching spiritual journey into the values of being human.
Permalink

Status: Bookseller Picks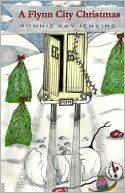 A Flynn City Christmas
Unlike any Christmas story before, the second book in the series of The Flynn City Egg Man is another romp through Appalachia. This time it is Christmas, 1971. An eccentric peddler, a reluctant hero, and the rest of the gang meet up again in a town that is short on holiday magic.
Christmas is coming to Flynn City, and it seems everyone needs a miracle. Especially, the Flynn City Egg Man. His investment in the "Claser," results in all of his assets seized and he finds himself broke. Angry, he takes it out on an iguana, in a town that worships the reptile. Now, he finds himself in a Mexican jail.
Sandy True, the local drama queen who orchestrated her own kidnapping back in Easter 1969, in The Flynn City Egg Man, is pregnant, and her boyfriend Tyler Armstrong is about to be released from jail. Cuffy Landers returns back to Flynn City from college to spend winter break in the coal patch with his father, and to keep out of Tyler's way. After all, can you really forgive someone who tried to kill you?
A major snowstorm strikes the area, and it will take more than one Christmas miracle to save a town already on the verge of dying. Will there be enough miracles to go around?
Jenkins paints a holiday landscape of hope, inspiration, and a coming of age journey promising to take you back to a place in time that offers up Christmas in a brand new light. Recommended for adult and young adult reading.
Permalink

Status: Featured Selections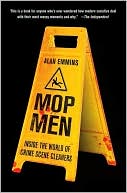 The strangely enthralling true story about the men who clean up the messes that serial killers leave behind…
As every CSI enthusiast knows, murderers often leave gory scenes. But who cleans them up after the forensic wizards are done with their work? To answer the question, journalist Alan Emmins went behind the yellow tape to scope out the work of Crime Scene Cleaners Inc., a nationwide business described in its flyers as "a cleaning maintenance service specializing in the cleanup of homicide, suicide & accidental death." Mop Men offers a fact-filled, tongue-in-cheek profile of Crime Scene Cleaners mogul Neal Smither, a family man who leads a life more double than that of any serial killer.
Message Edited by Kevin on
02-19-2009
10:38 PM
Permalink

Status: Featured Selections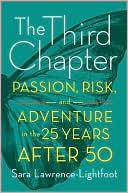 An upbeat, yet realistic "roadmap" for older men and women eager to change their lives midcourse.
Nowadays, variations on "midlife is not the end of life" are trumpeted in scores of self-help books, televisions, and movies. Sociologist Sara Lawrence-Lightfoot's new book distinguishes itself from those feel-good genres with its nuanced blend of insightful professional observations and real-life stories of older Americans who achieved "third chapter" life transformations. To formulate her encouraging conclusions, the author draws on extended interviews with scores of men and women who dared to navigate a new way.
Message Edited by Kevin on
02-19-2009
10:40 PM
Permalink

Status: Featured Selections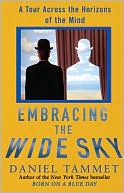 A mind-boggling, awe-inspiring view of our most astonishing asset, the human mind….
On March 14th 2004, Daniel Tammet recited 22,514 digits of Pi from memory. This mind-boggling achievement (which he accomplished in approximately five hours), however, might not be Tammet's most momentous achievement. Scientists are even more impressed by the ability of this high-functioning autistic savant to explain how his own mind functions: "Savants can't usually tell us how they do what they do. It just comes to them. Daniel can. He describes what he sees in his head. That's why he's exciting. He could be the Rosetta Stone." In Embracing the Wide Sky , the author of the bestselling memoir Born on a Blue Day describes what his experiences and cutting-edge neuroscience research have taught him about the human mind. Brimming with detail, this book will change the way you think about thinking.
Message Edited by Kevin on
02-19-2009
10:51 PM
Permalink

Status: Featured Selections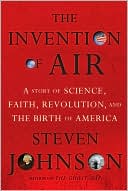 An exciting saga about a brilliant 18th century iconoclast that matches a talented storyteller with a superb subject.
Internationally famous in his own time, British polymath Joseph Priestley (1733-1804) is best remembered today, if at all, as the discoverer of oxygen, sulfur dioxide, nitrous oxide, and other "different kinds of airs."
Few of us know that this eminent scientist was also a prominent participant in the early shaping of our republic. Steven Johnson's riveting The Invention of Air renders that story with all its implicit drama, tracking this protean thinker through an active life punctuated by controversy. In England, Priestley's radical religious views and support of the French Revolution made him the target of violent riots; when he and his family emigrated to the United States in 1794, his ideas and writings became political lightning rods, influencing many thinkers, most significantly Thomas Jefferson. This carefully researched narrative by the author of The Ghost Map provides a revealing view of a history we thought we knew.
Message Edited by Kevin on
02-19-2009
10:21 PM
Permalink