New Message
Board Options
Collapse View

Expand View

Mark all Messages as New

Mark all Messages as Read

Float this Board to the Top

Bookmark

Invite a Friend

Status: Featured Selections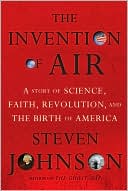 An exciting saga about a brilliant 18th century iconoclast that matches a talented storyteller with a superb subject.
Internationally famous in his own time, British polymath Joseph Priestley (1733-1804) is best remembered today, if at all, as the discoverer of oxygen, sulfur dioxide, nitrous oxide, and other "different kinds of airs."
Few of us know that this eminent scientist was also a prominent participant in the early shaping of our republic. Steven Johnson's riveting The Invention of Air renders that story with all its implicit drama, tracking this protean thinker through an active life punctuated by controversy. In England, Priestley's radical religious views and support of the French Revolution made him the target of violent riots; when he and his family emigrated to the United States in 1794, his ideas and writings became political lightning rods, influencing many thinkers, most significantly Thomas Jefferson. This carefully researched narrative by the author of The Ghost Map provides a revealing view of a history we thought we knew.
Message Edited by Kevin on
02-19-2009
10:21 PM
Permalink

Status: Featured Selections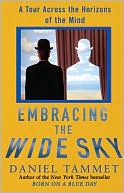 A mind-boggling, awe-inspiring view of our most astonishing asset, the human mind….
On March 14th 2004, Daniel Tammet recited 22,514 digits of Pi from memory. This mind-boggling achievement (which he accomplished in approximately five hours), however, might not be Tammet's most momentous achievement. Scientists are even more impressed by the ability of this high-functioning autistic savant to explain how his own mind functions: "Savants can't usually tell us how they do what they do. It just comes to them. Daniel can. He describes what he sees in his head. That's why he's exciting. He could be the Rosetta Stone." In Embracing the Wide Sky , the author of the bestselling memoir Born on a Blue Day describes what his experiences and cutting-edge neuroscience research have taught him about the human mind. Brimming with detail, this book will change the way you think about thinking.
Message Edited by Kevin on
02-19-2009
10:51 PM
Permalink