New Message
Board Options
Collapse View

Expand View

Mark all Messages as New

Mark all Messages as Read

Float this Board to the Top

Bookmark

Invite a Friend

Status: Bookseller Picks
The Flynn City Egg Man It's Easter 1969, and no one is more excited than Cyrus Flannery, the eccentric peddler known as, The Flynn City Egg Man. He's packed up the old panel truck with Easter goodies, and if everyone forgives him for his past business dealings, he just might make the rent this year. It all looks good until...Sandy True, the head cheerleading diva, and maximus drama queen of Flynn City High decides to plot a kidnapping. Her own kidnapping It may allow her time to get to Hollywood, and seek her dream of becoming an actress.
The last person she was seen with happens to be The Flynn City Egg Man, and Sandy's boyfriend, Tyler Armstrong has plans of the peddler. If the cops can't help, Armstrong will take matters into his own hands. After all, it was blood he saw in the Egg Man's kitchen.
Cuffy Landers, a seventeen-year-old reluctant hero enters the fray, and soon befriends the Egg Man. The two are pitted against a suspicious town, and a boyfriend who is hell-bent on revenge.
Recommended for adult, teen, and young adult reading with humor, suspense, and inspiration.
Permalink

Status: Bookseller Picks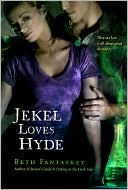 Jekel Loves Hyde is coming out in May!
As soon as I finished the last page of Jessica's Guide to Dating on the Dark Side, I immediately rushed to the computer to look up Beth Fantaskey's other books. To my dismay, there were none. So when I came across the advance reading copy of Jekel Loves Hyde, I was delighted! It didn't let me down, either!
Jekel Loves Hyde is a great love story with twists and turns and an ending as unpredictable as Fantaskey's first novel. It is also a murder mystery heavily enmeshed in the lore of Dr. Jekyll and Mr. Hyde (although not a retelling).
The funeral of Jill Jekel's father opens the novel and is the introduction to the character, Tristen Hyde, the dark, unusual student from England. He waits in the back of the cemetery until Jill is about to break down and then unexpectedly approaches her and lets her cry on his shoulder, tells her "It does get better, hurt less. Trust me, Jill," then leaves.
The story resumes with the first day of school. Jill and Tristen go to school together and share a chemistry class. Jill's mother is not coping with her new life as a widow at all, and Tristen's father is distant and demanding. Both are good chemistry students and Jill recruits Tristen to help her win a chemistry scholarship. Don't be fooled by the innocent-sounding plot, however: it quickly turns ugly and gets complicated. I'm not telling any more of that though; you'll have to read it for yourself!
The story is dual-narrated by Jill and Tristen alternately, but is does nothing to alleviate the suspense. When one narrator leaves you on a cliff-hanger, you turn to the next chapter only to find that it's the other character and you have to wait! I read the book in one sitting and was dead to the world furiously turning pages until I finished (much to my family's dismay!). So for teens and older kids, it's a great book! For adults, it's a quick read but still definitely worth it so be sure to check it out this May!
Keep 'em coming, Beth Fantaskey!
Permalink

Status: Bookseller Picks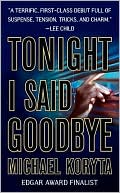 Tonight I Said Goodbye (Lincoln Perry Series #1)
I am not always a fan of mystery or private investigator stories, and I tend more toward fantasy/sci-fi/supernatural but Michael Koryta is speaking at my departmental graduation ceremony in two weeks so I decided to check out his books. First of all, I was thinking local, 21-year-old author... okay... I guess I could find some time to at least skim over something. I WAS SO WRONG! Less than a chapter into Tonight I Said Goodbye, I had to stop to buy the book (which I NEVER do) and couldn't put it down until I finished, despite finals and papers with rapidly approaching due dates. The next day I went and got the next book in the series. Not only did I want to read more by the same author, but I could not bring myself to say goodbye - tonight or any other time - to Lincoln Perry (the main character). Rare is the author who can develop a character SO WELL that I feel like we're old friends and I had to find out what would happen to him next!
So Tonight I Said Goodbye starts out with the plot and character development in the first paragraph and just gets better from there. I never do this but I find I cannot convey why I wasn't able to stop reading any way but to show you the first paragraph:
"The last time John Weston saw his son alive, it was a frigid afternoon in the first week of March, and John's granddaughter was building a snowman as the two men stood in the driveway and talked. Before he left, John gave his son a fatherly pat on the shoulder and promised to see him again soon. He saw him soon - stretched out in a morgue less than forty-eight hours later, dead of a small-caliber gunshot wound to the head. John was saved the horror of viewing his granddaughter in a similar state, but the reason for that was a hollow consolation: Five-year-old Betsy Weston and her mother were missing."
Within the next few pages, Lincoln Perry - former cop and new private investigator - gets hired to find out what happened. What seems like it will follow a predictable PI novel pattern soon takes off completely away from the typical template of the genre into more twists and turns than I could have imagined! Koryta does an amazing job with developing characters so that you feel like you not only know ABOUT them, but you KNOW them. The plot, while totally intense, fast-paced, and unpredictable, is also somehow completely believable.
And before you believe that I am just praising a local author... of Tonight I Said Goodbye, Lee Child said: "A terrific, first-class debut full of suspense, tension, tricks, and charm," the Library Journal claims, "The twenty-one-year-old author excels at building characters and story..." and Steve Hamilton (author of Ice Run) says, "Michael Koryta hits the ground running with this masterful debut. He's already so good, it's scary." I don't have enough room to keep on this tack but there's plenty more!
While I have my own favorite genres, I am ALWAYS willing to read something that is incredibly well-written no matter what it is about. This is one of those books. I don't care if you don't like PI novels or mystery or thrillers: it's completely and totally worth it to drop whatever you're in the middle of and read this! As much as I'd love to extol the book and the author for a few pages more, I have to get back to the next book...
In the Lincoln Perry series, the books are Sorrow's Anthem (Lincoln Perry Series #2), A Welcome Grave (Lincoln Perry Series #3), and The Silent Hour (Lincoln Perry Series #4). Koryta has also written stand-alone novels Envy the Night and So Cold the River, coming out June 9, 2010.
Permalink

Status: Bookseller Picks
After reaching the end of Breaking Dawn (Stephanie Meyer, Twilight saga) I, like thousands of others, felt a void and wondered what I could possibly find to fill it. While I am particularly fond of vampire stories, a vampire story alone is not enough to make a good read. I actually picked up Jessica's Guide to Dating on the Dark Side because my name is Jessica and I needed something quick to read on a break. As it turned out I couldn't put it down and kept thinking about it in between breaks and longing to return to the pages. It is written as a teen book but, like Twilight and Harry Potter, it is a great adult read also. It is not a romance in the traditional sense because Jessica resists her arranged marriage to Lucius right from the beginning. The story more tells the tale of coming of age in an entirely new way and becomming who we really are. The novel kept me guessing the whole time. With a great deal of teen fiction, I often find myself accidentally guessing how it will end but I was wrong every time I thought I had this one figured out! This is Beth Fantaskey's first novel and I hope she plans to write many more. So curl up in a comfy place because, once you start this book, you'll be there until it's done!
Permalink

Status: Bookseller Picks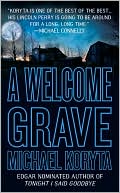 A Welcome Grave (Lincoln Perry Series #3)
Lincoln Perry's back! And, once again, I have nothing but praise. A Welcome Grave is somewhat darker than its predecessors, but I again read the book cover-to-cover, unable to look away until I reached the end. With how easy Koryta makes it to empathize with the good guys, hate the bad guys, and worry through the shades of gray, it's no wonder it's so easy to be completely swept up into this not-so-fictional world.
By this book, the reader knows that Lincoln lost his job on the police force when he found out his fiancée was having an affair with prominent lawyer, Alex Jefferson, got drunk, drove to see him, and punched Jefferson in the face. So when the first lines of the book are, "Sometime after midnight, on a moonless October night turned harsh by a fine, windswept rain, one of the men I liked least in the world was murdered... The detectives went looking for suspects -- people whose histories with Jefferson were adversarial and hostile. At the top of that list, they found me..." you know right away Lincoln's in trouble. Being investigated for murder by the very department for which he used to work, Lincoln complicates matters more by being unable to refuse an assignment by the widow Jefferson, his ex-fiancée. She sends him to find her late husband's estranged son and let him know of his inheritance. Instead of the simple assignment he expected, Lincoln ends up in a jail in Indiana, and Jefferson's son ends up in the morgue. With the case against him growing increasingly strong, Lincoln must race against time to find the real killer and clear his own name.
With an unrelenting pace and depth far surpassing expectation, it's no wonder this new addiction is so compelling. More please!
For more Lincoln Perry see Tonight I Said Goodbye (Lincoln Perry Series #1), Sorrow's Anthem (Lincoln Perry Series #2), and The Silent Hour (Lincoln Perry Series #4). For Michael's stand-alone novels, check out Envy the Night and his new release,So Cold the River.
Permalink

Status: Bookseller Picks
Sorrow's Anthem (Lincoln Perry Series #2)
After finishing Michael Koryta's first novel, Tonight I Said Goodbye (Lincoln Perry Series #1), it took all of five minutes before I was in the car, on the way to get the next book. After a sleepless, page-turning night, I was once again impressed with the "unputdownableness" (official Barnes & Noble lingo!) of Koryta's writing.
Sorrow's Anthem is the second of (so far, I hope!) four novels starring former cop PI Lincoln Perry, only this time, the case is personal. In fact, no one even hired Lincoln. Plagued by guilt over his involvement in his childhood best friend, Ed Gradduk's, arrest, Lincoln is shocked to hear that the now ex-con is the prime suspect in a murder/arson case. Still wanting to try to do right by Ed, Lincoln seeks him out. After only a brief insight into what had happened, a police car arrives on the scene and Ed is killed in the chase, right before Lincoln's eyes. Against the advice of his partner, Joe, and against the wishes of Ed's mother and the rest of the neighborhood, Lincoln dives headfirst into the case and, inevitably, his own past. Intent on clearing Ed's name, Lincoln's fervor brings trouble down on Joe and himself as the discovery of another murder confuses the case even more.
Sorrow's Anthem is fast-faced, riveting, and explosive without being plot-heavy, as it left me feeling even closer to the characters than the first book. I will DEFINITELY keep reading and you should, too!
Permalink

Status: Bookseller Picks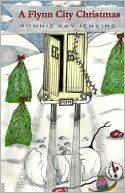 A Flynn City Christmas
Unlike any Christmas story before, the second book in the series of The Flynn City Egg Man is another romp through Appalachia. This time it is Christmas, 1971. An eccentric peddler, a reluctant hero, and the rest of the gang meet up again in a town that is short on holiday magic.
Christmas is coming to Flynn City, and it seems everyone needs a miracle. Especially, the Flynn City Egg Man. His investment in the "Claser," results in all of his assets seized and he finds himself broke. Angry, he takes it out on an iguana, in a town that worships the reptile. Now, he finds himself in a Mexican jail.
Sandy True, the local drama queen who orchestrated her own kidnapping back in Easter 1969, in The Flynn City Egg Man, is pregnant, and her boyfriend Tyler Armstrong is about to be released from jail. Cuffy Landers returns back to Flynn City from college to spend winter break in the coal patch with his father, and to keep out of Tyler's way. After all, can you really forgive someone who tried to kill you?
A major snowstorm strikes the area, and it will take more than one Christmas miracle to save a town already on the verge of dying. Will there be enough miracles to go around?
Jenkins paints a holiday landscape of hope, inspiration, and a coming of age journey promising to take you back to a place in time that offers up Christmas in a brand new light. Recommended for adult and young adult reading.
Permalink