New Message
Board Options
Collapse View

Expand View

Mark all Messages as New

Mark all Messages as Read

Float this Board to the Top

Bookmark

Invite a Friend

Status: Bookseller Picks
The Flynn City Egg Man It's Easter 1969, and no one is more excited than Cyrus Flannery, the eccentric peddler known as, The Flynn City Egg Man. He's packed up the old panel truck with Easter goodies, and if everyone forgives him for his past business dealings, he just might make the rent this year. It all looks good until...Sandy True, the head cheerleading diva, and maximus drama queen of Flynn City High decides to plot a kidnapping. Her own kidnapping It may allow her time to get to Hollywood, and seek her dream of becoming an actress.
The last person she was seen with happens to be The Flynn City Egg Man, and Sandy's boyfriend, Tyler Armstrong has plans of the peddler. If the cops can't help, Armstrong will take matters into his own hands. After all, it was blood he saw in the Egg Man's kitchen.
Cuffy Landers, a seventeen-year-old reluctant hero enters the fray, and soon befriends the Egg Man. The two are pitted against a suspicious town, and a boyfriend who is hell-bent on revenge.
Recommended for adult, teen, and young adult reading with humor, suspense, and inspiration.
Permalink

Status: Bookseller Picks
After a night of heavy drinking with some buddies, British comedian Tony Hawks awoke to find a note pinned to his shirt stating that he had accepted a bet to hitchhike the circumference of Ireland with a refrigerator in tow. Part memoir and part travel journal, Tony takes us on his adventure 'round Ireland as he and his mini-fridge attempt to win this bet. You will laugh out loud every chapter as events unfold that could only happen in Ireland and be moved as those events start to take on significant meaning in Tony's life. If you are someone who loves to laugh and values a unique perspective then I highly recommend this book for you.
Permalink

Status: Bookseller Picks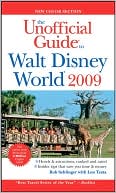 Summer is quickly approaching, and if you're anything like the customers I meet every day in my store, you're already planning a vacation. By far, the most common destination that customers want books about is Walt Disney World in Florida. Since I travelled there last year, I have some suggestions. I bought two books to help plan my trip--one to use before we went, and one to use while we were there--and I bought a third book as a treat to remind myself of the fun I had.
The first book is The Unofficial Guide to Walt Disney World 2009 (Unofficial Guides Series). I used this in the months leading up to my trip to decide what my family and I would do once we got to Orlando. This book is full of helpful information. It comes with maps, charts, and detailed reviews of hotels, attractions, restaurants, and stores. Two things set it apart from the official guide put out by Disney. First, the authors have the ability to be critical; if they don't think something is worth seeing, they'll tell you. Second, they have information about attractions that aren't located on the Disney property. If you want information on Sea World or Universal Studios, or just want to know about hotels that aren't owned by Disney, you can find that information here.

The most helpful part of this book, though, was the detailed touring plans. There is so much to do at Disney World that it can be overwhelming trying to decide what the best way to do everything is. This guide gives several suggestions about how to get the most out of your time in the parks, showing you what order to see things in and at what times of the day. This made planning much easier, and helped prevent a lot of arguments in my family about what to do first.
Even with all of that planning, we still needed help once we got into the parks. We ended up seeing many things that looked interesting to do once we got there, but hadn't read about ahead of time, so we needed to have a way to learn about it on the fly. Unfortunately, the Unofficial Guide mentioned above is almost two inches thick (with all of the great information in there, it would be hard to be any thinner), which makes carrying it around in the Florida heat unappealing. That is why I also picked up a copy of the Zagat Walt Disney World Insider's Guide, a slim book that is very easy to carry around. If you've ever used a Zagat guide before, you know that they ask for feedback from actual consumers and compile that information into number ratings and a brief review. It doesn't have as much information as the Unofficial Guide, but it still covers all of the rides, attractions, restaurants, hotels, and stores that you could want. Most helpful to me were the number scores given to rides and attractions that are broken down into three categories: adults, children, and thrill; this last one was especially helpful since we were travelling with a couple of people who hate thrill rides. Those ratings are also compiled into lists at the beginning of the book where that are ranked highest to lowest, so that if you want to know what the most popular rides are for adults or for children, you can find them all in one place.

Although I wouldn't have used this book to plan the whole vacation, it made it very easy to make decisions on the fly. I'm glad that I decided to buy both guides.

The final book that I would recommend is not actually a guide to Walt Disney World, but rather a children's novel set there. Disney After Dark is the first book in The Kingdom Keepers series by Ridley Pearson. It's about a group of kids who are chosen to serve as holographic guides in the Magic Kingdom, and who are the only people who can stop the powers of evil from taking over at Disney World. It's a fast-paced adventure story that would be good for kids ages 10-14. The best part about the book is that the characters spend most of their time in the Magic Kingdom. It's a lot of fun to read about someone trying to escape from Splash Mountain when you just rode it the day before. I highly recommend getting this book for your kids and letting them read it on the plane ride home from Disney.
Permalink

Status: Bookseller Picks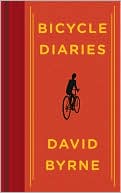 When David Byrne auctioned off his weathered old bike this August, he parted with a faithful longtime traveling companion. In his eBay description, Byrne admitted that twenty-five years and four trips around the world had left its mark on the folding Montague: "It's scratched up, rusty in spots and there are pieces of travel stickers all over the center post (Manila and Roma are still pretty much intact.)" Of course, only one well-heeled bidder could win this rolling piece of nostalgia, but fortunately, the former lead singer of the Talking Heads is sharing with all of us another keepsake from his cycling travels; his infinitely more engaging (and less inexpensive) Bicycle Diaries. These entries about Paris, Istanbul, Buenos Aires, and numerous other cities are much more than just fragmented backpack jottings; Byrne approaches each new urban setting as a fresh opportunity to sort out his ideas on class, human interaction, city planning, marketplaces, cultural institutions, art, and much more. Like any other veteran biker, this versatile visual artist knows that alertness and good breaks are the name of the game. But, honestly, you don't have to be a biker, a rock fan, or an eco-friendly world traveler to enjoy this book. Bicycle Diaries takes you places where no car or average book could go.
Permalink

Status: Featured Selections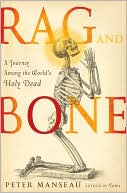 I was first drawn to this book because of two previous works by Peter Manseau, its author: his novel Songs for the Butcher's Daughter and Vows, his extremely moving memoir about growing up as the son of a Catholic "married priest" and former nun. Rag and Bone reads like a novel, but it conveys the unvarnished intimacy of a very personal travel essay. Basically, this reverent skeptic journeyed around the world, seeking out sites where holy relics of different faiths are kept and cherished. To a non-believer, these vestiges might sound strange, even bizarre: They include chipped skull fragments, blackened mummified fingers, upright-sitting skeletons, and even toes, shinbones, and whiskers. Manseau approaches all these oddities with curiosity, but not blanket disdain, making Rag and Bone a diverting, enlightening pilgrimage.
Message Edited by PaulH on
05-28-2009
08:12 AM
Permalink

Status: Featured Selections
I'm nominating A Course Called Ireland, because as I can personally attest, you don't have to be either Irish or a golfer to enjoy this book. Tom Coyne, the author, spent fourteen weeks taking a long walk through all thirty-eight Irish seaside golf courses and at least that number of local pubs and overnights. He transformed what could have been either a golfer's dream or the proverbial "long walk spoiled" into a lively sports/travel essay hybrid that had me laughing out loud more than once and actually sorry when it was over.
Message Edited by PaulH on
05-28-2009
08:22 AM
Permalink