Reply
Thread Options
Mark Thread as New

Mark Thread as Read

Float this Thread to the Top

Bookmark

Subscribe
Frequent Contributor
Posts: 968
About the Book & Author
[ Edited ]
Options
Mark Message as New

Bookmark

Subscribe

E-mail this Message to a Friend
‎09-18-2007 04:28 PM - edited ‎09-27-2007 04:02 PM
Claire Messud and The Emperor's Children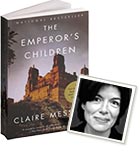 At the center of The Emperor's Children are two young women and a young man, friends since college, who are now entering their thirties. Marina Thwaite is a beautiful "It" girl who, by virtue of her looks and connections, has been given a contract for a book she's not sure she can write. Danielle Minkoff is a thoughtful young woman laboring in the purgatory of public television and longing for something better. Julius Clarke is frivolous, hard-living, and famously witty, having parlayed said wit into a career as a critic but not much of a living. All of these three revolve at varying proximities around Murray Thwaite, Marina's father, an aging liberal journalist of lofty reputation and even higher self-estimation. Murray is the Emperor of the novel's title. Soon Murray's gravity draws a fourth satellite, his young nephew Bootie, an awkward, worshipful boy who aspires to become a genius and sees Murray as essential to that objective.
It's Bootie's arrival in New York that sets much of the novel's events in motion. He gets a job as Murray's secretary and sublets Julius's apartment. He pines for Marina even as she becomes involved with the man Danielle had set her sights on. And when Bootie's worship of Murray turns sour, he announces his change of heart with a gesture that destroys the equilibrium the other characters took for happiness. There are comedies that leave a book's characters with whipped cream on their faces and comedies that leave them deeply, and sometimes painfully, changed, and The Emperor's Children is the latter. Thanks to Claire Messud's deft grasp of character, her flawless eye for New York's social hierarchies, and her deliciously intricate sentences, her book also changes the reader.
About Claire Messud: Claire Messud was educated at Cambridge and Yale. Her novels, When the World Was Steady and The Hunters were both finalists for the PEN/Faulkner Award; her second novel, The Last Life, was a Publishers Weekly Best Book of the Year and Editor's Choice at The Village Voice. All three of her books were New York Times Notable Books of the Year. She has been awarded a Guggenheim Fellowship and a Radcliffe Fellowship, and is the current recipient of the Strauss Living Award from the American Academy of Arts and Letters. She lives in Somerville, Massachusetts, with her husband and children.
Discover all titles and editions from Claire Messud.

Message Edited by Jessica on 09-27-2007 04:02 PM