Reply
Thread Options
Mark Thread as New

Mark Thread as Read

Float this Thread to the Top

Bookmark

Subscribe
BN Editor
Posts: 366
About the Book and Author
[ Edited ]
Options
Mark Message as New

Bookmark

Subscribe

E-mail this Message to a Friend
‎07-02-2007 12:17 PM - last edited on ‎08-15-2007 04:50 PM by
Barbara
Dorothea Benton Frank and The Land of Mango Sunsets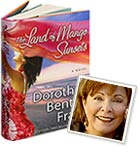 In Los Angeles, Jennifer Narody has been having a series of disturbing dreams involving eerie images of a lady dressed in blue. What she doesn't know is that this same spirit appeared to leaders of the Jumano Native American tribe in New Mexico, 362 years earlier, and was linked to a Spanish nun capable of powers of "bilocation," or the ability to be in two places simultaneously.
Meanwhile, young journalist Carlos Albert is driven by a blinding snowstorm to the little Spanish town of Ágreda, where he stumbles upon a nearly forgotten seventeenth-century convent founded by a legendary woman. Intrigued by her rumored powers, he delves into finding out more.
These threads, linked by an apparent suicide, eventually lead Carlos to Cardinal Baldi, to an American spy, and ultimately to Los Angeles, where Jennifer Narody unwittingly holds the key to the mystery that the Catholic Church, the U.S. Defense Department, and the journalist are each determined to decipher-the Lady in Blue.
About Dorothea Benton Frank : Dorothea Benton Frank is one of America's most insightful writers, weaving highly addictive tales of the conundrums of life with hilarity and heat. She is The New York Times best seller of seven novels including Full of Grace and The Land of Mango Sunsets. Her eighth book, The Christmas Pearl will be available from William Morrow just in time for the holidays in November.
Ms Frank has appeared on NBC's Today Show, Parker Ladd's Book Talk and many local network affiliated television stations. She is a frequent speaker on creative writing and the creative process for students of all ages and in private venues as the National Arts Club, the Junior League of New York, Friends of the Library organizations and the Susan G. Komen Breast Cancer Foundation.
Before she began her writing career, Ms. Frank was involved extensively in the arts and education, and in raising awareness and funding for various non profits in New Jersey and New York. At the present time she holds an appointment on the NJ Cultural Trust and serves on the Advisory Boards of the Southern Literature Council of Charleston (SC) and NJ Theater Group.
She and her long-suffering husband, Peter, divide their time between the New York area and Charleston, South Carolina, where their two children are in college and spending every last dime their parents' earn. They thank you for your support.
Discover all titles and editions from Dorothea Benton Frank.

Message Edited by Barbara on 08-15-2007 04:50 PM