Reply
Thread Options
Mark Thread as New

Mark Thread as Read

Float this Thread to the Top

Bookmark

Subscribe
BN Editor
Posts: 366
About the Book
[ Edited ]
Options
Mark Message as New

Bookmark

Subscribe

E-mail this Message to a Friend
‎08-01-2007 11:00 AM - last edited on ‎08-15-2007 03:29 PM by
Barbara
About the Book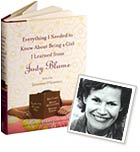 Just about every adult can remember reading a Judy Blume book in their youth; her books remain in the collective consciousness long after the last page has been turned. Now in a unique and heartfelt collection of essays, Everything I Needed to Know About Being a Girl I Learned from Judy Blume, twenty-four notable female writers, including Meg Cabot, Megan McCafferty, and Melissa Senate, pay tribute to Judy Blume and her novels that carried them from Tales of a Fourth Grade Nothing into becoming Smart Women.
Blume's name is synonymous with young adult literature as she was able to confront such taboo issues, including menstruation, divorce, sex, and masturbation, in a candid, funny way; she never alienated her core audience by treating them as if they were too young to hear about sexuality. Rather, she embraced them and taught adolescents what their parents and teachers were afraid to.
Each of the essays featured convey the same themes of teen awkwardness and real-life "Judy Blume moments" that we all have inevitably encountered. In "Boys Like Shiny Things," Laura Ruby compares herself to Helen in Deenie, as she consistently struggled with her appearance and being labeled "the smart one". Likewise, as an adult, Stacey Ballis defers to Karen from Forever... in her essay "Forever... Again" in order to help her, as a newly single gal, face the prospect of having sex with new and different men. Whether reminiscing about those years of first loves, Jordache jeans, or sisterhood, everyone will find something or someone to relate to in these contemporary takes on Judy's poignant coming-of-age stories.
From giggling with friends while reading a contraband copy of Wifey to clamoring for the unmistakable "me too!" moments in Are You There God? It's Me, Margaret, Blume is a common thread between us all. Wonderfully nostalgic, Everything I Needed to Know About Being a Girl I Learned from Judy Blume belongs in the hands of everyone who's ever experienced the magic of a Judy Blume novel.

Message Edited by Barbara on 08-15-2007 03:29 PM