Reply
Thread Options
Mark Thread as New

Mark Thread as Read

Float this Thread to the Top

Bookmark

Subscribe
Moderator

Posts: 11,865
Interview with JT Ellison The Final Cut
Options
Mark Message as New

Bookmark

Subscribe

E-mail this Message to a Friend
‎09-18-2013 10:41 AM
I"m so happy to welcome back personal friend and absolutely amazing storyteller JT Ellison who is releasing not only a brand new FBI series but a collaboration with novelist diva Catherine Coulter and presenting their spin off to Catherine's FBI series staring Sherlock and Savich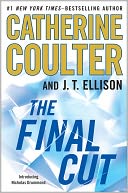 Overview:
From Catherine Coulter, the #1 New York Times-bestselling author of the FBI Thriller series, and J.T. Ellison, bestselling author and ITW Award winner, comes the first book in a brilliant new international thriller series featuring the new hero: American-born, UK-raised Nicholas Drummond.
Reviews:
RT Reviews:
Top Pick
In a spin-off from her long-running FBI series, Coulter collaborates with fellow thriller writer extraordinaire Ellison to launch a new series featuring a Scotland Yard inspector joining forces with the FBI. Coulter and Ellison do an excellent job blending their writing styles in this pulse-pounding novel and have produced an outstanding chase thriller that is riveting from beginning to end. This could be the start of a great partnership! Jill M. Smith
Barnes & Noble
A thrilling crime caper. Editor's recommendation.

Publisher's Weekly
Bestseller Coulter (Bombshell) teams with Ellison (Edge of Black) on a thriller that manages to be both intricate and full of jaw-dropping action sequences. A number of well-developed subplots keep this from being a simple one-on-one contest. Ingenious disguises, daring bluffs, and hair-breadth escapes add to the fun of the chase. Agent: Robert Gottlieb, Trident Media Group.

Kirkus
Coulter and Ellison have created a new son of Bond licensed to shine in future thrillers. Genre fans will find the action nonstop.
Library Journal (Starred Review)
Fast-paced and action-packed, with the promise of romance to come, this entertaining thriller merges fact and fiction to superb effect… Sure to attract all thriller fans.
I'm so pleased to welcome back to The Reading Frenzy International Bestselling Author and a personal favorite JT Ellison.
JT HI! Welcome back

Tell us all about your new novel The Final Cut
Great to see you again, Deb! THE FINAL CUT is a humdinger of an international thriller. Here's the jacket copy:
New Scotland Yard's chief inspector Nicholas Drummond is on the first flight to New York when he learns his colleague, Elaine York, the "minder" of the Crown Jewels for the "Jewel of the Lion" exhibit at the Metropolitan Museum of Art, was found murdered. Then the centerpiece of the exhibit, the infamous Koh-i-Noor Diamond, is stolen from the Queen Mother's crown. Drummond, American-born but raised in the UK, is a dark, dangerous, fast-rising star in the Yard who never backs down. And this case is no exception.

Special Agents Lacey Sherlock and Dillon Savich from Coulter's bestselling FBI series don't hesitate to help Drummond find the cunning international thief known as the Fox. Nonstop action and high stakes intensify as the chase gets deadly. The Fox will stop at nothing to deliver the Koh-i-Noor to the man who believes in its deadly prophecy. Nicholas Drummond, along with his partner, FBI Special Agent Mike Caine, lay it on the line to retrieve the diamond for Queen and country.
Tell us how the collaboration with Catherine Coulter came to be.
Catherine was looking for a co-writer for a new series she'd dreamed up and didn't have the time to write. My agent threw my hat in the ring, though I didn't think I really had a chance. I was completely surprised when she came calling – and it's been so incredibly fun. She's sassy and smart and a brilliant writer, and we had a blast together writing THE FINAL CUT.
Did you each write certain chapters, characters? How did the collaboration work?
She already had most of the characters and the storyline she wanted, so my job was to wrangle up our villains and plugging in the story. We decided to steal the Koh-i-Noor diamond, which necessitated a ton of very cool research (I could break into, and out of, the Tower of London now, if needs be.) We developed a great proposal, which I used as an outline to pull the story together. Then we edited it together. We spent a lot of time on the phone and on email – this was truly a collaboration.
I noticed that this is the first in a new series. Will you and Catherine be writing the series together?
Yes! Nicholas Drummond is a Bond for the new era. The first book in the series is THE FINAL CUT, and the next is YARD OF GRAVES, which we've already plotted and I'm about to start writing.
JT, tell us what's next for Sam Owens and when is her next novel coming out?
The next book is WHEN SHADOWS FALL (2.25.14) and we'll see Sam in a new position – both in her profession, and in her personal life. She's grown so much since the beginning of her series, healed from her terrible wounds, and now it's time for her to really get down and dirty into investigating a viciously strange crime – she receives a letter from a man asking her to solve his murder. One little problem: his death is a clear suicide. Mayhem ensues, as always.
How has you summer been? Have you traveled for work, for fun?
I've been on the road pretty much incessantly since mid-July. New York, California, Colorado, Florida. Both work and fun – I took my first real vacation in years at the end of August. No internet, no email, and no writing, for ten days. I read 8 books, revisited my lust for Hemingway, and have returned refreshed and raring to go.
JT you're a wonderful thriller writer (and in my estimation the best out there)
Have you ever considered cheating on your genre and stepping out with another?
You are much too kind. I love writing thrillers – they're perfect for my personality. That said, yes, I absolutely have cheated in the past, and will in the future. I admire writers who know no bounds with their work, and want to follow that path. Experimentation is good for the soul. Most of my short stories are horror, and I have a few YAs percolating in me.
JT you have many release days under your belt. Do you still get nervous, excited? How do they differ now from the early ones?
That's a great question. I am usually a pretty big stress puppy the two weeks leading into release day. It's all the promotion, having to remind people the book is coming, running contests (we have a great one for THE FINAL CUT – we're giving away a gorgeous diamond halo necklace, courtesy of Adler's of New Orleans. Penguin.com/finalcutsweepstakes) Making sure nothing falls through the cracks, plus finding time to continue writing – doing two books a year means around release date I'm always starting a new book, editing a book, and promoting a book. It can get a little harried. But I still celebrate with some champagne – you must toast to your new baby's success – and I love visiting the book in the wild, aka, my local bookstore!
JT what has most surprised you since you've started in the author biz?
LOL - that people like my work and want more of it. It's rather surreal, honestly.
JT where/when do you write?
I like keeping to a schedule. Up at 8 to have breakfast, read the news, do email and other business. If I can, I like to get some words down between 10-12, lunch from 12-2, then write again from 2-5 or 6. And I try to sandwich in some exercise, a walk or yoga, and reading. Lots of reading.

What's the farthest you've traveled for research?
Italy, and Geneva, Switzerland, though I've been to Scotland a few times for specific novels. I'm about to go again for YARD OF GRAVES. I do love to travel, so setting books in far-flung locales is a particular joy.
What's the strangest thing that's happened to you researching a novel?
Probably stumbling into the ghosts at Tulloch Castle in Scotland. I was uncomfortable from the moment I walked in the place, and just wanted out. But I used the restroom, and while I was the only person in there, and it was deathly quiet, all I could hear was screaming coming from the walls. Freaked me right out. I slept with a chair lodged under the door that night – though what use it that against ghosts?
JT thanks so much for taking the time to chat with me today.
Will there be any signings/events for this release?
Thanks so much for having me back! And yes- please check my website for more details as they become available.
Connect with JT – Website – Facebook – Twitter - Blog