Reply
Thread Options
Mark Thread as New

Mark Thread as Read

Float this Thread to the Top

Bookmark

Subscribe
Moderator

Posts: 11,865
New Release Feature 11-13 Edge of Black plus interview w/JT Ellison
Options
Mark Message as New

Bookmark

Subscribe

E-mail this Message to a Friend
‎11-13-2012 10:42 AM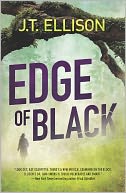 Edge of Black Today's featured author is no stranger to our forum, she graciously gave us her time when we read and discussed as a group the first in her new Samantha Owens series, A Deeper Darkness .
I've pulled up the interview I did with her so enjoy that, my review that follows and don't forget to get the new novel. It's wonderful
This was an especially sad time for JT also because she lost her beloved pet and she thought her muse before writing this novel. To learn more about this here is the link to her article.
Also she has some events planned at Barnes & Noble locations, find out if she'll be in your neck of the woods here.
Interview with JT Ellison
Debbie - JT is a very favorite author of mine, I've been reading her for years and I'm happy that she agreed to spend the month with us while we read and discuss the first novel in her brand new series starring Dr. Samantha Owens. So without further ado please welcome JT to the forum.

Tell us what led you to this new series, was it Sam herself or something else.
J.T.- First off – thank you for having me! I'm thrilled to be here.
Samantha is a recurring character in my Taylor Jackson series. She's Taylor's best friend, but she's also the series' conscience, the lodestone. When in doubt, go to Sam. But she had never been a point of view character until Where All The Dead Lie (TJ #7) Her voice was so strong in that book that I dedicated a small subplot to her, and she was so much fun to write I knew she needed her own book. My publisher and agent agreed, so I went about spinning her off. But when you have a spin off, you need a different environment, a different set-up. Hence the loss of her family and her move to D.C. It gives her a clean slate, and she is a fascinatingly rich character because of her loss.
Now tell us how a nice financial analyst and marketing director like you wound up writing crime dramas?
Well, to start with, I'm just not that good at math. I can balance a fifty million dollar budget, but I can't balance my checkbook. I went into aerospace marketing from finance, but when we moved to Tennessee, that all went away. And thank goodness it did. It wasn't ever the right fit for me. I always had a little voice in the back of my head saying, "This isn't what you're meant to do. This isn't right." Turns out that was the Muse, calling me.
I've always been interested in forensics, and greatly admire our law enforcement and the FBI. But it wasn't until I read John Sandford's Prey series that I knew I wanted to write crime fiction. My earlier work is heavy on the violence, but I've moved away from that into a more psychological suspense realm. It fits my personality better, and wow, is it ever easier to talk about in public!

Researching novels must take a big chunk of time, how much time do you devote to research in your novels and what's the farthest distance it took you.
I do a lot of research. I've spent time with Metro Nashville homicide, patrol, talked to the FBI at Quantico, bought more books than you can count, utilize the Internet to fill in the gaps. I do a lot on the fly, now, since I have most of the basics down pat. But I still need a few weeks of hunting and gathering per book to get my ducks in a row. The farthest afield I've gotten is autopsies. Four in one morning, and wow, does that change your perspective. It was at once both the most horrifying and most spiritual experience of my life. I dare anyone who doesn't believe in some sort of higher power to attend an autopsy. There's no question about the existence of the soul, because I'll tell you, we all are the same inside.
Were you a reader, are you now, what are some of your favorite authors
I'm a huge reader, always have been. My list is too long to give justice, so I'll give my inspirations instead: John Sandford, who inspired the Taylor Jackson series, John Connolly, who inspired my ever-evolving writing style, Lee Child, who's friendship and guidance has been invaluable. The thriller chicks: Catherine Coulter, Tess Gerritsen, Erica Spindler, Alex Kava, Karin Slaughter and Allison Brennan, for showing me how not to compromise my subject matter just because I'm a woman. Diana Gabaldon, for teaching me how to create worlds. J.K. Rowling, for teaching me to follow my heart. Sharon Penman, Karleen Koen, Danielle Steele and Mary Stewart, for helping me move from children's books to adult books (ie: teaching me the differences between love, romance and sex. I guess I better include Judy Blume's FOREVER in there too, for that very reason.) Ayn Rand's ANTHEM changed my life, Book VII of Plato's REPUBLIC got me into graduate school, and my all-time favorite, LOLITA, by Vladimir Nabokov, showed me it's possible to have lovable monsters.
Walk us through a typical day in the life of JT Ellison
It depends a bit on how far into a project I am - the closer to deadline there's less business and more writing - but the bones are the same: I get up around 8-8:30 (a luxury, definitely, but if I don't sleep a lot, I don't work) check my email, maybe do a quick run through the news or my social networks, make a cup of tea, then get to it. I used to write from 12-4, but I've flipped my day: now I wrote from 9:30 – 11:30 or 12, take a lunch break, then either read or write from 1:00 – 3:00, when I go to Yoga, or take a walk. I intersperse all of that with mini breaks to go online. I wish I could just cut myself off completely, and I do many days, using Freedom to turn off my Internet in 120 minute chunks. It's a bastardization of the Pomodorian method of productivity. But I like to sneak online and check things out. Sometime in the afternoon slot I'll put together a blog if the spirit strikes me, to be posted the following morning. After yoga I work until my husband comes home, mostly business stuff, then we eat, watch TV, read, crash and start all over. I work 6 days a week, try very hard to take either Saturday or Sunday off. But rarely both. 1000 words a day is my goal. I must average that, or I get really cranky. When I'm closing in on a deadline, that can rise to an average of 4000-7000 per day. (1000 words is about five pages…)
What are you working on now?
I've just turned in the December Samantha Owens book, and have submitted the proposal for the third Sam. I'm in love with the title, so I'm hoping it's accepted along with the story idea. I'm also working on a massive secret project that is very research intensive, and with any luck, sometime during this month I'll be able to talk about it a bit.
Do you belong to a writer's group?
I do, or I should say, I did. I'm on a sabbatical right now. But I've been with the same ladies for eight years or so now, and they've had their eyes on every book I've written. We meet twice a month, bring ten pages to read aloud, and gently critique one another's work.
Do you still get butterflies before a release day?
I do. Absolutely. Though I'm more of a wreck in the few weeks leading up to the first reviews than anything else. The worse I think I've done with a book, the better it's received. I'm not a good judge of my own work. I do read my reviews. But I feel if you believe the good, you must believe the bad, as well. It keeps me balanced.
You have a pretty large internet presence, do you feel that social media is important to getting name recognition.
I do, to an extent. It's certainly changed publishing. I think it's wonderful to be able to communicate directly with readers. For me, it's a fun thing, not a marketing thing. I do it because I enjoy it, enjoy talking with readers, checking in with my friends, etc. That said, I think it can be very overdone. I'm constantly trying to find the right balance. Hitting people over the head with Buy my book, Buy my book gets really old, really quick. I'm moving a bit of my focus away from the networks and onto my mailing list, upping my newsletters to once a month instead of quarterly. That way, we're all still talking, but it's not as in your face as Facebook and Twitter.
JT Thank you for taking time out of your schedule not just for the interview but in advance for spending time with us in June while we read A Deeper Darkness.
Thanks for having me! I hope everyone enjoys the book!
My Review of Edge of Black
Dr. Samantha Owens is settling into her new life in DC. She still mourns her losses but she's made new friends, has a new career path and has a new love. And now she also has another disaster on her capable hands. What looks like a terrorist attack on the DC subway is taking a new and devious turn. It seems an unknown substance has been released, one that has killed not hundreds not thousands but three, with no apparent relationship to each other. Her friend detective Darren Fletcher needs a favor, needs her to don her medical examiner persona and find answers to some disturbing questions. The authorities are headed in one direction, but is it the right direction. Will there be more attacks, will more die or is this heinous crime something very different than what it looks like at face value. Sam will use her extensive knowledge as a forensic pathologist to search for answers. It will put she and her lover, former Army Ranger, Xander Whitfield in imminent danger from not only a most allusive and deadly villain but from detective Fletcher and the authorities too.
JT Ellison just keeps getting better and better. She turned a co-star from her bestselling Taylor Jackson series, Samantha Owens, into a superstar in her own right. This time she takes us deep into a terrifying ordeal that's not too far removed from what we all fear today. She gives us a storyline not only realistic, but feasible. Her impeccable research is evident as she takes us through this non-stop action packed terror filled tale using her customary no nonsense narrative in which she deposits some well placed prose which gives more dimension to the novel and to her characters. Her stars we've met before but she's giving us more in depth information about them now, more secrets revealed, more dreams uncovered, making them more approachable and she introduces us to many more characters some good, some bad and some we wonder which side of the fence they're on. If you love the thrillers of Lisa Gardner or Lisa Jackson, Nelson DeMille or John Sandford you'll love this new explosive thriller by JT Ellison.
JT you never cease to amaze me as you delve into topics that make me shiver and I can't wait until the next chill.