Thread Options
Mark as New

Mark as Read

Bookmark

Subscribe

Email to a Friend

In a recent post, I mentioned a few garden mysteries that I'd discovered. Murder and mystery often go together—it makes me think of turning over a rock and finding all kinds of nasty things hiding there.
Agatha Christie's expertise was poison, not perennials, but she entwined the two in many of her books. Hercule Poirot solves a mystery with a garden theme in Sad Cypress, and a garden is the key to another murder Poirot solves in the short story How Does Your Garden Grow?, published in The Regatta Mystery.
The characters in Christie's Remembered Death have names with a floral theme and references to the Victorian language of flowers.
A garden catalogue, a knowledge of dahlias, and the language of flowers are integral to the plot in the Miss Marple short story The Four Suspects, published in a collection called The Thirteen Problems. In the same collection, Miss Marple uses her powers of deduction and a clue of pink primroses to solve the mystery of The Blue Geranium, while in The Herb of Death a savory stuffing of sage and onions is replaced by sage and foxgloves with deadly results. Christie's books are classics, but there are many recent mysteries with a garden theme, too. Here are more for your consideration, including a brief synopsis of each story from B&N.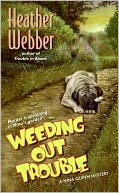 Landscaper Nina Quinn would do anything for her employees. After all, Taken by Surprise, her garden makeover business, wouldn't be blooming if it weren't for them. So when Kit Pipe, her right-hand handyman, goes missing, Nina immediately starts digging into his disappearance. But all she finds is Daisy Bedinghaus, Kit's ex—and she's dead as dirt.
An ex-con who'd been dumped by Daisy not long before her murder, Kit's the prime suspect. But Nina's determined to prove his innocence and nip this whole thing in the bud. After all, it'll get her out of her all-too-crowded house, where her ex-husband the cop is recovering from a gunshot wound on her couch and her thorny new stepson is giving her the evil eye. But as she comes closer to unearthing the truth, Nina will find that facing the frost in her home is nothing compared to confronting the real killer's ice-cold stare.
Abby Knight is the proud owner of her hometown flower shop, but a new low-cost competitor is killing her profits-and a black SUV just rammed her vintage Corvette in a hit-and-run. She's determined to track down the driver, but when the trail turns deadly, the next flower arrangement might be for her own funeral.
EVEN PARADISE…
Alex and Kate Sheppard have found the perfect house; the home they had always dreamed of owning. Nestled deep in the Wiltshire countryside and surrounded by a two acre walled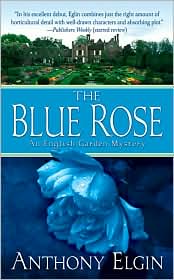 garden, The Parsonage was to be their little paradise…but nothing stays perfect forever.

CONTAINS SECRETS
Soon after moving in they make an impossibly exciting discovery—one that defies every known law of nature and science. They find a blue rose bush flourishing in their walled garden. But as word of their discovery leaks out, the Sheppard's peaceful existence is shattered and they find themselves plunged into a world of coded journals, genetic experiments, cold-blooded greed, and ultimately, murder.

THAT CAN KILL…
Threatened from every direction, Alex and Kate can trust no one but themselves, and the only way they can save their lives is to unravel the dark, seductive secret of the blue rose…
Permalink