Thread Options
Mark as New

Mark as Read

Bookmark

Subscribe

Email to a Friend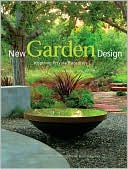 When it comes to shopping for holiday gifts, I always have to fight what I call the 'practical' urge. As a native New Englander, I have frugal in my blood, and I tend to gravitate toward the problem-solving presents: the ice-scrapers, the wooly hats and the how-to manuals. I've always figured that useful gifts are most appreciated. But you know what, my holiday giving has become bah-boring. So, I've decided to make some changes this year! Oh I'll still be giving garden-related gifts -to be sure. But this season, I'm embracing the inspirational: floral shawls, delightful terrariums, and beautiful garden design books. No more ho-ho-hums! I want to wrap up something that will really generate some oos and ahs. So come along and dream a little dream with me!
From the very first moment I set eyes on Zahid Sardar's gorgeous book, New Garden Design, I began to swoon. Talk about inspiration -this book has it all! From the thoughtfully selected feature-landscapes, to the beautiful photography, Sardar's dream-garden book will delight any design buff on your holiday shopping list. There are many things to love about this title, but for me, the emphasis on artistic landscape elements ---outside architecture and sculpture--- makes this book a real stand-out.

Power of Gardens, by celebrated landscape designer Nancy Goslee Power, is another spectacular book for holiday gift-giving. The artistic-range of Power's stunning design work is fully represented in this beautifully photographed and richly detailed book. From the modern and minimal to the cozy, classical and truly extravagant; Power's gardens will inspire anyone with an eye for beautiful things. Great garden design books can launch great garden plans, and isn't it wonderful to watch new dreams take root?
Sure, you can give a gardener a well-made trowel or another pair of water-proof gloves (yawn) for Christmas this year. Or, you can give your favorite green-thumb something that really fuels gardening dreams. This year, I'm thinking a beautiful landscape design book and a gift certificate to a favorite nursery is the way to go for this gardener (hint, hint Santa!).
What's your favorite dream-garden book?
Permalink