Thread Options
Mark as New

Mark as Read

Bookmark

Subscribe

Email to a Friend

Color is often the first thing you notice about a garden. When I first started working with plants, I was nervous about design aspects of the garden, particularly how to make the most effective use of color.
I'm not an artist, but I've always been intrigued by the properties of color. Once you start playing with color—using white or silver to act as a foil to brilliant magenta, for example, or using color wheel opposites for interesting effects—you will find that there is more to designing with color than just picking flowers that don't clash with your house. Over the years, I've built up a decent library on this topic, and I'd like to share my favorite books with you. I've included books that deal mainly with color, and others that will help you choose plants by their color. This first book isn't out yet, but as soon as it's available, I will be adding it to my collection:
1.
This is what the publisher, Timber Press, says about it:
Renowned garden artist Keeyla Meadows sees the world in strong, saturated shades. Fearless Color Gardens brings this unique vision to life by showing how to use wild, uninhibited color to connect indoor and outdoor spaces and turn a garden into a work of art. Learn how to pick colors that work together; how to coordinate the colors of walls, benches, containers, and garden art; how to organize garden spaces through the use of color; and how to translate personal color preferences into tangible form in the garden. Fearless Color Gardens also features a new way of looking at color with "Keeyla's Color Triangle"; easy-to use tips on growing edibles in color-themed gardens; and Keeyla's favorite plants for specific colors. In the end, readers will want to reinvent the staid rules of the color wheel and turn their color preferences into intoxicatingly vibrant garden expressions. Here is a fascinating trailer for this book.
2.
Gertrude Jekyll's Colour Schemes for the Flower Garden
This is from Jekyll's introduction (and did you know it's pronounced JEEK-ill, sort of like "treacle," rather than JECK-ull, like Jekyll and Hyde?):
I am strongly of the opinion that the possession of a quantity of plants, however good the plants may be themselves and however ample their number, does not make a garden; it only makes a collection. Having got the plants, the great thing is to use them with careful selection and definite intention. Merely having them, or having them planted unassorted in garden spaces, is only like having a box of paints from the best colourman [sic], or, to go one step further, it is like having portions of these paints set out on a palette.
This does not constitute a picture; and it seems to me that the duty we owe to our gardens and to our own bettering in our gardens is so to use the plants that they shall form beautiful pictures; and that, while delighting our eyes they should be always training those eyes to a more exalted criticism; to a state of mind and artistic conscience that will not tolerate bad or careless combination or any sort of misuse of plants, but in which it becomes a point of honour [sic] to be always striving for the best.
3.
P. Allen Smith's Colors for the Garden
From Smith's web site:
As gardeners, we would all be better served to remember the importance of foliage when considering plant combinations—whether it is for a large garden scheme, a small garden room, or even an ensemble of plants in a single container. However, this is often easier said than done. Even for the trained eye, it is the bloom of a plant that captures our attention. But when you think about it, flowers are often temporary, blooming for a few days and then gone. Kevin Doyle said it best: 'Texture and foliage keep a garden interesting through the season. Flowers are just moments of gratification. You'll enjoy a longer lasting display of color by incorporating foliage plants into your designs.
Next time you go to a garden center, try this exercise: First, choose one dominant color for your garden plan and then select a representative flower (preferably something that has a long blooming cycle) in that color. Next, find a foliage plant that is a good color companion and put them together. With these two plants chosen, add another blooming plant and see how this looks with its companions. By looking at plants this way, you will begin to see more possibilities."
4.
Armitage's Garden Perennials: A Color Encyclopedia
Here's an excerpt:
Without doubt, two species of Lychnis and their selections reign supreme in American gardens. A native of Eastern Europe, Lychnis chalcedonica, the Maltese cross, has been a garden favorite for many years. Opposite leaves, swollen nodes, and the five-petaled flowers—with petals shaped like a cross—show its affiliation with the dianthus family, and indeed the genera are closely related. The common form and color of the flowers is single and scarlet, but double flowers ('Flore Plena'), rose-colored blooms ('Carnea'), and even flowers of puce ('Murky Puce'—now who would name anything "Murky Puce"?) are occasionally seen. New hues for an old-fashioned plant. Full sun, decent soils, zones 3 to 7.
The other reigning species is the short-lived but explosive Lychnis coronaria, rose campion, characterized by magenta to rosy red flowers and gray woolly leaves. It reseeds itself with abandon: individual plants may disappear, but in general, gardeners will find this plant returning year after year. The species has gaudy purple flowers, but several hybrids, in particular 'Abbotsford Rose', subdue the magenta and replace it with bright rose. For more conservative gardeners, a white selection ('Alba') and a bicolor ('Angel Bush') help to make the garden an even more pleasant place for champions. Full sun to afternoon shade, zones 4 to 7.
5.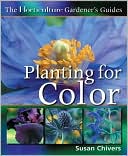 The Horticulture Gardener's Guides - Planting for Color
Adapted from the book:
Light changes according to the time of day, the season and the climate; in the process, it alters our perception of color. Knowledgeable and creative gardeners take the variable nature of light into account when planning their plantings and make use of this phenomenon to make their gardens more beautiful and atmospheric.

Sunrise and Sunset
In the early morning and evening, the sun is at its lowest point in the sky, so its light passes through the atmosphere at a low angle. As this happens, dust particles diffuse the light and emphasize the warm end of the spectrum, making the light appear red. Make use of this by:
planting reds, oranges, and yellows in places where they will pick up the morning and evening sun

omitting blues, violets, and whites from those places, because these colors look dark and lifeless when the sun is rising and setting
Evening
After the sun has set, everything changes. The light ceases to have a reddish glow and becomes bluer. As the light fades, warm hues are lost and the only colors discernable are blue and white. Exploit this by:
choosing blue and white flowers for terraces, patios and other areas used for evening entertaining. For instance, plant some pots with white petunias and others with blue agapanthus."
Permalink