Thread Options
Mark as New

Mark as Read

Bookmark

Subscribe

Email to a Friend

What is a conifer? If that question makes you wrinkle your forehead and hesitantly think of pines and Christmas trees, these books may not be for you. On the other hand, if you know that conifers come in many colors—far beyond "ever green"—and that some are even deciduous, at least one of these books deserves a place on your bookshelf, especially if you're a serious gardener or a professional landscaper.
If you are hooked on conifers and would like to meet other like-minded people, I would highly recommend the American Conifer Society. The members of that society are incredibly knowledgeable, and know more about conifers than you would believe possible.
1. I'm including this first book even though it won't be released until mid-November. Some of my old favorites are out of print, and this book is much anticipated. It looks like an excellent source of information, and I'll definitely be adding it to my library.
This is what the publisher has to say about it: "Researched for more than three decades, this definitive work provides up-to-date descriptions of all the true conifers of the world, including 545 species of trees and shrubs. Written for accessibility to both horticultural and botanical audiences, it is the first comprehensive update of conifer taxonomy in nearly a century. Noted conifer taxonomist James E. Eckenwalder also discusses the relationships among the groups, practical usages, champion trees, fossil occurrences, and biology.
New identification guides for the families and genera are based whenever possible on foliage features and thus should be easier to use than traditional conifer keys, which focus on seasonal, and often microscopic, cone characters. Eckenwalder shares the reasoning behind his taxonomic decisions, many of which are unique to this book, reflecting a comprehensive reevaluation of conifer classification.
He also outlines the features sought in cultivars of each genus, particular cultivation concerns, and conifers recommended for cultivation under various conditions and to achieve different effects. Some 3,000 cultivars have been available in recent times, more than five times the total number of conifer species.
Several hundred original illustrations include drawings of the seed cones for all genera as well as for representative species. Maps of the natural distribution of each genus allow for easy comparison of ranges. Handsome black-and-white photographs of species in their natural habitats and attractive color photos further enrich the volume. More than 100 images reproduce foliage of many genera as an aid in identification.
With its unprecedented attention to detail and extensive bibliography, this major work is an essential reference for botanists, naturalists, and horticulturists."
2.
In a 2001 survey of the top ten Conifer books, members of the American Conifer Society put this book right at the top of the list. The author of the survey noted, "Survey results listed this as the number one conifer book, by a two-to-one margin. It is the most comprehensive conifer book currently in print. Although it is a bit technical for beginners, I recommend it for those seriously interested in conifers. It is easy to grow into and includes excellent worldwide information. This book is frequently listed as a reference for conifer articles. It's a must for every serious conifer enthusiast." The Brooklyn Botanic Garden calls it one of the "most complete books on conifers."
The publisher says this about it: "Over 600 conifer species and 2100 varieties and cultivars—all those known to be in cultivation—are described in this reference work, a companion to the same author's 3-volume "Manual of Cultivated Broad-Leaved Trees and Shrubs." Standard trees and dwarf forms and cultivars are covered—and in addition to accurate, concise, complete plant descriptions, there are full details of the plants' uses, cultural requirements, and place in the garden design or landscape. Keys to all substantial genera are included. All the more notable plants are illustrated. There is a note on the general question of hardiness and 'hardiness zone' ratings as applied to the British Isles. The work is aimed at gardeners, landscape architects, plant collectors, and libraries."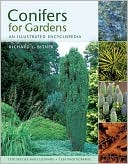 Conifers for Gardens
The author, Richard L. Bitner, said this in an interview for the Pittsburgh Post-Gazette: "[Conifers] are more than a foundation planting," he says. "We should be growing more conifers and integrating them into our mixed borders. We want borders that will be interesting throughout the seasons. I would say that color is highly overrated. When people say they want color in their garden year-round, that is not sustainable. "What is sustainable is the structure, texture, and shapes that conifers can provide."Structure is the most important thing [in gardens]," he says, "and conifers provide structure throughout the year when other things come and go." The trouble, he says, is that many of the conifers that are commonly available to gardeners are not the ones they need to be planting. "They outgrow their space, and they are clipped [as a result], or you can no longer see the door. They are poorly placed, and often poorly selected."
There are varied reasons that homeowners keep planting the same tired old varieties. One is a lack of knowledge about the plant family and a related ignorance of the huge variety of conifers available. Nurseries are also partly to blame because they tend to keep a good supply of some of the faster growers, but they don't stock some of the more interesting and expensive cultivars. Mr. Bitner thinks there are several reasons for that. First, some of the old-standbys are cheaper because they do grow faster, and secondly, customers balk at paying a large price for a slower-growing variety, which will also be in a smaller pot. "We need to be asking for these [plants] at fine nurseries," he says.
(You can read the full interview here: http://www.post-gazette.com/pg/08061/861532-47.stm)
4.
From the inside flap:
"Conifers are the most diverse, interesting, beautiful trees in the world, so why is it that our gardens are home to so few species? Part of the reason lies in their economic importance, which, by focusing attention on relatively few species, has limited our understanding of one of the most remarkable plant groups on earth.
Leading expert Aljos Farjon provides a broader perspective with this compelling narrative that observes conifers from the standpoint of the curious naturalist. It starts with the basic question of what conifers are and continues to explore their evolution, taxonomy, ecology, distribution, human uses, and issues of conservation. As the story unfolds many popular misconceptions are dispelled, such as the notion that all conifers have cones (untrue), and the extraordinary diversity of conifers begins to dawn as Farjon describes the diminutive creeping shrub Microcachrys tetragona, whose strange seed cones resemble raspberries, and the prehistoric-looking Araucaria meulleri.
The taxonomic diversity of conifers is huge and Farjon goes on to relate how, over the course of 300 million years, these trees and shrubs have adapted to survive geological upheavals, climatic extremes, and formidable competition from flowering plants. Scarcely less remarkable is his explanation of how conifers, with only 627 species, grew to occupy every continent on earth ranging from the high latitudes to the tropics. This illuminating review will fascinate plant lovers who wish to discover the extraordinary relatives of ordinary garden conifers, natural historians, who will relish seeing conifers reviewed in a broad context, and all who seek to learn more about the early history of life on our planet."
5.
Charlaine Harris of the American Conifer Society observes, "Whether you are a newcomer to the world of conifers or an experienced collector, you will want this book. Every gardener would benefit from having this book. The author, Adrian Bloom, a world-renowned horticulturist and gardener began planting conifers in 1960. His own garden Foggy Bottom at Bressingham in Norfolk, England is in a class by itself. Foggy Bottom is a stunning tapestry of color, form, and texture that displays all the best year-round qualities of conifers and companion plants. Bloom's new book is much like his garden. With his vast horticultural knowledge as a loom, he weaves his way through the world of garden conifers."
Notes from the publisher:
"Far from being dull, to the observant this group of plants can be both awe-inspiring and magical. Conifers come in all shapes and sizes—miniatures may grow less than 3ft (90cm) in a hundred years, while others might reach 130ft (40m) or more in the same period. Conifers include the oldest living plant in the world, the ancient Bristlecone Pine, Pinus longaeva, whose 4,500-year-old wind-shattered specimens cling to life over 10,000ft (3,000m) up in the White Mountains of California, as well the tallest, the Coast Redwood, also in California, measuring almost 400ft (120m). If we are lucky, we can marvel at these in nature. It would not, of course, be advisable to plant a Coast Redwood in a smaller garden but, strangely enough, Pinus longaeva grows quite successfully at much less elevated positions, even in my garden at Bressingham in Norfolk, UK.
Conifers can be deciduous or evergreen. Among the former, the larches (Larix), the Swamp Cypresses (Taxodium) and the amazing Maidenhair Tree (Ginkgo) have wonderful autumn colors as their leaves turn and fall. In winter, the first two, together with the deciduous Dawn Redwood (Metasequoia), exhibit traceries of branches and twigs against the sky, enhanced by frost and water droplets. The evergreens can display a wonderful range of colors. It is magical to see an evergreen like Pinus mugo 'Wintergold' transform its green summer needles to a glowing yellow or gold in autumn—such a cheery change can warm the heart during long winter days."
Permalink