Thread Options
Mark as New

Mark as Read

Bookmark

Subscribe

Email to a Friend

Garden lovers often develop a shorthand for popular plants; they talk about Stella, Vera Jameson, Constance Spry and Nora Barlow as if they were old friends.
For those of you who aren't familiar, Stella is the bright gold Hemerocallis 'Stella de Oro', 'Constance Spry' is a famous rose, and Sedum 'Vera Jameson' (sometimes listed as Hylotelephium 'Vera Jameson') is a hybrid similar to Sedum 'Autumn Joy' (sometimes listed as Hylotelephium 'Autumn Joy').
The names are familiar to gardeners. The plants are familiar, too. But who are the people whose names have become synonymous with the plants that honor them? A few great books that explain how familiar flowers got their names include this year's A Rose by Any Name and an older book, 100 Flowers and How They Got Their Names, which can still be purchased here on bn.com.
Here's some more flower-naming trivia: A British plantswoman named Vera Jameson (1899–1989) married into the Jameson Irish Whiskey dynasty. She discovered a dark-foliaged seedling in 1968, growing in a flower bed; it has since become known as Sedum 'Vera Jameson.' The plant was first exhibited at the Royal Horticultural Society Show in 1971, where it received an award of merit. It remains a garden favorite to this day.
Constance Spry (1886–1960) was a British gardener, well-known for her flower-arranging skills and her love of old roses. She was working as a school headmistress when demands for her unique floral arrangements finally caused her to abandon her post and start a flower arranging business. Spry, who became known for her bold and unusual color statements, went on to found a school of cookery and home decoration. In 1961, shortly after her death, David Austin introduced Rosa 'Constance Spry', the result of a cross between a gallica and a floribunda. This fragrant rose has large pink flowers and can be trained as a climber.
The distinctive double-flowering columbine Aquilegia vulgaris 'Nora Barlow' was named after Nora Darwin Barlow, granddaughter of Charles Darwin and wife of Sir Alan Barlow, under-secretary to the British Treasury. Barlow studied genetics at Cambridge University, edited several books about her famous grandfather, and experimented with hybridizing flowers, including columbines. The flower that is now called 'Nora Barlow' has been grown for several hundred years in British gardens. It was named in her honor after she recommended it to Alan Bloom of Blooms of Bressingham.
Other familiar plants were named after plant hunters or explorers:
Abelia (Abelia) was named after Clarke Abel (1780-1826), who was designated surgeon to the British Embassy to the Emperor of China in 1816. He discovered Abelia chinensis in China, even though Robert Fortune was the first to introduce live specimens to England.
Clematis X jackmannii (Jackman clematis) was a cross produced by George Jackman & Son in 1862. Jackman wrote about 200 forms of Clematis in his book on the genus, The Clematis as a Garden Flower, published in 1872.
Diervilla (Bush honeysuckle) was named after N. Dierville, a 17th French surgeon who explored Canada in about 1700.
Euonymus fortunei (Wintercreeper) was introduced by Scottish plant hunter Robert Fortune (1812 - 1880) from Japan in 1860.
Kolkwitzia amabilis (Beautybush) was introduced to England from China by E.H. Wilson. The plants in America today were first grown from seed in England in 1910 and were named in honor of R. Kolkwitz, a professor of botany in Berlin.
Magnolia (Magnolia) - This genus was named in honor of the French doctor and botanist Pierre Magnol (1638– 1715), who was professor of botany at the Royal Garden of Montpellier.
Spirea Xbumalda 'Anthony Waterer' ('Anthony Waterer' spirea) is a form of 'Bumalda' spirea grown at Knap Hill Nurseries in England before 1890 and inamed after the nursery owner. Waterer and his son are also famous for introducing the well-known Knap Hill hybrid rhododendrons, which the Waterers began to cross in1870.
Syringa X prestonae (Hybrid lilac) - This lilac was developed in Canada at the Horticulture Central Experiment Farm in Ottawa, as the result of crosses by Isabella Preston (1881–1965). Preston, who began work at the experiment station in 1920, worked with lilacs, lilies, roses, Siberian iris, columbine and flowering crabs.
Viburnum carlesii (Koreanspice viburnum) - This very fragrant viburnum was named after William Richard Carles (1849–1929), who was British Vice-Consul in Korea in the 1880s. While stationed in Korea, Carles discovered the koreanspice viburnum and sent samples to the Royal Botanic Garden at Kew. It wasn't until years later that Carle discovered the shrub had been named after him.
Here are more fascinating books on the plant hunters and explorers who gave our plants their names: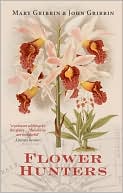 Flower Hunters
Message Edited by becke_davis on
08-07-2009
02:10 PM
Permalink