Thread Options
Mark as New

Mark as Read

Bookmark

Subscribe

Email to a Friend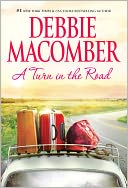 Life takes many turns and they're not always expected. I was a dancer at Juilliard before I blew my knee out – oops, an expected turn. My dear friend didn't make it as a dancer for other reasons, and now he's a brain surgeon, I'm not kidding, he's chief of the department at a NYC hospital. My point is sometimes there are occurrences in life that aren't planned for, and where you were headed isn't where you end up. In Debbie Macomber's,
A Turn in the Road,
, three generations of women embark on an adventure that takes them to the most unexpected places.

Bethanne Hamlin spent 20 years raising her family and helping her husband build his career then – poof - one day he was gone. Its six years later and Bethanne has created a thriving enterprise and successfully raised their two children. Just when her life seems to be in place she gets the news that her ex husband Grant has divorced the woman he left her for and wants a second chance. And before you say "I don't think so," you have to know that Bethanne still has feelings for Grant and needs time to think about what it all means. As it happens her ex mother-in-law Ruth is going cross country to her 50th anniversary high school reunion in an attempt to find her first love. In the hopes of clearing her mind so she can make a decision about her ex, Bethanne decides to join her. When her daughter Annie is spurned by the man she thinks she's going to marry, she's hurt beyond measure and decides she too needs some space and joins Bethanne and Ruth as they embark on a most extraordinary road trip. So begins a journey of three generations of women, each with a different reason for getting away from it all.

The interplay between the generations is brought magically to life as they steer their way through the twists and turns in the road. Debbie Macomber has created three strong characters; women of substance who are smarter and tougher than they thought they could be. It's a wonderful journey of surprises that gives a new and fresh vantage point on life. Blossom Street fans – this one's for you, it's completely uplifting!

Bestselling author Debbie Macomber will be joining us here next week on Thursday, April 21st, to chat between the hours of 12-4 so stop by and visit with Debbie.

Maria Lokken is an avid romance reader and an award winning television producer
Permalink