Thread Options
Mark as New

Mark as Read

Bookmark

Subscribe

Email to a Friend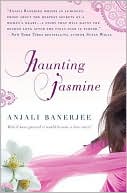 If dead people could speak to me I'd ask them all sorts of questions. Admittedly, at first, I'd probably be scared witless, but once I got use to the idea, there would be a lot of things I'd want to know. How'd you die? What was it like living in your time? Do you have any tax shelter advice… you know, important things . Now if those dead people were famous authors living in a quaint bookstore on an island in the middle of Puget Sound… well that could be charming… or terrifying …or both. Either way it's not about me, it's about Jasmine. Hi powered, socially conscious, technologically up-to-date, investment counselor Jasmine Mistry.

Reeling from a divorce from the man she thought she'd grow old with, Jasmine has given up on love and taken a month off to look after her beloved Auntie's bookstore. In addition to the collection of classics housed in the store, she also has to deal with their authors, all of whom are dead. Dead authors!? One would think the words they left behind were enough, but this particular group has opinions and attitude. And while Jasmine has all manner of ideas on how to modernize the store, the dead aren't having it. What she doesn't realize is that some things shouldn't be changed. With their help and the unexpected appearance of a mysterious stranger she learns that life is about caring, kindness, generosity and yes, love.

Haunting Jasmine is a contemporary with a mystical twist filled with off-beat characters that probably resemble people you know, and that's what makes this such an endearing story. The author brings these characters together because of what they need and what they can give, creating a play between them that is lyrical, mystical and haunting. It asks the question "Can I start over? Can I leave it all behind? Can I find joy in each day?" And these are the kinds of questions that make me think and make me want to keep reading.

What about you – could you start over? If you could, what would you do?

Maria Lokken is an avid romance reader and an award winning television producer
Permalink