Thread Options
Mark as New

Mark as Read

Bookmark

Subscribe

Email to a Friend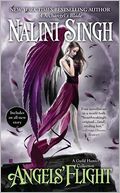 Nalini Singh's Guild Hunter series is often gritty with unique world building, an emotional landscape that pushes the envelope and characters that have an intense allure which demands attention.
In Ms. Singh's new release
Angels' Flight
we get four novellas (three previously published and one new) to hold us over until the next full length book in her Guild Hunter series. The novellas may be short but her ability as a wordsmith allows them to be packed with an emotional charge that allows for full characterization and story arcs. The novellas feature characters that have appeared in previous books but had minor roles. In Angels' Flight we get to know them better and as a bonus some get their happily ever after. With glimpses of Raphael and Elena and more insight into the Guild Hunter's world this anthology is pure Singh and that's a very good thing.

Angels' Pawn:

A vampire hunter faces off against two rival factions and the angel manipulating them both, and a vampire whose help is not entirely selfless…

Angels' Pawn is the one novella where the Happily Ever After is not a done deal but the chemistry between the two protagonists is enough to keep you hoping that this is not the last we've seen of them. Ashwini, Ash for short, is a Guild Hunter we met previously in Angels' Blood (Guild Hunter Series #1) . She is a relentless and fearless vampire hunter. In the past she has hunted the vampire Janvier, but this time the tables have turned and they need to work together to broker a peace between two fighting vampires. Ash is a tough as nails hunter and her kick ass attitude is definitely a match for Janvier. Their unconventional relationship is what makes this novella stand out. Angels' Pawn has an emphasis on the action and the world, a world that is both beautiful and terrifying but above all riveting.

Angels' Judgment:
A hunter must track one of her own gone bad, while surviving the deadly tests placed in her way by the archangels themselves. Unexpected backup comes from a stranger who might just be the most lethal threat of all...

We first met Sara in the book Angels' Blood, where she is a good friend of Elena's, already the Director of the Guild Hunters of America, married to Deacon, and a new mother. Angels' Judgment is Sara's back story. We find a younger Sara, an exceptional Hunter about to be promoted to Director but first sent on a mission to find a rogue Hunter who is on a vampire killing spree – however this is not a solo mission. Deacon is there to help and protect her. Trough Deacon's character we get more insight into the awe inspiring power that the Cadre of Archangels has.

This story has explosive action as well as a grittiness and immediacy that give the interactions between Sara and Deacon's back story vibrancy. We see Sara struggle with her decision about becoming the Director and we also get a glimpse of Raphael at an earlier point in his life. I do love a good back story.


Angels' Wolf:

A vampire becomes fascinated with the seductive angel who rules Louisiana. But all is not what it appears to be in her court.

Noel is a vampire who was brutally tortured and slaughtered in the book Archangel's Kiss (Guild Hunter Series #2) . In the novella Angels' Wolf, Noel is sent to Louisiana to help investigate a traitor. Nirma is the powerful angel in charge of the Louisiana district - her power is so frightening other angels go out of their way to avoid her. Yet, underneath all that power is gentle and loving soul. There is a humanity to her that is not the norm for most angels. Ms. Singh is gifted at writing tortured characters with elegant words and the pairing of Noel and Nirma is genius. A combination of 'who done it' with a romance that is both sweet and loving is at the core of this novella.


Angels' Dance:

An angel trapped in the mountain stronghold of the Refuge finds herself under siege by a warrior angel from a martial court.

Angels' Dance is the new novella in this anthology and we finally get a better look at Jessamy and Galen. One of the exciting things about this novella is that it takes place four hundred years before the first book in the series, Angels' Blood. We are brought to a time when New York was still a wilderness and Raphael was a relatively new Archangel. Jessamy is an angel who cannot fly. Born with one deformed wing she has spent her life looking up at the sky and the beautiful sight of angels soaring to the heavens. Being an angel and not being able to fly she has instead devoted her life to teaching young angels. Galen was born to two warrior angels and is now preparing to be Raphael's weapons master and commander of his troops. This is an opposites attract story. Both Jessamy and Galen live their lives as their situations predict but when they come together the new possibilities are endless.
The Order of the Guild Hunter Series Is:
Angels' Blood (Guild Hunter Series #1)
Archangel's Kiss (Guild Hunter Series #2)
Archangel's Consort (Guild Hunter Series #3)
Archangel's Blade (Guild Hunter Series #4)
Permalink