Thread Options
Mark as New

Mark as Read

Bookmark

Subscribe

Email to a Friend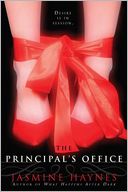 Working for a living, trying to figure out how to stretch a dollar and putting a roof over your head sometimes takes all the energy you have. Desires? Fantasies? Who really has time for them? But if you lived in a world where all things were possible they would be right up there with getting the kids off to school and making sure the electric bill was paid. When your sexual fantasies come true and they come in the form of romance and love – well that certainly beats figuring out a how to make yet another chicken dinner interesting so you're kids don't start a revolution.

This month I read two erotic romances where secret desires and fantasies are front and center and can no longer be denied. In Jasmine Haynes' book The Principal's Office and Jodie Griffin's book Forbidden Fantasies we are introduced to two women who have lovingly devoted their lives to taking care of their families with altruism and grace and no questions asked. Now they find themselves on the brink of new perceptions and feelings about who they are and what they want and they are ready to act on them.

In The Principal's Office author Jasmine Haynes introduces us to Rachel Delany, a recently divorced working mother with two teenage boys. For the first time in her life she has to figure out how to raise her sons, put food on the table, and a roof over their head all on her own. She also discovers that after seventeen years of marriage her sexual desires have been virtually untapped. But does she really have time for a relationship when her sons are acting out because of the divorce, she's financially strapped, working long hours and has no time for herself? Having a no-strings/sex-only relationship could be just the thing she needs, and that's exactly what she unexpectedly finds when she meets Rand.

Rand is the perfect man - good looking, intelligent, and he knows a thing or three about a woman's body. He's all that and more, and he should be. After all if Rachel is going to explore her wild side she needs a man who will fulfill all of her fantasies. It's only fair. Their exploration of each other's desires and sexual needs is handled with both passion and respect.

I enjoyed that both Rachel and Rand were older and had life experiences to bring to their characters. Rachel's dual life of taking care of her children and working is told with both humor and realistic descriptions of the madness that sometimes goes along with raising teenage boys. Her relationship with her ex-husband gives us insight into why she agrees to have this no-strings sexual relationship with Rand. And Rand? Well his duality of being a school principal and educator as well as a man who is passionate and sexual is not only interesting but makes him a stronger character. The Principal's Office is a solid erotic romance with a strong plot and interesting characters willing to explore the myriad of lines one walks when discovering passion and living outside the box.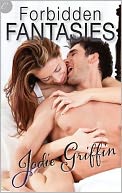 In Forbidden Fantasies, debut author Jodie Griffin introduces a happily married couple with two children. Let's face it, after fifteen years of marriage and two children, no matter how much you love each other, romance can sometimes become predictable. It's not that the love and passion have worn away; it's more – "do we have the energy or time to make it happen?" Add to that a woman who was raised in a puritanical household and you have the makings of a conventional marriage bed.

In the great debate between being honest with yourself and your partner versus maintaining the status quo and not rocking the both, Ms. Griffin gives us a window into the world of Jessica Meyers. Jessica has a wonderful and loving partner in her husband Alex. They are devoted to each other, and in erotic romance it's exciting to read about a stable and loving married couple whose love and affection for one another is so beautifully written.

Jessica is a good wife and mother with a happy life but when she reads her first erotic romance and discovers a world outside of 'vanilla sex' her desires and sexual fantasies are ignited. Reading erotic romances inspires Jessica to want more from her relationship with Alex, but her prim and proper upbringing makes it hard for her to express those feelings to her husband. How does one go about asking their partner to experiment and try new things after fifteen years of marriage? Even when you have a solid relationship it's hard to ask for things that are perceived as daring or even a little bit naughty.

Luckily for Jessica Alex is the kind of husband we all wish for. His love and commitment to her is paramount and his willingness to give Jessica what she needs makes him undeniably attractive and sexy. Ms. Griffin hits all the right notes with Alex. His steadfast commitment to his wife, family and career are only part of who he is. He's also a man in love and has the wisdom that comes from really knowing his lover, and that wisdom gives him the ability to give Jessica what she wants without making her wrong for wanting it.

Ms. Griffin's book is the rare combination of the erotic and the sweet. The sex between Alex and Jessica is enhanced by the romance and love between them. Watching Jessica take the first tentative steps toward communicating her forbidden fantasies and then having Alex reach out and support Jessica's need for exploration is not only sexy but also extremely romantic. After all, what's sexier than jumping off the cliff and exploring new territory with someone you love?

Both Fobidden Fantasies and The Principal's Office give us mature women who discover what they want and need both sexually and emotionally. They both take the risk to be honest enough to own their desires and express their wishes – and the risks pay off.





Permalink