Thread Options
Mark as New

Mark as Read

Bookmark

Subscribe

Email to a Friend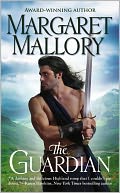 For anyone whose watched "Game of Thrones", "The Borgias" or "Deadwood" you know that living anytime before penicillin was invented wasn't for the weak. A man had to be able to stake his claim and defend it, girls got married off at 13, political intrigue was the norm, and sex was S-E-X. It was ribald, bodacious, and right out in the open. And Margaret Mallory's latest release, The Guardian manages to capture that very essence as the reader is swept off to a 16th century island in the Scottish Highlands where clan rivalries was a winner take all proposition.

As young lads, best friends Ian, Connor, Duncan and Alex set off to visit Tearlag MacDonald, the oldest living member of their clan and 'a seer of some repute." Tearlag tells each boy their future, and her visions set up what will be the four books in this new series, The Highlanders. "The Gaurdian" is Ian's book.

As a young man, Ian became protective of a young girl named Sileas, and when her step-father puts her life in danger Ian is there to rescue her. Unfortunately, his rescue attempt puts Sileas in a compromising position and they're forced to marry. But at 13, Sileas is a gangly, rough and tumble child and Ian cannot accept the marriage and his only recourse is to go off to fight in France. Five years later he returns to find his family in trouble, his clan taken over, and his wife Sileas wanting nothing to do with him. His long absence only served to humiliate her in the eyes of the clan and she feels he could never love her. Now Ian must right several wrongs including putting the right Chieftain at the helm and win back a woman he'd never thought he could love as a wife.

The author captures the era and creates an authenticity that made it not only interesting to read, but also made me deliriously happy that I'm a 21st century gal. After all, women were treated verra much like sexual serving wenches /baby makers. Not exactly a job I'd jump at even in a recession. There's a very funny scene in the beginning of the book when the four friends return from France, and it not only reminded me of the television shows I mentioned above, but also served to clearly demonstrate the role of women during that time. They've been captured and while sitting in a dungeon trying to figure a way out, Alex tells the others not to worry.

"When they took me up for my turn at being questioned they got a bit rough. The chieftain's wife happened to come in, and she insisted on seeing to my wounds."
Connor groaned. "Alex, tell me ye didn't…"
"Well, she stripped me bare and applied a sweet smelling salve to every scratch from head to toe. The lady was very impressed with my battle scars – and ye know how I like that in a woman," Alex said, lifting one hand, palm up. "It was all rather excitin' for both of us. To make the long story short –"
"Ye f****ed the wife of the man who's holding us?" What is wrong with ye?" Duncan shouted.

See what I'm saying – the times were rough and a woman's place was definitely not in the boardroom , and certainly not as the head of a clan, any power she has is tied to her mate..

In addition to the relationships between the men and women, "The Guardian" allows the drama to unfold through the high stakes political intrigue that is the driving force and momentum that carries these four men. There are conspiracies amongst the clan members as well as rival clans conspiring against each other; and each conspiracy puts Ian, Alex, Duncan and Connor right in the middle. The relationship between these four men is very satisfying. Their love for each other is timeless, their allegiance unwavering and their camaraderie true - for me, that's always a draw. It's what makes TV shows like "Sex in the City" so popular – going beyond all the problems, fighting and upsets, and knowing that through it all your friends are there for you, regardless of the whether your wife hates you or a rival clan is about to slash you in half with a claymore.

The author has set up a series with four strong heroes whose lives are intertwined and who despite their faults and problems they have each other. I'd say that was a winning combination and a great start to an exciting series.
The hero Ian is dripping in masculinity - what's one of your favorite hero traits?
Maria Lokken is an avid romance reader and an award winning television producer
Permalink