Thread Options
Mark as New

Mark as Read

Bookmark

Subscribe

Email to a Friend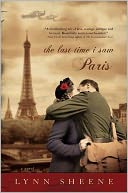 Clara May is a poor farm girl. Her life is one step below miserable and she knows she'll never be able to make it to adulthood if she doesn't get out. With nothing but wits and guts (always a winning combination), she not only gets out but soars to the top of NY's elite going from poor farm girl Clara May to socialite du Jour Claire Harris. She's acquired all the necessary accessories befitting her status; a powerful husband, a Manhattan brownstone, connections with all the right people and enough jewels to never eat dirt again. However, her husband, a cruel and ruthless millionaire, discovers the woman he married isn't who she claimed to be, and before bad can get ugly she flees leaving everything behind. She hops a flight to Paris believing she's escaping what would surely be her death only to discover she's going against the tide of people desperately trying to escape France. The year is 1940 and France is about to be occupied by Germany. But Claire being Claire takes one look at the Eiffel Tower and is determined to find the Parisian artist she had a steamy affair with in NY knowing he will make everything right.

Lynn Sheene's debut novel, The Last Time I Saw Paris gives us an in depth look at the changes one woman must endure while trying to survive during the Nazi occupation of WWII. The author has created a character whose instinct for survival is honed like a finely sharpened instrument, and that aspect of her character reminded me of Scarlett O'Hara – you know – "I'll never go hungry again" viewpoint. But Claire has Scarlett beat by a mile, taking it to a level where her only desire is to live a carefree existence drinking champagne and eating caviar. I say, nice work if you can get it – and she had it for a while, but when she finds herself in the nightmare that is WWII, Claire's tunnel vision of being the grand dame of Paris begins to unravel. Her wit and her charm are necessary to survive but how and who she uses them on is where the story takes a very intriguing turn making this heroine go from poison to champion.

Yes, there's a love story, but a very surprising one and you're never sure how it will turn out or in fact if Claire deserves it. Either way, you're compelled to find out how she maneuvers through precarious and dangerous situations to come out victorious, changed, and a woman you would want to befriend. Claire goes through quite a metamorphous and I don't think it would be as believable if it weren't set against the backdrop of war.

I enjoyed this book and I certainly recommend it – it engaged all my senses and I look forward to seeing more from Lynn Sheene.

Maria Lokken is an avid romance reader and an award winning television producer
Permalink