Thread Options
Mark as New

Mark as Read

Bookmark

Subscribe

Email to a Friend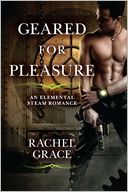 When you read
Geared for Pleasure
you will fall into a world with richly developed characters, exciting and imaginative mechanical creatures and machines, vivid and varying landscapes and a quest to save a Queen. Author Rachel Grace has said her book is a combination of "
clockworky steampunkitude
" and fantasy romance. After reading it I know exactly what she means. It's an exciting new world and I raced to her website to find out when the next book is scheduled for release. This is my first foray into the world of steam punk romance and I'm glad I started with this one.

Geared for Pleasure has an interesting delivery, one main story arc divided into two separate but interlocking stories. The story line, characters and world are continuous from one story to the next without pause. However the emphasis on the two different heroes and heroines in each novella shifts without ever losing sight of the main objective – find the Queen. I found it to be like the devices used in the television show Lost where each episode was a continuation of the major story arc but with a different focus giving you another point of view as well as more clues to solve the mystery – 'Where is the Queen?". Like a great television series or movie franchise where the characters capture your imagination and the mystery is intricate and ever evolving and the action is strategically placed but dynamic, this book takes you on an episodic journey that leaves you satisfied at each juncture yet wanting to know more and waiting for the next book. You almost wish there were coming attractions at the very end.

Theorrey is an amazing world ruled by a monarchy - a well oiled machine where everything has a place. Outside the walls of the palace things are, shall we say, a little less refined and defined. When the Queen is replaced by an imposter her closest companions, Dare and Cyrus go searching for her. They are not only her companions but also her champions and have spent much of their lives protecting her.
Dare is the Queen's Chalice and her love and commitment to the Queen has always been paramount. Dare's story is primarily told in the first half of the book entitled Earthly Desires. Cyrus is the Queen's Sword and his story is fleshed out in the second half of the book titled Fiery Temptations.

Dare finds herself on the most important mission of her life, to find the Queen. But like Dorothy finding herself in Oz, Dare finds herself outside the palace walls for the first time in her life and the people and unusual and unique situations seem to carry her along. Each part of her journey tests her strength and resolve but also sheds light onto a world she has lived in but has little knowledge of. Her strength as one of the Queen's guards is in direct opposition to her naiveté about the world and it isn't long before she finds herself in a boat load of trouble. Well not a boat exactly, more like a submarine. Having been drugged and kidnapped she finds herself on board a magnificent underwater vessel that is also a brothel. The captain, a man with secrets of his own will change the course of her life. Bodhan is enamored with her and for the first time in his life he will put his feelings for her above his ship and men.

Unbeknownst to Dare, Cyrus, the Queen's Sword, is on a parallel mission. However his mission was derailed when he was seduced by Seraphina. Seraphina is a Felidae and her people, who are a cross between human and feline, have been treated with disrespect and degradation for a long time. Cyrus' mission wasn't the only thing derailed when he was seduced by the fiery Seraphina, but now they must work together to complete his mission and find the Queen.

Both novellas are tight and filled with passion, romance and action. Ms. Grace has created an ingenious world filled with magic and unique characters. The mystery that surrounds each leg of the journey is slowly peeled away with surprising reveals. The dialogue and action distinctly convey a marvelous and sumptuous feast of world building, mystery and mythology. Dare and Bohdan have found each other and their love is resplendent. Seraphina and Cyrus are now together and their passion is fiery. Each hero and heroine are individually clever, singular, intelligent, loyal and courageous. Together they are unstoppable and their mission clear - find the Queen!
NOW, on to the next chapter in the Elemental Steam Romance series. You see, Geared for Pleasure is only the first step in this fantastical journey and we'll have to wait until the next book to find out what will happen next.

I'm waiting Ms. Grace.

Stop by our Heart to Heart Facebook page for more about romance books and authors, and join Melanie at Romantic Reads, BN.com's all-romance, all-the-time community forum.


Permalink