Thread Options
Mark as New

Mark as Read

Bookmark

Subscribe

Email to a Friend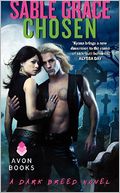 With summer all but over and my days of beach reading dwindling (until next year), I used this weekend's jaunt to our lakeside camp as an opportunity to read
Chosen
, the third and concluding volume of Sable Grace's Dark Breed trilogy (after
Ascension
and
Bedeviled
).
Before I get into the book, though, I'd like to talk about why I picked it up in the first place: Chosen is part of K.I.S.S. and Teal, a commendable awareness campaign begun last year between the Ovarian Cancer National Alliance and Avon Books that advocates women being cognizant of the signs and symptoms of ovarian cancer. (September is National Ovarian Cancer Awareness Month and teal is the color for ovarian cancer awareness.) This year Avon is featuring seven new romance releases with a teal ribbon on the cover and information inside about ovarian cancer: Sable Grace's Chosen, The Ugly Duchess by Eloisa James, Wendy Corsi Staub's Nightwatcher, etc.
More information about ovarian cancer is available at www.ovariancancer.org.
Chosen turned out to be a diverting beach read. Romance fans that are interested in Greek mythology will particularly be interested in this trilogy. Sable Grace – the pen name for writing duo Heather Waters and Laura Barone – blends the ambiance of a paranormal fantasy (namely the snarky humor) with an apocalyptic storyline set in a contemporary world that is being overrun by hellish creatures. The only hope for humanity is a group of the deities – but some of the gods are relatively new, humans picked to replace the old gods and goddesses.
Kyana Aslan – who is half Vampyre and half Lychen – has been a goddess for only six weeks (she is the new Goddess of the Hunt, Artemis' replacement). An unparalleled tracker and a tough-as-nails warrioress, Kyana is a worthy goddess – but with a banished god (Cronos) on the verge of a potentially world-ending rampage of vengeance, Kyana must come to grips with her new abilities fast: and also figure out where she stands with Ryker, the new Zeus who is obviously hopelessly in love with her…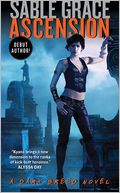 The complex world building (Above, Below, Beyond) lost me at times and even though the snarky humor didn't blend well with the rest of the storyline, it was one of my favorite aspects of the novel. My husband kept giving me suspicious looks when I would suddenly laugh out loud after reading an especially humorous line. Here are a few examples of what I mean:
• Describing Ryker: "She watched him paint on the knee-length tunic he was forced to wear here and hated so much, then fasten the broad golden belt around his waist that made him look like a cross between a WWF champion and Caesar."
• Standing up to Ares: "I'm a goddess now, asshat."
• On dreaming about her nightmarish past: "It totally sucked donkey balls."
This was an ambitious novel – and trilogy. Fusing together irreverent paranormal fantasy sensibilities with steamy supernatural romance in an apocalyptic, mythology-powered backdrop, well, that's asking a lot. But adventurous romance readers looking for something unusual should find this trilogy as diverting as I did. And what's wrong with living vicariously as a goddess for a few hours as I relax in my Adirondack chair with my toes in the sand?
"Honey, where's my ambrosia?"
Caprice Damani is a work-from-home mom with extensive experience in the publishing industry, as a bookseller, editor, and romance reviewer. Keep up with all of her blogs – as well as all of Barnes & Noble's exclusive reviews, authors interviews, videos, promotions, and more – by following @BNBuzz on Twitter!
Permalink