Thread Options
Mark as New

Mark as Read

Bookmark

Subscribe

Email to a Friend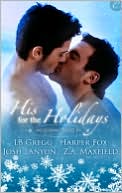 Dear Reader,
His for the Holidays is an anthology written by some of my favorite authors offering m/m romance for this holiday season. Grab a seat, sit down, relax and enjoy a treat from four authors who offer a taste of finding love in unexpected places. Now before you say, I'm not really the anthology type, I must tell you I was particularly impressed with the ability of these four authors to bring full characterization and plot to each short story. Ranging from the sweet and funny to the intense and passionate this anthology covers all the bases and was a joy to read.

We never forget our first love, especially when he's "the one that got away". However finding your first love standing in the middle of your family's Christmas celebration is enough to make Owen McBride want to question every relationship he's ever had. Mistletoe at Midnight by LB Gregg brings us to a bed and breakfast in the outskirts of a quaint Vermont town and a some what meddlesome family who have re-united for Christmas. Owen thinks he's joining his family for the usual holiday fare never expecting that he would run into the man who stole his heart in high school. Now an established veterinarian who can't seem to hold onto a relationship, Owen comes face to face with the man who broke his heart. Caleb and Owen's high school relationship burned brightly and ended abruptly; it also colored their lives and stayed in their hearts and memories for 15 years. LB Gregg writes a sweet, humorous and passionate story that makes you remember all those feelings you had for your first love.

Harper Fox is becoming one of my go to authors, and in Nine Lights Over Edinburg she once again brings us characters with angst, edge and hope. Ms. Fox is an author who really explores her character's psyches and deals with issues that aren't always easy but are always powerful. This story had me from the beginning and with mystery, drama and tension it didn't let go until the end. James is a police detective in Endiburg – a city that comes alive in the skillful hands of the author – but his days may be numbered. Dealing with his alcoholism, his divorce, a dangerous case, coming out, and a boss who wants him out, James has a lot to deal with. When his daughter is kidnapped and his world is turned upside down he turns to his new colleague Tobias for help. Both James and Tobias are such strong characters yet they both need each other for different reasons and in different ways. The intertwining of the mystery, romance and the foibles of a flawed character are beautifully constructed and makes this one a story of love and hope with a happy ending and a great holiday read.

What happens when your life changes abruptly and you feel as if nothing will ever be the same again? For Steve, who recently had a heart operation and had to change his lifestyle, the answer is to not deal with Christmas this year, instead he hops in his car and drives to Vegas. When he runs into Chandler and his five year old niece Poppy after their car breaks down, it seems like fate has brought them together. Chandler's brother has recently died and he unexpectedly becomes Poppy's guardian. Both Steve and Chandler have had to face life altering tragedies and their not quite sure how they to deal with their new lives. When they find each other they realize, life is so very short and one must seize the moment when it arrives. I Heard Him Exclaim by Z.A. Maxfield brings the Christmas spirit alive with Steve's big gregarious family, the love of two men, and the beginning of new family.

Josh Lanyon is a definite go to author for me; his books always have great dialogue, fully realized characters and interesting plots. Icecapade is no exception. Here we meet a cat burglar and the FBI agent who has chased him for over ten years. Now retired from his life of crime, Noel is living the life of an author and a horse farmer. However he's never forgotten his one night with FBI Agent Robert Cuffe. He's also spent the last ten years writing books that feature Robert as one of the main characters. When Robert comes back into his life to accuse him of a string of recent burglaries the longing between them is palpable. Each lonely in his own way and each needing each other, they find a way to move through the past to be together in the present. A perfect, romantic and engaging read.
So dear reader, enjoy this new holiday romance, and until next Monday, remember there's a book waiting to be read.
Permalink