Thread Options
Mark as New

Mark as Read

Bookmark

Subscribe

Email to a Friend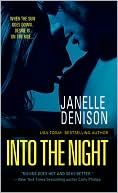 Into the Night is Janelle Denison's latest romantic suspense and the first book in her new series The Reliance Group (TRG). It's been a while since I've read a Janelle Denison book, but I loved her Wilde Series so I was really looking forward to reading her latest release and I'm glad I did. Ms. Denison always delivers when it comes to the chemistry between the protagonists and she never fails to introduce me to characters that are driven, intelligent and have a heart. So when Nicole Hunter and Nathan Fox first meet at a speed dating party the banter between them not only sets up the relationship but immediately draws you into their world and the energy between them.

As an ex-Marine and former vice cop, Nathan is now head of security at the Onyx Casino in Las Vegas. His side job is working for The Reliance Group. TRG is much like a Mission Impossible Group; men and women with specialized skills take on cases other agencies refuse to handle. Now when you think of Las Vegas you think of flashing neon lights, headliner shows, and world class casinos. It's a city filled with high stakes games and the winner takes all. But for Nathan the stakes are extreme because for this assignment he absolutely must win or a young girl might end up dead. The tension ratchets up a notch when Nicole, a journalist, wants in on the story. Protecting Nicole while trying to uncover the missing girl leads them both through the underbelly of Vegas, and to people who have the veneer of sophistication but the souls of monsters.

Denison gives us an unapologetic view of a world of human evil that is sordid and unpleasant. She doesn't give us easy, she gives us the truth, and in doing so she gives us a man who must win, because this assignment is personal. Nathan's past is clouded with the one girl he couldn't save, and solving this case will bring him redemption. For Nicole getting the story isn't the only reason she's involved; she too has personal demons that need to be put to rest and is trying to move on from a past that trampled her self-confidence and made her unable to trust. They work together to save the innocent, but along the way they make important discoveries about who they are.
Into the Night is character driven and emotional. It's got action, suspense and romance with a hero who is a champion, a heroine who is brave, and a villain who is pure evil. A good start to this new series.


Permalink