Thread Options
Mark as New

Mark as Read

Bookmark

Subscribe

Email to a Friend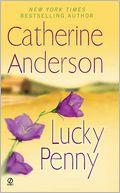 In Catherine Anderson's new historical romance,
Lucky Penny
, we have a sweet and moving marriage-of-convenience with two unlikely people coming together under unusual circumstances and finding love. Ms. Anderson keeps the old west alive with the continuation of her Coulter/Keegan/Paxton family saga, this time with the story of David Paxton and Brianna O'Keefe. Both David and Brianna are exciting characters, and although they are as opposite as fire and ice, they slowly find their way to each other in this romantic tale.

To protect her orphaned niece Brianna O'Keefe worked any job, ate out of trash cans, lived a lie and even made up a husband she didn't have. When pressured to write letters to her fake husband Brianna had no idea her world would turn upside down. She never thought letters addressed to an imaginary David Paxton would eventually find their way to the real David Paxton and create a chain of events that would change her life forever.

When Colorado marshal David Paxton receives letters from complete strangers claiming to be his wife and daughter his well ordered life becomes disordered. He is surprised and stunned, he knows he's not married and he's pretty sure he never fathered a child. Of course... there was that time during his younger years when he drank a lot… so maybe? A little kernel of doubt begins to nudge his conscience and he needs to find the truth. If these two are in fact his, he's going to do right by Brianna and Daphne and bring them home.

David is an honorable man who grew up with a sense of family and loyalty. He's a bit rough around the edges but has a steady moral compass with a clear sense of duty and devotion. A former gunslinger turned town marshal he is strong, capable and in all things true to himself.

Under her prim and proper exterior, Brianna is a woman with the strength and courage to survive. She's stubborn, resilient and hard working and she will do anything to protect and care for Daphne.

With a strong focus on family, Ms. Anderson is a wonderful story teller taking time and attention to develop both characters and story line. With each new development you learn to love the characters that much more. Brianna and David's journey to love takes a while but it is well worth the wait. Their gradual learning of one another and the unhurried measure of their romance allows us to get to know the characters and their motivations. David's relationship with both Brianna and his daughter Daphne is joyous to watch and the gradual melding of this family of three is enchanting. Although this book definitely stands alone, after reading Keegan's Lady, Summer Breeze and Early Dawn it was a delight to return to this wonderful family in the latest release Lucky Penny.


Permalink