Thread Options
Mark as New

Mark as Read

Bookmark

Subscribe

Email to a Friend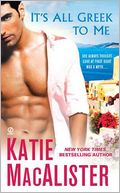 Winter's only just begun but one look at the early morning frost on the windows has me desperate for a beach vacation. Who can ditch December for a Mediterranean vacation though? Everyone! That's right. Just settle in with Katie MacAlister's latest contemporary romance and the winter blahs will melt away faster than you can say "Greek god."
Now: I'm a northeastern girl, meaning, I love me some seasons. I'm normally all in for a storm, and not only because losing power means I'm guaranteed reading time. There's something about a winter white-scape, the smell of snow, the adventure of sledding and making angels.
Perhaps it's age settling in, but the prospect of chilly days isn't as exciting as it once was. And while I've read my share of holiday stories, when Katie MacAlister's
It's All Greek to Me
appeared on my doorstep, the cover did more for my mood than you can imgaine. Maybe it's the serene, blue water in the background. Or the depiction of a quaint beach-side village. Nah. It's the guy.
Eglantine "Harry" Knight is our heroine here, and you'll be happy to vicariously live through her. She's a writer who's successful enough that movies are made of her books (though not quite faithful to the original stories.) Doing a favor for her family means that Harry has landed on a private Greek island, where the views are as gorgeous as the natives. And the owner of the island, billionaire playboy Iakovos Papaioannou, finds her pretty much irresistable.
What's not to love? It turns out: nothing. This is a fun, fast-paced, carefree romance - just how we like 'em. Iakovos is as noble as he is attractive. Harry's as funny and quirky as she is pretty. And Greece is, well, not snowed in. So if you're like me and need a quick escape from the winter blues, pick this one up and lose yourself in the cheapest vacation you'll ever take.
Don't miss Heart-to-Heart next week, when Maria, Marisa, and Melanie will be sharing their Best-of-2011 picks.
Melanie Murray is the moderator of Romantic Reads, BN.com's all-romance, all-the-time community forum.
Permalink