Thread Options
Mark as New

Mark as Read

Bookmark

Subscribe

Email to a Friend

For every historical I read, I toss probably two (or three) onto the TBR stack - there are only so many hours in a day and I have two toddlers to chase after. Of course I can't in any way make the decision to not read a book, especially if that book is draped in sumptuous red or blue or green fabric, or a man in a kilt, or a – god forbid! – carriage.
So I have a lot of books saved for later and that collection is constantly growing. My goal for March, though, is to actually read the books I want to read. This is made difficult by the tremendous amount of irresistible new releases on my desk - but not impossible.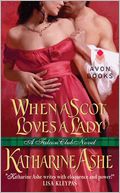 I've started with
When a Scot Loves a Lady (Falcon Club Series)
by Katharine Ashe, and I'm so glad I did. There's much to devour here: a Scots hero whose speech is almost undecipherable, a spine-of-steel heroine who is brave as she is bright, a trapped-together premise, a secret circle of spies, sensationally intelligent writing, and a true, week-in-the-knees love story.
Lord Leam Blackwood has spent the last five years as an agent for the ultra secret Falcon Club; a fraternity of spies operating under the guise of a gentleman's club. Leam is from Scotland and he plays the part: scruffy beard, thick brogue, trusty hounds following his each step. But behind this façade is a sharp, well-educated, complicated man, one with a past full of sadness and a wish to leave everything behind him and begin life anew at his ancestral estate.
He's performing one last task for the Falcon Club when a blizzard strands him at a country inn in Shropshire. A spy never wants to be a sitting duck. Especially when it seems that an enemy has been following him. And most definitely when that spy is trapped with a sharp-tongued, steely-spined miss.
Kitty Savege knows Leam Blackwood; they locked eyes across a ballroom once and it changed the course of her life. Kitty appears to be a typical twenty-something British woman of quality, but she has secrets, and agendas, and a broken heart that makes it hard for her to accept the emotions she feels whenever Leam is nearby.
Which he is at all times, because they are caught together in a roadside home in a massive snowstorm. You just know that these two crazy kids will be forced to give in to their longings, no? How I love a we're-stuck-together setting!
I enjoyed this book so much that I raided my shelf of unread romances and moved several Ashes onto my nightstand. I won't let this keep me from my goal of getting to all those March goodies though; I'll be posting about them all month long at Romantic Reads.
Until next week, happy reading!
What new-to-you author are you determined to read this month?
Permalink