Thread Options
Mark as New

Mark as Read

Bookmark

Subscribe

Email to a Friend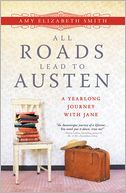 There's never enough time in a day, right? It's early in the month, and already my hours are straining at the seems, trying to contain all life's tasks in one manageable to-do list. Summer is supposed to be a time of relaxation, lazy loafing, and socializing. Not to mention
reading.
In lieu of actually being able to dedicate a month or season or year to books and nothing but, this week at
Romantic Reads
I'm compiling a compendium of a wish list:
what I would read if I could
, if I had nothing to do but curl up and ignore the "real world."
At the top of my list is Amy Elizabeth Smith's
All Roads Lead to Austen
. Ms. Smith accomplished my dream: she travelled the world with a trunk full of Austen novels, translasted into Spanish and used as an entree into the communities she visited. I don't think I'll be dusting off my passport any time soon. I don't even know when I'm going to get to this book! But I'm stockpiling my favorite-looking titles for the sheer kick of it. Do you guys keep a wish list of reads you might not get to right away? Do you buy books you know you won't be able to pick up for a while? If yes, visit us at Romantic Reads and share your experience.
We want to hear from you! And while you're visiting us don't forget to take a gander at our celebration of
Brenda Jackson
. And until next week, happy reading!
What books are on your summer wish list?
Melanie Murray is a writer and editor, and the moderator of Romantic Reads, BN.com's all-romance, all-the-time community forum. You can follow her on Twitter at @Melanie_Murray and get all the latest Barnes & Noble book news from @BNBuzz.
Permalink