Thread Options
Mark as New

Mark as Read

Bookmark

Subscribe

Email to a Friend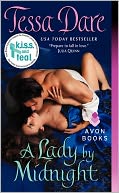 For the second year in a row, Avon is conducting their K.I.S.S & Teal campaign, in association with the Ovarian Cancer National Alliance, to raise awareness (and funds) about this killer disease. Their aim is to educate women about symptoms of ovarian cancer, and all their September releases have the seal on the front and information about the tell-tale signs to be aware of in the back.
The line-up is amazing, including H2H favorites The Ugly Duchess and , and this week at Romantic Reads I'm featuring another of the K.I.S.S. books.
Tessa Dare's A Lady by Midnight is a stirring story of an grown-up orphan, Kate Taylor, who has created a nice life for herself in Spindle Cove, haven for unusual women. Kate teaches music and is surrounded by kind-hearted friends, but still she wonders about her past and yearns for the thing she wants most: family.
She also yearns a little, without quite realizing it, for Corporal Samuel Thorne. Thorne is as intractable as he is silent. The mere sight of Kate seems to send him running for the exits. He's a mountain of a man, stern, stoic, and looming. And he's got a secret. A secret to do with Kate, and her past, and how the truth of her early years could ruin her present.
A Lady By Midnight is a throwback to your favorite kind of gothic romance: there's a secret between our leads, and a natural environment that casts a net of emotion over the story. But also, there's great humor here; I won't say too much but the quirk factor in some of the characters is high, and excellent.
For more on this heart-moving story, Tessa has graciously answered my questions. The full interview is up at Romantic Reads, but here's a little taste!
Welcome, Tessa! A Lady by Midnight is the fourth book set in Spindle Cove. Tell us a bit about this place, and what your inspiration for it was.
Spindle Cove is a fictional holiday village by the sea, during the Regency period in England. The young ladies who flock to Spindle Cove don't quite fit in with English high society. Some are shy, some are sickly, some are interested in "unladylike" pursuits...and a few, like Kate, simply have nowhere else to call home.

What could you tell us about Kate Taylor?
Kate's had a hard life--she was orphaned and has few memories of her life before the austere girls' school where she was raised--but she remains a natural optimist with a sunny disposition. She's found a way to make a living teaching music in Spindle Cove. She has a home, lots of friends, and a career she enjoys--but she can't stop yearning for the love of a family. She's never thought to yearn for the attention of a certain taciturn, fiercely protective soldier--but she's about to discover it's the one thing she can't live without.
For the rest of my discussion with Tessa Dare, visit Romantic Reads!
Melanie Murray is a writer and editor, and the moderator of Romantic Reads, BN.com's all-romance, all-the-time community forum. You can follow her on Twitter at @Melanie_Murray and get all the latest Barnes & Noble book news from @BNBuzz.
Permalink