Thread Options
Mark as New

Mark as Read

Bookmark

Subscribe

Email to a Friend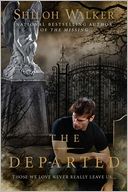 Parallel lives that intersect and a multi-layered suspense are the driving forces behind Shiloh Walker's latest release The Departed. With brooding and haunting undertones this combination romance, suspense, mystery and paranormal is a slow moving freight train full of emotions and dynamics. The dialogue and prose will immediately draw you in as the author deftly unveils each nuance of the characters and the plot, and in the best tradition of both romance and mystery each piece of the puzzle is slowly and artfully revealed.
FBI Special Agent Taylor Jones heads up an unusual task force of paranormal investigators whose mission in life is to save innocents using any means necessary. Dez Lincoln is a team member and a psychic investigator who communicates with the dead helping them with any unfinished business they've left behind - particularly those who have died a violent death.
Taylor and Dez have an undercurrent of passion between them but Taylor refuses to act on it. One of his hard and fast rules is not getting involved with his subordinates. Yet the push-pull between Taylor and Dez is volatile and electric and when Dez is seriously injured in the line of duty Taylor's resolve breaks and he can no longer hide his feelings. Acting on his feelings is more than Taylor can take, it breaks them and Dez has no choice but to walk away. Usually when the hero and heroine break-up because one of them thinks it is a mistake to be together is when I say so long and good luck. This kind of misunderstanding is usually the death knell for me. But Ms. Walker gives us two solid characters that are interesting in their own right and following their stories is part of the slow moving freight train I talked about earlier. There is a pulse and undercurrent throughout their interactions which forecasts that these parallel lives will soon intersect and the mystery will deepen. The Departed doesn't hinge on the romance or the mystery/suspense, but rather on the connections that mesh all three together. So when Taylor goes home on his yearly visit to memorialize the death of his sister and Dez is called by a tormented spirit to Taylor's old hometown, the two meet and these parallel lives become one.
Trying to find the proof that a young murderous psychopath is responsible for several deaths, Dez and Taylor work together and layers of heart ache and grief are revealed. There is more than one mystery to solve in The Departed and they are all in some way intertwined and connected to Taylor and Dez. Their strength and courage allow them to come together to solve the mystery.
Like the back beat to a great score there is a constant underlying tension and sense of urgency that propels both the romance and the mystery. It is suspenseful in a quiet way, no big action scenes, nothing blows up. It's the kind of suspense that surprises you because you didn't see it coming.
The Departed is emotional without being manipulative and suspenseful without being overly dramatic. There is a crisp tension in both the mystery and romance that leads a supporting cast of characters as well as the protagonists in a cleverly developed and skillful ride to find all the pieces of the puzzle.
Stop by our Heart to Heart Facebook page for more about romance books and authors, and join Melanie at Romantic Reads, BN.com's all-romance, all-the-time community forum.

Permalink