Thread Options
Mark as New

Mark as Read

Bookmark

Subscribe

Email to a Friend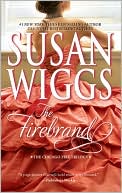 There are two main reasons I read. I either want to be taken away to another place—particularly if there's a sink full of dishes—or, I want to learn something I didn't know before. In addition, if the author can involve all of my five senses, then I'm delirious with joy. And joyful I was this weekend while reading the novel
The Firebrand
, released this month in paperback. I actually thought about slapping a yellow sticky on my forehead saying—"Not allowed to operate heavy machinery"—because my mind couldn't focus on anything but this book. Naturally I didn't take the tractor out for a spin, and I do consider the dish washer heavy machinery, so not much was accomplished while I turned the pages in the final installment of Susan Wiggs' Chicago Fire Trilogy.
The great Chicago fire of 1871 destroyed a city and changed thousands of lives, including those of Lucy Hathaway and Rand Higgins. While both are from the same social strata, they were worlds apart. Rand was a handsome and flirtatious married man with a daughter he adored, and Lucy was a young woman of privilege with no cares, but chose to fight for women's rights by positioning herself at the forefront of the suffrage movement. The fire changes everything; Rand is horribly injured and loses his daughter, and Lucy loses her father and her fortune. But something else happened that fateful night, an infant is hurled from a burning building and lands in Lucy's arms—the daughter Rand believes is dead.

At this point you might think you know how this story will end. And to that I say, yes, the author has written a romance, but she has not written a predictable plot. In fact, there are no "cookie cutter" characters in this novel. Instead Susan Wiggs' lays bare each character's fundamental beliefs and tests them against the love of a child. It's quite the exploration as you turn the pages and discover what matters most to Lucy and Rand and how they deal with the discovery of their feelings for each other and their love for the child that could either bring them together or tear them apart.

Susan Wiggs has a way of transporting you into the emotions of the characters and the action of the events. She also has the ability to create some of the best relationships written in romance today, whether it's between a man and a woman, or a parent and a child—she captures the essence of what matters. Ms. Wiggs goes even further than action and emotions, she gives you a rich historical background for each character to play off. If you've forgotten what feminism was all about, this book is an ample reminder of what we were fighting for. This is a period not often written about, but one that "The Firebrand" vividly brings to life.
There is a scene in the book where a husband tells his wife that she cannot participate in a protest march. What would you do if your significant other said you couldn't do something you believed in?
Maria Lokken is an avid romance reader and an award winning television producer.

Permalink