Thread Options
Mark as New

Mark as Read

Bookmark

Subscribe

Email to a Friend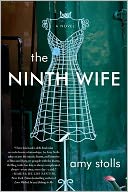 Can you trust a man who's had 8 wives? On the surface I'm guessing most women would say "Hell No!" But Bess Gray has a different take, and falling in love with a serial husband named Rory not only makes her question marriage, but her entire life, in this deliciously refreshing novel written by author Amy Stolls. I don't often rave about books – but today I'm raving about some of the best writing and storytelling I've read in years.
The Ninth Wife
is witty, unusual,touching and poignant- I fell in love with all the characters.
Bess Gray is a 35-year-old folklorist who doesn't know much about her family's history, which is a problem because research and history is what she's all about. Bess, like her mother, is adopted, and when she loses both her father and mother, she only has her grandparents to rely on for information about her past – and they are mysteriously quiet about the family tree.
Rory comes to America from Ireland and over the years he manages to marry eight times. Most people only get one or two shots at marriage so there's no doubt he has charm and appeal, how else would eight women want to his be wife? When Rory proposes to Bess and then tells her about his past she is understandably shocked. In order to sort out her feelings she embarks on a quest to find his ex-wives in order to get a better understanding of who Rory really is.
Both characters are cleverly brought to life through a unique writing style, telling Bess' story in the third person and Rory's in the first. The voices the author creates for each character reveals who they are, and beautifully unfolds how they got there. As your eyes move over the page both your heart and mind can't help but be swept up in the journey. These are people you know, and if you didn't know them before, the author uses the page like a canvas, each brush stroke illuminating another aspect of their character. And in the end, it asks the question; "Do you have to know something about the past to live in the present?" A provocative proposition – don't you think? Really, if we all decided to move forward from where we are right now, based on what we know right now – how different would our lives be and what choices would we make?
In Bess' journey to solve the mystery of the people she's closest to, we met a cast of characters that are so completely engrossing you can't stop turning the pages. From her grandparents Millie and Irv, to her two best friends, Gabrielle and Cricket, to all of the ex-wives you'll find each one a gem. But I was particularly captivated with Rory; his dialogue is written with a quick wit and an insight that would be impossible to believe but makes him not only a loveable character that you root for, but someone you can totally understand and empathize with. No small feat, because for most of us – a serial husband instantly spells the words D-A-N-G-E-R. But the author has created a one of a kind 'hero' that I've not found in other books and is certainly part of his charm.
The ending is a happy one, and who amongst us doesn't like happy endings. But, I was a bit disappointed with how some of the story lines were wrapped up; they seemed to be too coincidental. However, it DID NOT detract from my utter enjoyment of this book, and the author never strayed from the main point. As the reader discovers Bess' past and Rory's reasons for so many marriages all questions are satisfyingly answered and you root for these two, not only to be together,but for a life they both deserve.
This is a book that is meant to be savored and it made me fall in love with the written word all over again. Hit the buy button, this one is a winner.
What do you think about the idea of not having to know anything about the past to live in the present? Do you often dwell on things that have happened to help you make a decision? You don't have to answer this question - you can feel free to just comment.
Maria Lokken is an avid romance reader and an award winning television producer

Want to keep up with what's happening at Heart to Heart, and all of Barnes & Noble's exclusive reviews, author interviews, videos, promotions, and more? Please follow us on Twitter: @BNBuzz

Permalink