Reply
Thread Options
Mark Thread as New

Mark Thread as Read

Float this Thread to the Top

Bookmark

Subscribe
Frequent Contributor
Posts: 968
About the Book & Author
[ Edited ]
Options
Mark Message as New

Bookmark

Subscribe

E-mail this Message to a Friend
‎09-19-2007 09:53 AM - edited ‎09-27-2007 04:08 PM
James M. Citrin and The Dynamic Path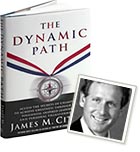 Bestselling business author James M. Citrin has spent years finding and advising great leaders. He discovered that the greatest of them all share key attributes, such as competitive drive, raw intelligence, and prodigious work ethic. However, over time, Citrin also came to realize that something else, something elusive yet fundamental, was at work. Finding and describing that key characteristic, Citrin knew, would unlock a whole new approach to achieving peak performance. After more than three years of fresh research and scores of exclusive interviews with some of the most inspiring people alive today -- Bill Bradley, Colin Powell, Lance Armstrong, Bono, Buzz Aldrin, Mia Hamm, Arnold Palmer, and Tony Hawk, just to name a few -- he found that the greatest achievers and leaders share more than just extraordinary talent. They also followed a similar journey to the very tops of their fields, a journey he calls "the Dynamic Path."
To travel along this path is to move through a series of three stages, each culminating at a momentous decision point, the "Dynamic Moment," when an individual must make a conscious choice to change in order to progress. Citrin walks readers along the path to greatness, taking them from stage to stage with the stories of inspiring heroes, many of whom first came to prominence through sports. You don't need the gifts of a great athlete or the courage of an intrepid soldier to follow the Dynamic Path to ultimate performance. This path can be followed by anyone who is driven to achieve and make a difference in the world.
The Dynamic Path is, in the words of Disney Chief Executive Officer Robert Iger, "a straight shot to greatness." Exceptional results and meaningful impact are yours for the taking. In the course of this book, you will learn how to apply the lessons from the world's best as well as from others who careened off the path along the way. If you aspire to extraordinary professional success in your career, to become the strongest performer in high-pressure situations, to become an inspiring leader, and to leave the world a better place than you found it, The Dynamic Path is your guide.
About James M. Citrin: James M. Citrin is one of the world's leading executive search consultants and an expert on leadership and success. He is a senior director and member of the Worldwide Board of Directors of Spencer Stuart. Since joining Spencer Stuart in January 1994, Citrin has completed more than 350 executive and board director search assignments.
Citrin's previous books are You're in Charge, Now What? (Crown Business 2005), The 5 Patterns of Extraordinary Careers (Crown Business 2003), Zoom: Navigating the Road to the Next Economy (Doubleday 2002), and Lessons from the Top: The Search for America's Best Business Leaders (Doubleday 1999). He has co produced and hosted special series based on the books for CNN's Lou Dobbs Tonight (September 2003) and CNBC's Squawk Box (January 2005). Citrin has appeared on The Today Show, Good Morning America, and CBS's The Early Show and has been interviewed by all major national print, television, and radio outlets. In addition, he writes the popular bi-weekly column, Leadership by Example for Yahoo! Finance.
Prior to joining Spencer Stuart in 1994, Citrin was director of corporate planning at The Reader's Digest Association. Before that, he spent 5 years with McKinsey & Company in the United States and France, serving as a senior engagement manager. Earlier, he was an associate with Goldman, Sachs & Company, and spent 3 years as a financial analyst with Morgan Stanley.
A 1981 Phi Beta Kappa graduate of Vassar College with a BA in economics, Citrin has served as a member of the Vassar Board of Trustees since 1999. He earned an MBA from the Harvard Business School, graduating with distinction in 1986. Thanks to The Dynamic Path, Citrin was honored to receive an invitation from the United States Olympic Committee to become an Adjunct Professor at their newly created Olympic University, a groundbreaking program of leadership development based on the principles of the Olympic Movement. He lives in Connecticut with his wife, Gail, and their three children, Teddy, Oliver, and Lily.
Discover all titles and editions from James M. Citrin.

Message Edited by Jessica on 09-27-2007 04:08 PM