Thread Options
Mark as New

Mark as Read

Bookmark

Subscribe

Email to a Friend

In honor of Wilhelm Carl Grimm, born on this day in 1786. His collections of folktales have inspired generations of readers and writers.
"Once upon a time, fairy tales were awesome." So begins Adam Gidwitz's
A Tale Dark and Grimm
. Initially, the book appears to be a collection of retold tales, focusing on the grimmer side of the Brothers Grimm. Gidwitz punctuates his stories with frequent warnings about how gruesome they're about to become: "Before I go on, a word of warning: Grimm's stories --- the ones that weren't changed for little kids --- are violent and bloody... So if such things bother you, we should probably stop right now," he warns, suggesting that the littlest children leave the room or be looked after by a babysitter while the rest of the readers enjoy the story.
Gidwitz's version is indeed violent and bloody, but A Tale Dark and Grimm has another purpose. Instead of merely repeating the tales, focusing on some of the more gruesome aspects, Gidwitz links together several tales from Grimm into a series of adventures befalling Hansel and Gretel. Twin children of a cursed king and queen, they leave home when their parents cut off their heads to break a curse. Never mind that in typical fairy tale fashion they survive this ordeal, the trust between parent and child is broken, so Hansel and Gretel seek another home.
The first home they come upon is the fabled cake house from the story that made these characters famous. They gorge themselves in the home of the cannibal "baker" (Gidwitz declines to make her a witch) thinking that all they really need from a parent is to be fattened in a never-ending feast. But when their caretaker's true intentions emerge, they escape this adventure and into another of Grimm's tales: "The Seven Swallows."
This is where the book begins to take an interesting turn. "The Seven Swallows" is a tale about parents who have seven sons, but long for a girl. When their sons cause trouble, as seven boys are apt to do, the father's off-hand curse turns them into birds. Hansel and Gretel become replacements for the parents' natural children, but once they learn what has befallen the original children from this family, the two set off to break the family's curse. How could they continue to live with a family that would do such a terrible thing to a child? Even though the seven swallows are not their "real" brothers, Hansel and Gretel set off upon another adventure to right a wrong: guided by the sun, moon, and stars to a crystal mountain where Gretel must sacrifice a finger to break the spell.
They are rewarded by being allowed to live, for a brief time, in the Lebenwald --- the Forest of Life --- where they are told they can stay and live as long as they want (and without parents) so long as they follow the rules: "Take only what you need," a wise old tree tells them. Gretel has no problems following these rules, but Hansel becomes addicted to hunting. He gradually turns into a beast himself, becoming the hunted rather than the hunter. Because they are greedy for more, the Lebenwald no longer has a place for them. Hansel is captured, while Gretel wanders on, looking for a home of her own.
This is where their adventures split. Gretel becomes enmeshed in "A Smile as Red as Blood," a story about the resourcefulness of its lead character and the dangers of first love. Gidwitz writes: "It wasn't real love, you might say. Just a child's infatuation.... You might say that. But if you did, it would prove that you are already old, and that you don't remember what it is like to be a child at all." Gretel's infatuation is with a handsome man who ends up being a warlock who seduces young women to eat their bodies and capture their souls. With the help of a widow and another severed finger --- this time from one of the warlock's victims --- Gretel defeats this adversary, but the adventure leaves her empty and still without a home. "'Where do you plan to go?'" the widow asks her. "Gretel thought about it. At last, she said, 'On.'"
Meanwhile, Hansel, who is gruesomely released from his beastly form, becomes the hero of "The Three Golden Hairs," a tale in which he bests the Devil to which another bad caretaker has bartered Hansel's soul. One of the primary themes of Gidwitz's retellings --- true to Grimm's tales--- is the ways in which children have to overcome caretakers who are neglectful or cruel. But these are also stories of children overcoming their own bad fortune, reclaiming their lives from the circumstances in which they're thrown. And Gidwitz does not end his tale until he's brought the children full circle, back to their family home.
"Hansel and Gretel are coming to the hardest part now," Gidwitz writes:
"It's true that they've been nearly eaten by a cannibalistic baker woman; and they've talked to the fiery sun and to the child-eating moon and to the kind stars; and they've journeyed to the Crystal Mountain; and that Gretel has cut off her own finger, and caused somebody to be boiled alive; and that Hansel has been turned into a beast and been shot and skinned and gambled away; and that he went to Hell and dressed up like the Devil's grandmother; and that he's been chased by the Devil himself and has held an old man's hand as he died.... It's true they've done all those things.... But sometimes, coming home is the hardest thing of all."
The final adventures the two children face involve returning to their home and being asked to forgive their own parents. As their family's faithful retainer tells Hansel earlier in the book, the parents, "'cursed themselves, Hansel, for what they did to you two. They were foolish --- foolish!' He coughed angrily. 'They see their foolishness now. And so do I. Faithfulness is important. Understanding is important. But nothing is as precious as children. Nothing.'"
I will leave off in my description of A Tale Dark and Grimm here. If you want to know how the book ends, you will have to read it yourself. What I can say about the book is that the construction surprised me, as did the ending. Gidwitz stays true to the tales and to their narrative structure, but the adventure and meaning he milks from them, the way he weaves them together, surprised and moved me. I expected the book to be blunt and jokey, filled with macabre violence and ironic interpretations. A Tale Dark and Grimm has all these things, but it is not limited to them: somehow Gidwitz manages to take these tales and turn them into something more.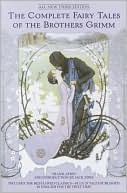 Much has been made of the bowdlerization of Grimm. Even Gidwitz repeatedly refers to the "violent and bloody" past of these common fairy tales. I do not plan to dispute this fact. However, I was interested to learn that the tales were first cleaned up by the Grimms themselves, when they discovered that their book of folkloric study was being read by children. Jack Zipes's introductory essay to
The Complete Fairy Tales of the Brothers Grimm
contains this tidbit along with lots of other biographical information about the Brothers Grimm. Perhaps most surprising was his challenge to the myth of the brothers traveling from town to town to collect local tales. Both Jacob and Wilhelm were scholars and librarians. Many of their tales were taken from other collections. More of them were gathered from storytellers who visited their homes, many of them middle-class women of French descent, which places yet another blow to the common myth of the exclusively peasant, not to mention German nationalistic, origin of these tales. I also suspect, though Zipes is widely considered an authority on these tales, that there are counter arguments amongst fairy tale scholarship. A great place to visit to explore this scholarship is Heidi Anne Heiner's
Sur La Lune website
, a labor of love that has become one of the great English-language repositories for fairy tales and resources related to them.
But these surprising revelations about Grimm's tales say less about the fairy tales' "original" form or interpretations than they trace the remarkable journey these stories have taken to reach us today. What amazes me is not just the ways in which the stories came to be collected under the Grimms' authorship, but the way they continue to be told and resonate with us to this very day. Gidwitz should be proud to be a part of such a grand --- and living --- tradition.
What are your favorite tales from Grimm? What are your favorite interpretations?
Sarah A. Wood
, a reviewer for
teenreads.com
and
kidsreads.com
since 2003, is a lifetime reader and writer. She refuses to accept that there are people who don't like to read and stubbornly believes this is only because they have not met the right book yet.
Permalink