Thread Options
Mark as New

Mark as Read

Bookmark

Subscribe

Email to a Friend

There are many wonderful children's stories about dogs, cats, bunnies, mice, and bears, but if you're in the mood for something different—a different animal, that is—how about a little moose reading? Featuring an elusive moose or two or three, these two engaging picture books (both published in 2006) will entertain preschoolers and kindergartners. They may even spark moose mania in your kids!
In Looking for a Moose by Phyllis Root, illustrated by Randy Cecil, four little children and a dog trek through the woods, swamp, bushes, and hills in the hopes of finding a moose. The text, making use of repetition, tongue twisters and sound effects, is fun to read out loud ("Have you ever seen a moose—a long-leggy moose—a branchy-antler, dinner-diving, bulgy-nose moose?" "No! We've never, ever, ever, ever, ever seen a moose. And we really, really, really, really want to see a moose.") As the kids search, sharp-eyed readers will notice telltale signs that moose are right under their noses all along. They'll also have fun spotting all sorts of other critters, who follow our young moose hunters. Need help seeing the moose? Look at their trusty dog, who detects right away the strange animals in their midst. Cecil does a fantastic job of camouflaging the moose in their natural environment—not too easy to find, but just challenging enough to make it fun for everyone. In the end, as the determined kids scramble up "the rocky-blocky, lumpy-bumpy, fuzzy-muzzy hillside," they hear an "oo-roog!" They look around and realize that they are, in fact, surrounded by "long-leggy, dinner-diving, branchy-antler, bulgy-nose moose."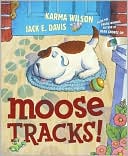 The unseen narrator in Moose Tracks! by Karma Wilson, illustrated by Jack E. Davis, starts off by telling readers, "There are moose tracks on my back porch. I'm not sure how they got there." He knows for certain that the bear hair on his lawn chair, nuts shells on the kitchen counter, goose feathers on the carpet, and wood chips in the guest bed were left by his many animal friends. But our very sociable narrator is baffled by the moose tracks all over his house. In fact, they're everywhere he's been! The last spread tells the whole story: We finally see the narrator, who exclaims: "Why, look at me—I AM a moose and I don't make a mess!" Kids will love the surprise ending and even better, they'll love being in on the joke the next time they hear the tale. Wilson's rhyming text and Davis' humorous illustrations of a house filled to the brim with animal guests (a pig and ram playing badminton, a chipmunk indulging in a nut fudge sundae, a hippo taking a bath) add to the fun, making this book a great choice for story time.
Happy moose hunting!
Are you familiar with these picture books? Can you think of other fun books that feature moose?
Permalink