Thread Options
Mark as New

Mark as Read

Bookmark

Subscribe

Email to a Friend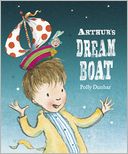 Little kids will have no problem identifying with the frustrated protagonist in Polly Dunbar's handsome, oversize picture book,
Arthur's Dream Boat
. A young boy named Arthur wakes up one morning, excited about an "amazing" dream he's just had. Understandably, Arthur can't wait to tell his family all about it. And to the delight of keen-eyed readers, there is—literally—a tiny boat balanced on Arthur's head. First, the boy tells his dog, who's too busy yawning to react to the news. Then he tells his older brother, "Last night I dreamed about a pink-and-green boat with a striped mast." But his brother is too busy tapping away on a laptop to notice ("tippety-tap, tippety-tap"). Meanwhile, the boat on Arthur's head has grown a little larger and is sporting a striped mast. So Arthur moves on to his mother, baby sister, and father, who are all too busy to listen. And with each retelling, the description of the boat becomes more elaborate and takes on aspects of things the boy sees in his environment. For instance, the boat suddenly has a golden flag, which is echoed in his sister's yellow pajamas and the yellow baby food flying off her spoon ("splitter, splatter, splash"). Readers will also notice that with each flip of the page, the boat continues to grow in size—until it's a rather huge, intricate vessel on top of his head. When Arthur finally loses his patience and yells, "LISTEN TO ME," he conjures up ocean waves that get his family's attention. Mom, Dad, siblings, and family pets look surprised and bemused to find themselves bobbing along in a vast blue sea. Fortunately, Arthur has a boat big enough for the whole family and they enjoy an amazing sailing adventure.
Without looking busy or cluttered, there's a lot going on in Dunbar's expressive mixed-media illustrations. Children will enjoy studying the pages and finding marine-related details hiding in the pictures—from Mom's seashell necklace to Dad's lobster slippers and a bottle with a message on a table. They'll get a kick out of watching the boat grow on Arthur's imaginative little head, and they'll get satisfaction from the fantastical ending, which proves anything can happen when you set your creative mind to it: "One night Arthur had a dream. And it really was…amazing!"
Have you read any books written and/or illustrated by Polly Dunbar? Which is your favorite?
+++++++++++++++++++++++++++++++++++++++++++++++++++++++++++++++++++++++++++
Want to keep up with my reviews, and all of Barnes & Noble's exclusive reviews, author interviews, videos, promotions, and more? Please follow us on Twitter: @BNBuzz!
Permalink