Thread Options
Mark as New

Mark as Read

Bookmark

Subscribe

Email to a Friend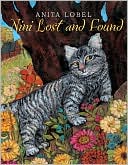 Nini, the irrepressible house cat, first appeared in Anita Lobel's Nini Here and There (2007). But you need not have read that book to enjoy this charming follow-up. In Nini Lost and Found, the inquisitive tabby discovers that the door has been left open and can't resist exploring the great unknown outdoors. She discovers many new pleasures, such as "grasses teasing her nose" and "flowers smelling so good." Soon, the feline has wandered into the woods near the house, where there are even more wonderful surprises in store for her: "What soft mosses. What great leaves. What good tree trunks." When darkness falls, however, Nini becomes scared and longs for home. The strange noises and shapes, an unfriendly owl, bear and fox, motivate the cat to find a hiding place, where she feels trapped and out of her element. Just when things seem dire, Nini hears familiar voices calling her name: "Nini cat, where are you? Where have you gone?" She runs as fast as she can: "Toward the voices. Toward the light. Toward the open door." Back at home, the tabby appreciates anew the comforts of home.
Simply and succinctly, Lobel conveys the cat's emotions in a way that will appeal to little kids. They don't have to be familiar with cats to understand the urge to explore the bigger world. But it's Lobel's sumptuous gouache-and-watercolor paintings that make this book a standout. The Caldecott Honor-winning artist/author makes both "in here" and "out there," seen from a petite creature's point of view, equally inviting and tantalizing. Also marvelous are the subtle changing expressions (curiosity, pleasure, fear, contentment) on Nini's feline face. My only caveat is this: The nighttime scenes may be a little too scary for children who are afraid of the dark. On the whole, however, Nini Lost and Found is a lovely picture book that balances contrasting desires and emotions: fear vs. courage; the thirst for adventure vs. need for security. In the end, Nini thinks to herself, "In here, at home, is much, much, much nicer … for now." But the gleam in her wide feline eyes suggests her appetite for adventure isn't entirely gone.
Are you familiar with Anita Lobel's books featuring Nini? Can you name other memorable cats in children's literature?
Permalink