Thread Options
Mark as New

Mark as Read

Bookmark

Subscribe

Email to a Friend
Need a break from reading
Goodnight Moon
? Sure-to-soothe and guaranteed-to-charm, here are two new picture books to expand your repertoire of bedtime reads for your tot:

In Sweet Dreams by Rose A. Lewis, illustrated by Jen Corace, a mother carries her drowsy daughter upstairs and prepares her for bed. As she does so, she tells her child stories about what will be happening outside while she is sleeping. Lewis's quiet, rhyming text describes a "baby bear/ Simply much too tired to eat,/ Who made the moonflowers' petals/ A pillow for his feet" and a mother owl who's "gone to fetch some dinner/ But will return home very soon—/ Flying through the nighttime sky/ With the help of Mr. Moon." Portraying a smiling moon, wide-open moonflowers, sleeping butterflies, and baby owls anxiously waiting for their mother, Corace's stylized watercolors manage to be both stunning and sweet. Cool blue hues dominate the artwork, suggesting nighttime without being dark and scary. And as dawn nears, the illustrations gradually lighten to include bright yellows and reds: "But when the nighttime passes,/ And Mr. Moon nods off to sleep,/ Say good morning to Miss Sunshine/ And the company she keeps." If you're looking to share dreamy adventures with your little one, look no further: Sweet Dreams is beautiful to look at and a pleasure to read out loud.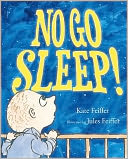 As the title of No Go Sleep! by Kate Feiffer, illustrated by Jules Feiffer, suggests, the feisty protagonist of this picture book is a stubborn baby who has three choice words to say to his parents when they tell him it's time to go to sleep. When the parents fail to lull their babe to dreamland, the sun chimes in and says, "I've gone for the day. When you wake up, I'll be back to play." That doesn't work, so the moon offers up, "Don't be scared. I'll keep the night light for you." Gradually, everything around him, including the stars, birds, frogs, bunnies, an owl, a tree, and even a car driving by ("Beep, beep, sleep, sleep") try to convince the baby to close his eyes. Finally, Mom tries again. "Please go to sleep," she pleads with a wide-awake baby lying still in his crib. The next series of illustrations is hilarious: We see an irate bundle of insomnia suddenly springing into action. Waving his arms and kicking his legs, he shouts "No!" to his mother. Then turn the page, and just as suddenly, the tot has closed his eyes. The next-to-last illustration shows the baby fast asleep, in spite of himself. Witty, expressive illustrations by the uber-talented Jules Feiffer and understated, comical text by his daughter, Kate Feiffer, make for a winning combination.
What are your favorite bedtime books for young children?
+++++++++++++++++++++++++++++++++++++++++++++++++++++++++++++++++++++++++++
Want to keep up with my reviews, and all of Barnes & Noble's exclusive reviews, author interviews, videos, promotions, and more? Please follow us on Twitter: @BNBuzz!
Sandra Lee Rella, mother of two budding bookworms, is a freelance editor and writer, and a former children's book review editor.
Permalink