Thread Options
Mark as New

Mark as Read

Bookmark

Subscribe

Email to a Friend
Rachel Renée Russell's Dork Diaries: Tales from a Not-So-Fabulous Life is about Nikki J. Maxwell, whose mom gives her a blank book instead of an iPhone when she starts at a new prep school. Nikki swears she will never use it, but worried she won't fit in at her new school, she finds herself filling the journal with stories and drawings about her life at Westchester Country Day school. She attends Westchester as a scholarship student and constantly runs into conflicts with name brand-wearing students who make fun of girls "whose moms make them shop at JCPenney, Sears, Target, and Wal-Mart." Nikki's diary is funny and appealing, punctuated with preteen hyperbole and spot illustrations. Dork Diaries is designed to look like a real diary with a handwriting-based font and light rule printed in the background of all the pages. (I kept thinking, maybe next time Nikki's mom needs to get her an unruled sketchbook.) The central conflict circles around Nikki finding new friends at her new school and an art contest in which she's competing against the school's most popular and richest students. Whether it is an embarrassing slip in the lunch room, or coming up with the idea to raise literacy awareness by trading books for hand-drawn temporary tattoos, Dork Diaries captures the humor and embarrassment of being an eighth-grade girl.
I enjoyed Dork Diaries, a book that very much would appeal to me as a preteen reader. The diary format was one of my favorites as a young reader, giving me the feeling I was sharing a special secret with the character in the book. I kept my own "dork diaries" beginning at age 11 and still keep a journal today. While I occasionally wonder if I shouldn't have destroyed these scribblings long ago, on the rare occasions I look at them now, I am flooded with a sense of the person I used to be and the immediacy of her concerns. Those diaries really do capture what it was like to be at that age, the overwhelming feelings and conflicts, how something so simple as someone making fun of one's shoes (in my case, it was a pair of red knock-off converse) can make or break one's day.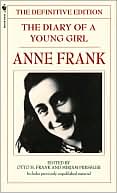 On her website, Rachel Renée Russell also admits to keeping a "dork diary." She claims that the stories contained in Dork Diaries are often gleaned from her life, or the life of her teenage daughter to whom she dedicates the book: "To my daughter, Nikki, who tried her hardest to be the best little ant in the ant colony, when all along she was a beautiful butterfly." Russell is also available to speak at schools where she talks about famous diaries in youth literature, including Anne Frank's The Diary of a Young Girl, which was a major inspiration to me when I was in my early teens. Anne Frank wrote, "Paper is more patient than people." I think this is true for millions of teenagers—and many grownups, too. There is something precious about the ability to put pen to paper to record one's secret thoughts or to vent one's ire at a world that all too often seems hostile or unfair. It's one of the first places young people learn that there are some emotions and thoughts for public and others that should be kept private. My largest concern as a young diary-keeper (and occasionally as an older one) is the issue of privacy.
We've all read the books where one's private observations become public. One of the most vivid scenes of this in children's literature occurs in Louise Fitzhugh's Harriet the Spy when Harriet's spy notebook is read by her classmates. Hurt by her observations about their lives, they make her life miserable by forming a "Spy Catcher Club" specifically for the purposes of humiliating Harriet. When Harriet asks her former nanny Golly for help, Golly gives her the following advice: "You have to do two things, and you don't like either one of them. 1: You have to apologize. 2: You have to lie. Otherwise you are going to lose a friend." This advice marks a moment of maturation for both Harriet and the reader, even if it runs counter to what we would want to tell our children about always telling the truth. It even goes against Harriet's commitment to accurate observation. However, Harriet takes the knowledge she has gained through her observations to start a school newspaper, where she runs a retraction and order is restored. Her unedited private thoughts become the edited public news. Dork Diaries has yet to deal with the issue of discovery or public humiliation, though it appears that this will be the first in a series with the second title, Tales from a Not-So-Popular Party Girl, appearing this summer. Instead, Nikki's private thoughts remain private—though not from the reader, which is part of the diary format's appeal. Dork Diaries is one of the titles that has been nominated for the Fifth & Sixth Grade categories of the Children's Choice Book Awards. A list of other nominees appears below. You can vote for your favorite online at http://www.bookweekonline.com/voting.
What's your favorite diary or diary-format novel? Do you keep a diary? Why or why not? How do you feel about the children in your life keeping diaries? Would you ever read their diaries?
Sarah A. Wood, a reviewer for Teenreads.com and Kidsreads.com since 2003, is a lifetime reader and writer. She refuses to accept that there are people who don't like to read and stubbornly believes this is only because they have not met the right book yet.
Permalink