Thread Options
Mark as New

Mark as Read

Bookmark

Subscribe

Email to a Friend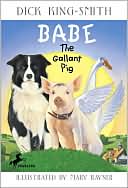 Children's literature lost a beloved and prolific author this month when Dick King-Smith died at the age of 88. King-Smith is best known for the film adaptation of his book Babe: The Gallant Pig, about a pig who wants to herd sheep. But this is only one of more than a hundred titles he wrote for young readers, most of which feature animals as prominent characters.

"I do not blench at nature red in tooth and claw," said King-Smith, who worked 20 years as a farmer before becoming a teacher and author of children's books. "And much as I love The Wind in the Willows (Barnes & Noble and the works of Beatrix Potter, I never dress my animals in clothes... They behave as animals should behave, with the exception that they open their mouths and speak the Queen's English."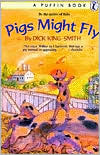 What I have always found most surprising and lovable about King-Smith's books is that they are heartfelt without being sentimental. Part of the central conflict in Babe: The Gallant Pig is the understanding that Babe is to be fattened for Christmas dinner. Like that other famous literary pig --- Wilbur from Charlotte's Web --- Babe must overcome the fate of being born as what he is: a pig.

Pigs were one of King-Smith's favorite barnyard animals, and many of his books center on what he considered thoughtful and considerate creatures. His book Pigs Might Fly is about a little runt who wants to fly but discovers he has other skills, which he is able to use to save the farm when it's threatened by flooding.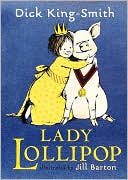 Likewise, the pig in Lady Lollipop is a model of good behavior. Lollipop's example is able to teach a spoiled princess manners rather than the other way around: "The Princess, staring into those eyes, fringed with long white lashes and shining with intelligence, saw someone not so very different from herself looking back at her."

My favorite book by King-Smith is The Queen's Nose, which is currently out of print. It's about a 10-year-old girl who loves animals but isn't allowed to own a pet. As a young reader, I liked this book because it involved a magic coin that granted wishes in humorous ways. As an adult, I'm more amused by the way in which Harmony envisions the people as different kinds of animals --- the edition I own also has very humorous pictures --- and the poignancy of her longing to connect with others.

I have always suspected that the true genius behind Dick King-Smith's books is that rather than anthropomorphizing animals --- making animals appear like people, or take on human traits --- his books animalmorphize people. Instead of envisioning animals as being like people, he saw humans as belonging to a larger family of creatures with which we share this world.

Do you have a favorite book by Dick King-Smith? What animal stories for children do you love most?
Permalink